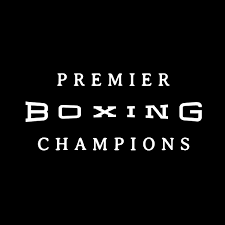 By Brian "The Beret" Young
When Al Haymon kicked off his first PBC (Premier Boxing Champions) card back on March 7th 2015 on the NBC network, televised boxing in the United States would be changed forever. That night we got something we haven't seen in decades, a quality headlining fight on FREE television. And not just one, but two!! Keith Thurman Vs Robert Guerrero and Adrien Broner Vs John Molina, JR. Al Haymon had cut a deal with multiple networks and all their affiliates and promised boxing fans quality fights for free. It was a brilliant move; he would bring fighters back into the living rooms of fans without pay cable channels and without having to shell out money for PPV's as we had become accustomed to. And for four years he kept that promise.
Sure it wasn't always easy to keep track of when fights were on and on what network. After all he had fights on not only NBC but also, ABC, CBS, Fox, FS1, ESPN, CBS Sports, NBCSN, Spike TV and Bounce TV. It seemed like we could find a boxing match just about anywhere except the Food Network. Haymon did bring the biggest names in the sport to this free TV platform. We got to see Keith Thurman, Robert Guerrero, Adrien Broner, Errol Spence, JR., Danny Garcia, The Charlo Brothers, Deontay Wilder, Shawn Porter, Leo Santa Cruz, Jarrett Hurd and on and on…
Things started to change in 2017, PBC cut ties with NBC, ESPN and Spike TV. No big deal, we still had CBS, Fox and now we even had SiriusXM radio! Then something happened that shocked this writer/fan. 2018 began with an announcement that there would be 10 fights in the first 6 months of the year on Showtime. Wait, Showtime? Wasn't the whole point of PBC to bring fights back to the fans for free? Again, oh well, most of us fans already had Showtime because of their boxing broadcasts anyway. No harm no foul. Plus, that just meant we would get to hear Al Bernstein and Steve Farhood more, never a bad thing, right?
Wilder Vs Fury was on PPV but we all thought that was because of Showtime, not our beloved PBC, so nobody batted an eye. We boxing fans were thrilled. We were seeing more fights, with bigger names, more often, and our pockets were not hurt at all. Haymon seemed to have the best fighters and was damn sure he was going to make the best fights, and he did. Sure, he was sued by Golden Boy Promotions and Top Rank, but the fans didn't care about that. We were still getting to see good fights, and those of us that did even know about the lawsuits figured, it's just business and jealousy, and besides, both cases were dismissed. Bring on our good free fights!
As time went on, HBO said goodbye to boxing and a new app DAZN said hello. DAZN was not free, it is $9.99 a month, but promised (and has delivered) several fight cards and PPV size shows for that one low monthly price. A good (great) deal to be sure, and for those who just didn't want to fork over any cash at all, they still had PBC giving boxing fans quantity and quality for free.
Then the big announcement was made. Errol Spence JR. signed to fight Mikey Garcia on PBC! This is the kind of fight boxing fans salivate over. A dream match, and our new boxing saint, Al Haymon, was bringing it to us on FOX. But then, (que the dramatic music) we were told it was FOX PPV and it was going to be $74.95. PBC was all about bringing the best fights to the fans for free and now they were pulling the same old PPV crap that we had to put up with for the last 20 years! In that one moment, I felt like the last four years we were being told to "pay no attention to the man behind the curtain". It was the same old "business" as usual.
Now to be fair, there were other PBC cards announced, good cards, that will be on FS1 (Peterson Vs Lipinets March 24th and also Quillin Vs Truax on April 13th). Also on FOX with Danny Garcia Vs Adrian Granados April 20th. But the veil was lifted. We knew now there would be more PPV's to come. Deontay Wilder is set to face Dominic Breazeale in a fight that even Wilder himself says he would rather have on FOX than PPV, but time will tell. At this time, it's possible that Al Haymon will lose that fight to either Top Rank or DAZN by the time you read this, but if PBC does keep this fight I wouldn't doubt that it too will be a PPV.
Maybe we fight fans got greedy and spoiled. Maybe we should have known all along that the point of PBC was to build up a fan base, dangle the carrot for a while and then once we were hooked, hit us with the PPV's. After all, it is business, and for four years we were given amazing fights (and some not so amazing) for free. And Spence, JR. Vs Garcia is indeed a PPV worthy event to boxing fans in the know, but if Haymon thinks he will get the casual fight fan to pay $74.95 for the fight, he is as wrong as we all were thinking we were to keep getting something for nothing.
Remember to submit your questions/comments to me via the form box below by selecting Brian "The Beret" Young and follow me on Twitter @BoxingGuyBrian
Contact the Feature Writers