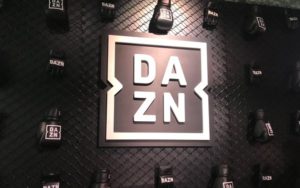 By Vinny "Glory Days" Lucci"
Sometimes you just have to roll with it or simply get rolled over. As the boxing calendar of 2018 rolled out its final cards there were peripheral events reshaping the very manner in which both promoters do business as well as how boxing fans stay connected to the elite fighters they are most passionate about.
To the amazement of the viewing public the boxing world lost a cornerstone when HBO Sports decided it no longer needed to maintain its three million dollar monthly showcases to attract new subscribers to the cable giant. Left standing in the lurch it was presumed that Showtime Boxing would morph into the powerhouse it aspired to be in the shadow of its now defunct rival, even while fledgling promotional outfits were jockeying for position amongst the fallout.
What nobody saw coming was a competitor with a proposal to become the preeminent boxing conglomerate with aspirations of making every fan a subscriber with monthly subscription too good to be true. Enter DAZN. If you haven't become acquainted yet think of this article as a Ringside Report handicap giving you the inside scoop on the betting favorite.
Riding high on its recent laurels of signing Canelo Alvarez to a five year, thirteen fight deal locking down the sport's biggest attraction they have just signed his nemesis Gennady Golovkin to a three year six fight deal which guarantees the holy war trilogy between the two commencing in September or December of this year.
The revenue from this expansion enriches the boxing universe as well as providing a staple for MMA fans with a 100 fight yearly schedule and an eye opening subscription of just $9.99 a month! Think about that for a moment if you haven't heard the ring bell toll ten. Given time, this will ultimately bring upon the death of pay per view and its greedy misappropriations of bleeding the public dry with overpriced cards with Tuesday night appeal. Not convinced? The first month is trial free.
DAZN will be spot lighting the former undisputed middleweight champion in June against a yet un-named opponent. DAZN will also be broadcasting Anthony Joshua's sixth heavyweight title defense against Jarrell "Big Baby" Miller on June 1st making the start of the summer an attractive time to sign up if you could possibly resist until then. Golovkin will be making his first comeback fight since losing his belts to Alvarez by majority decision of 115-113 (twice), and 114-114 last September. The champions first dropped hammers with Canelo exactly one year previous at same venue which ended in a highly disputed draw. The outcome of the sequel had most of the press as well as every fan of Golovkin claiming the "fix" was in and reported here in advance if it went to the scorecards Alvarez would be crowned champion.
To make matters more intriguing Alvarez must first get past IBF middleweight champion Daniel Jacobs on May 4, in what I like to call "the house that Canelo built," T-Mobile Arena in Paradise, Nevada. Alvarez engaged both mega bouts against Golovkin there giving rise to speculation that Jacobs also needs a knockout to win or won't see his hand raised in victory.
Back in the driver's seat for first time since last May, Gennady has been offered the opportunity to purchase equity in the streaming app. Company. As a headline banner attraction to go alongside Canelo Alvarez and Anthony Joshua he once again has the opportunity to control his own destiny at 36 years of age until he decides to seek retirement and go into promoting his own stable, "GGG" Promotions full time.
It now seems like forever since we didn't talk in terms of Golovkin's next bout as a title defense as he racked up 21 successful defenses spanning eight years. With the kind of clout he has pick of the litter in choosing his next adversary who most likely will be fan friendly approved while allowing Gennady the courtesy of a comeback bout.
Stay tuned…
Contact the Feature Writers