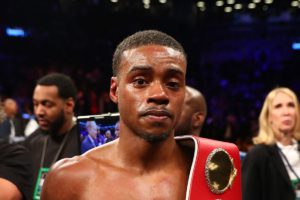 By Vinny "Glory Days" Lucci
Somebody's "0" had to go as Saturday nights Fox PPV event waned into Sunday morning before the "Truth" be known. IBF welterweight champion Errol Spence, JR. turned back the bodacious challenge of Lightweight champion Mikey Garcia by unanimous decision. So complete was the domination that the three judges failed to give Garcia a round awarding Spence, JR. a successful third title defense with scores of 120-107 (twice), and 120-108. Ringside Report awarded Mikey the courtesy of taking the second round where at the halfway point he turned up the action with better combinations for duration of round. The point was mute.
If you didn't catch the live action and are wondering how one sided the event was, the live gate cheered the ring entrance of WBA welterweight champion Manny Pacquiao before the scores were read giving credence to the rumors a unification match up in the air was all but signed.
Spence, JR. controlled the entire fight regardless of Garcia using center ring to pivot and circle to his left away from the champion's power left hook. Triple jabs and playing matador in turning the champion into his counters proved fruitless to gaining entry inside pocket. Outside the gate the champion raked the challenger with endless power jabs and turned up the body attack in round four. Inside the opposing lead foot matchup of southpaw and orthodox stances Garcia was met with two fisted power shots upstairs and down in relentless spurts that prevented him from ever mounting an effective offense.
At the end of six rounds Errol had already landed 132 punches to Mikey's meager 39 and it became abundantly clear to forty seven thousand fans at the AT&T Stadium in Arlington Texas that the four division champion had a bonafide welterweight chin but little else to compete at this level. The ill-advised jump up two divisions without a warm up bout to allow his body to acclimate to the fighting weight was forewarned here in this column two times last year that making weight and being in fighting shape are two different animals. Mikey not only surrendered height and reach but his body seriously lacked ripped muscle tone associated with the jaguars that prowl the ring posts at 147 pounds.
Round ten was keenly scrutinized by Garcia's corner of father Eduardo and brother Robert as intently as the ring judges who witnessed an irrevocable beating and feared a stoppage. To his credit, Mikey fought back gamely last fifteen seconds of round but like the nine rounds that preceded it he lacked the speed and firepower to alter the course of history. When the bell sounded his corner asked him if he could continue and warned they would stop the bout unless he turned up the heat and "showed them something."
If ever there were a justifiable round to throw in the towel, the eleventh was a blueprint for adverting disaster as Garcia was beaten from pillar to post but stared his adversary down and refused to give up gravity. So one sided was the carnage that Ringside Report scored it a 10-8 round even though the challenger wasn't dropped and never considered taking a knee. It's a safe assumption that two ringside judges scored that round likewise producing the 107 final tallies.
Mikey managed to convince his corner he would hear the final bell as proud Mexican heritage of ring warriors would dictate. To his credit, Garcia regained some form and came forward in desperation of hoping to land a significant Hail Mary punch that never came. Post-fight the challenger claimed the champion "felt his power but it wasn't enough." Not once in the twelve rounds of action did it ever seem Mikey got Errol's attention and the punch stats reflect that. Spence out landed the challenger 345 to a mere 75; of which 237 were power shots. So bad was the mismatch that the crafty Garcia landed only 18 jabs throughout the entire bout.
Going forward Spence, JR. leaves the ring with his perfect record of 25-0, 21 KO's intact and still holds court as "the" man in the division that includes rival welterweight champions Manny Pacquiao, Keith Thurman, Terence Crawford and Shawn Porter. (WBA regular, WBA super, WBO, and WBC respectively.)
Garcia can hold his head up high for daring to reach way beyond his grasp showcasing his boxing acumen, dogged determination and heart of a true champion and still retains his unified WBC/IBF lightweight belts. Off this performance the logical career move and mega payday would be to return to 135 pounders and unify all belts with the wunderkind matrix known as Vasyl Lomachenko who holds both the WBA and WBO titles.
The Vinny Factor:
What kept Mikey Garcia aloft throughout the bout in the midst of heavy mortar fire may not have been an exemplary chin as one might initially believe. Mikey showed a superlative defense even when it appeared porous and anything but sterling. That is to say his elbows prevented many a wicked body blow from finding his liver or sweet spot to ribs as well as had his fists tucked in high defense about his chin and temples taking a lot of sting of the mayhem trust upon him. Going the distance with Errol Spence, JR. doesn't necessarily coronate Garcia a true 147 pounder. He would once again be handicapped an underdog against any of the aforementioned champions.
Mikey took a needless loss on his unblemished future hall of fame ledger and there is no reason why he should needlessly take another. History has shown us time and again that many a boxer has stepped up to challenge themselves to seize immortality while having disastrous results returning to their former weight division too rapidly. Garcia should partake in a well-deserved rest for the next six months, and then carefully plan an end of year comeback where he is once again comfortable on the scales.
Stay tuned…
Contact the Feature Writers