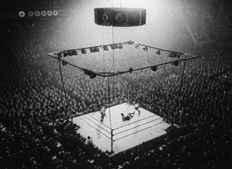 By Rich "Lite It Up" Lopez
It was a St. Patrick's Day weekend full of boxing action. There were boxing cards which took place on Friday, Saturday, and Sunday. Here are my thoughts and highlights of the weekend.
We start on Friday with DAZN's card that took place at Philadelphia, Pennsylvania.
Tevin Farmer Wins A Close Fight:
This was an entertaining junior lightweight fight with some back and forth action. From the press conferences, Irishman Jono Carroll talked a good game but he also showed this in the ring. Farmer successfully defended his title for the 3rd time but had a tough time. Even though Farmer won the fight clearly on the scorecards, the fight was a lot closer.
I scored the fight a draw. I felt Carroll took a big lead in the fight with Farmer closing the gap towards the end of the fight. Carroll is an exciting fighter and I would like to see more of him in the future. As for Farmer, I respect the fact he is a very active fighter and he continues to win. Farmer has good skills and boxes very well. The commentators compared him to a Pernell Whitaker, but let's not go that far. I honestly believe had Carroll had more punching power, Farmer would of been in trouble in this fight. I would not expect Farmer to take too many blows from the other top junior lightweights such as Miguel Berchelt or Gervonta Davis.
Katie Taylor Continues Her Rise:
Lightweight Champion Katie Taylor continues to show why she is one of the best female fighters in the game today. The two time Olympian outboxed and beat up the aggressive Rose Volante via 9th round stoppage. Taylor is now the WBA, WBO, and IBF World Lightweight Female Champion. How about Taylor in a rematch with Chicago's Jessica McCaskill if she moves up to the super lightweight division? Besides it was McCaskill who gave Taylor her toughest fight so far.
Gabriel Rosado and Maciej Sulecki Battle In A Fight of the Year Candidate:
This was the best fight of the weekend in the middleweight division. It started as a one-sided fight as Sulecki was beating Rosado to the punch and also dropped Rosado in rounds one and eight. The fight had a turn of events when Rosado came back and dropped Sulecki twice in the 9th round. Sulecki was saved by the bell. Rosado came out in the 10th round hard but could not finish Sulecki. Sulecki won by a unanimous decision and there was no dispute about the decision even though Rosado might beg to differ. Rosado almost pulled out a knockout but was little too late. However it was an entertaining scrap.
On to Saturday's PBC PPV card at Arlington, Texas at the AT&T stadium.
Errol Spence, JR. Dominates Mikey Garcia: Spence went out there and proved the good bigger guy beats the good smaller guy. I thought the fight would have been better but Mikey was outclassed. Garcia tried but was having a hard time trying to land shots on the bigger Spence, JR. Spence, JR. did a great job using the jab and using good movement to confuse Garcia. Kudos to Garcia for hanging in there and going to distance. He showed a lot of heart and took some hard punches. So, what's next? Will we see Spence, JR. against Pacquiao? Spence, JR. called out Pacquiao who was at ringside after the fight. Maybe we will see Shawn Porter and Keith Thurman call out Spence, JR. as Spence, JR. was not able to knock out the smaller Garcia. As for Garcia, he should move back down to 140 or 135. Lomachenko still looms for Garcia and would be a better fight.
David Benavidez Returns With A Bang:
Benavidez came back after a year layoff from a suspension for testing positive for cocaine. Benavidez showed no ring rust and made short work of J'Leon Love in a 2nd round TKO. Benavidez is tall and has quick hands and is a threat to anybody in the super middleweight division. As long as he keeps his head straight I do see him becoming a champion again. Benavidez already achieved history by becoming the youngest super middleweight champion.
Good U.S. Debut for Luis Nery:
If you didn't know who Luis Nery was, now you do. Nery made headlines about two years ago when he dethroned long time Bantamweight champion Shinsuke Yamanaka and he also beat Yamanaka in a rematch. The 24 year old Mexican nicknamed "Pantera" was simply too big and powerful for McJoe Arroyo. Nery stopped Arroyo in four rounds and made quite a U.S. debut. Japan's sensation Naoya "Monster" Inoue might be the best Bantamweight but Nery I think would be his best challenge. I hope to see this fight in the near future.
Chris Arreola Stays Busy:
Arreola came back with a 3rd round TKO over Jean Pierre Augustin and is aiming to earn another title shot in the near future. I'm not sure how far he will go at the age of 38 but he seems confident. Augustin was undefeated but not sure how? Augustin seemed to be falling all over the place once he entered the ring and was very sloppy.
Other notes:
In the prelims, Heavyweight contender Charles Martin came back with a victory over Gregory Corbin by an 8th round disqualification. Corbin didn't seem like he wanted to fight and took a page out of Andrew Golota's book with the low blows.
In a fill in bout, undefeated Lindolfo Delgado knocked out James Roach in the 1st round. Delgado is a prospect to look out for. We will see more of him.
The PPV card was average but I hope this is the last PPV by PBC. I fear it won't be though. We need better quality fights for undercards to fill the broadcast. Instead we kept seeing Lennox Lewis with a blanket being compared to Linus from the Peanuts gang and then we saw a silly Radio Raheem segment with him losing weight to kill time.
On Sunday for St Patrick's Day, we had a boxing card on ESPN+ to feature the next Irish star at Madison Square Garden.
Luis Collazo Is Not Finished Yet:
This was the true main event of the night. It was a crossroads fight between Luis Collazo and Samuel Vargas in a welterweight bout. It seemed the younger Vargas would pull off the victory but Collazo had other plans. The aggressive Vargas was outboxed by the slick Collazo in an entertaining fight. Vargas fought well overall but Collazo counterpunched very well in the fight. Collazo won a split decision.
Michael Conlan Wins For His Irish Fans:
The two time Olympian Conlan scored another victory as expected by unanimous decision. Conlan looked good which is great. He's undefeated with a 11-0 record and has 6 KO's. So far though he has not been tested and he does not look that impressive to me so far. By all means there is no reason to rush the guy and maybe he will become a future champion. Time will tell.
Contact the Feature Writers