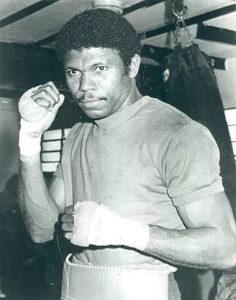 By Donald "Braveheart" Stewart
A name of Venezuelan heritage and one with which there is little doubt that for me, it is wildly exotic. Fulgencio Obelmejias, 52-5, 41 KO's or Fully Obel was a super middleweight champ who represented his country in the amateurs at the 1975 Pan American games as well as the 1976 Montreal Olympics.
In 1977 he turned professional, going on a short trip over 6 months and six fights in southern California and Mexico to get himself noticed. What followed as the next 6 fights at home but combined it wasn't long before he had 12 professional fights with 12 wins and 11 stoppages.
Next was his ranking fight, back in Mexico where he faced and knocked Carlos Marks out in the 9th round in December 1978. He was in the WBC top ten now. Fully made his way to number one thanks to a further eight wins including a 3 round defeat of former WBC junior middleweight world champion, Elisha Obed.
1981 saw his first attempt to take a world title. At the home of the Boston Celtics he entered the ring with a 30-0 record, 18 by way of knockout. The opponent – Marvelous Marvin Hagler. The result – Hagler won by stoppage in the 8th. it was a slaughter and Hagler was the baddest man on the planet as well as the best boxer – here he proved it.
People were scathing of Obelmejias' credentials at the time and since but his record, at a time when there were not that many massive names around held sway with the authorities and holds scrutiny with many others.
What was less impressive was when Obelmejias claimed he lost because of a virus and not because he had been out fought or boxed by a superior fighter; Hagler rarely forgets…
A rematch was ordered after Obelmejias won a further 8 contests – all again with a knockout. Hagler was not in forgetful nor forgiving mood having being quoted before the rematch, "Making excuses like he'd lost to some rinky-dink instead of giving me the credit I deserved," he fumed "The first time I punished him. This time I'm gonna hurt him. I'm gonna make damn sure there won't be no third fight. I don't wanna ever see his ugly face again."
The rematch was in Italy, San Remo, for reasons lost in the mists of time. Hagler only took 5 rounds this time to stop Obelmejias, though Obelmejias did manage to win the first 2 rounds, having learned from the first fight.
Hagler was, though far too good and again showed his skill and won comfortably in the end. At the post fight press conference, Hagler was still in no mood to be conciliatory quipping, "Well, did he have a cold this time?"
The recovery period for him was another 9 fights. The wheels came off in fight 10 when Clarence Osby shocked him and others by beating him by points. His wins were coming less and less by way of knockouts and he was having to put in harder and harder shifts to get the wins; he seemed to be slowing down.
He continued, however, to box away, looking for an opportunity and took the Caribbean Light Heavyweight belt in 1986 beating Tomas Polo Ruiz. His first defense saw him lose it…
It was looking like bad luck was all the luck he had before Chong-Pal Park offered him a shot at his lineal and WBA super middleweight belt. Was it third time lucky? Fighting in South Korea it was Obelmejias' hand that was raised and he had done it! He was a world champion at super middleweight at the third time of asking. His next opponent, In-Chul Baek asked for it back and in another fight in South Korea he gave it back after being knocked out in the 11th round. His reign was less than 370 days…
It was, however a lifelong ambition and all that was left was to find a way of hanging up the gloves before the age of 40 – mandatory retirement age for Obelmejias and boxers in Venezuela. He managed a further 3 fights before hanging them up at the ripe age of 38. His career and record a testimony to resolve, fortitude and determination as he pursued and got his dream; and showed many others the pathway to it.
Contact the Feature Writers