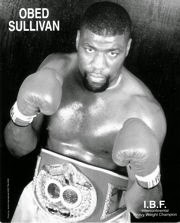 By Daniel Sisneros
Obed Sullivan turned pro on August 27 1992 in San Diego California with a first round knockout of Mike Davis. After a 4 round decision win in his 2nd pro bout, he lost to 290 Lb. Jonathon Grant in his 3rd pro bout. He then went 3 years, and 29 fights without a loss. In November of 1997 he would take a record of 28-1-1, 19 ko's into a showdown bout against undefeated Hasim "The Rock" Rahman (23-0, 20 ko) for the USBA Heavyweight Title. Rahman won the battle by a Majority decision. 2 fights later, Sullivan got a shot at the IBC heavyweight title against another undefeated fighter – Michael Grant (27-0). Sullivan was stopped in the 9th round by Grant.
Sullivan's biggest challenge came on Dec. 11, 1999 in Hamburg, Germany where he faced undefeated World Champion Vitali Klitschko (26-0, 26 knockouts) for the WBO World Heavyweight Title. Klitschko stopped him in 9 rounds to retain his world title and unbeaten record. November of 2000, Obed came so close to winning his first title, but had to settle for a majority draw against Larry Donald (38-1-1, 23 ko) for the NABO Heavyweight Title belt.
It was May of 2000 when Obed Sullivan won a title belt, winning a close split decision over Sherman Williams (18-5-1) for the Vacant NABF Heavyweight Title. Obed defended the title belt in his next fight against another unbeaten Fres Oquendo (20-0, 11 ko), losing by tko in round 11. He scored two more wins by knockout before losing in his final professional bout on Jan. 20 of 2007 dropping a 4 round split decision to James Porter.
Obed finished his pro boxing career with a record of 41 wins, 9 losses, 2 draws with 30 knockouts.
Purchase Dan's Hit Boxing Book Mat Tales: True Stories From The Bizarre, Brutal World Of Pro Boxing by Clicking the Image to ORDER it Now.