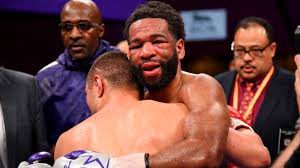 By Vinny "Glory Days" Lucci
Couldn't help but think of the line "For whom the bell tolls" from a famous John Donne poem while watching the career of talented and courageous Lamont Peterson come to pass last month on March 24th. In an entertaining see saw bout with Sergey Lipinets, Lamont waged war at an uncharacteristic hellacious pace trying to keep his shorter adversary at bay.
Both boxers tested each other's chin and will before the cataclysmic stoppage in the tenth round with one vital second left on time keeper's clock. After trading bombs Peterson was staggered and struggled to maintain gravity as he tried to find neutral footing in an attempt to collect himself, but Sergey was relentless. A second or two later after a four punch combination Lamont fell on his back forcing trainer and lifelong mentor Barry Hunter to throw in the towel which sailed high above the ropes and catching the referee Harvey Doc's attention before it hit the canvas in front of sold out MGM National Harbor, in Oxon Hill, Maryland.
The thirty five year old Peterson who adorned a large disfiguring hematoma on the right eye lid with his left eye rapidly closing immediately took the microphone in hand and announced his retirement holding back tears yet with a triumphant smile that lit up the arena. It was time. The proud fighter who chose the moniker "Havoc" was leaving the game behind on his terms as he received a standing ovation. The nickname more of a testament to his frustrating style of distance and defense wreaking havoc on opponents trying to gain access into the pocket.
With a final ledger of 35-5-1, 17 KO's the formal farewell was more an intelligent declaration that he was passing the torch rather than being a gate keeper or stepping stone. The lean welterweight who weighed in at 145 pounds captured title belts in at 140 and 147 pounds.
The Washington native was talented enough to best Kendall Holt, Amir Kahn and Victor Ortiz among others just couldn't get over the hump and win the big one against the likes of Danny Garcia, Timothy Bradley, Lucas Matthysse and Errol Spence, JR. While the credentials don't necessarily indicate a future enshrinement into hall of fame, no fan can deny his abundant talent and resolve. He will be missed.
As for the Kazakhstani fireplug billed as "Samurai," Lipinets raised his modest resume to 15-1, 11 KO's and more importantly served notice to the plethora of 147 pound champions including Errol Spence, JR., Manny Pacquiao, Keith Thurman, Terence Crawford, and Shawn Porter that a durable respected contender has arrived and has positioned himself for title contention with this win. Quite frankly, I'd love to see him rematch Mikey Garcia at welterweight.
Peterson having not heard the final bell of bout must have read the poem in his dressing room while getting hands wrapped. "For whom the bell tolls; it tolls for thee"
Stay tuned…
Contact the Feature Writers