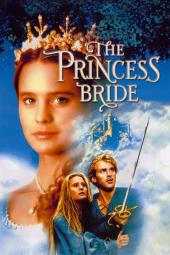 By Geoffrey Huchel
A classic is defined as a work of art of recognized and established value. There is definitely no shortage of classics in Hollywood. There will always be the discussion as to which movies should be considered classics. Naturally, we all have our favorites as some movies mean more to us than others, which bares the question- Should or should they not be included in that category? I think it's about the impression it has made on movie making, and how it made you feel while watching it. Those are few reasons as to what a classic means to me. I am one of many that think THE PRINCESS BRIDE is one of those movies.
What is it about THE PRINCESS BRIDE that has resonated with audiences all these years? Could it be that it's loaded with amusing and witty dialogue, making it one of the most quotable movies ever? Could it be the unforgettable characters that we fell in love with? Could it be an endearing story packed with heroes, villains, humor, danger, romance, and adventure? The answer is yes. It's because of all these things that THE PRINCESS BRIDE is a bona fide classic that has gained many loyal fans through the years.
In THE PRINCESS BRIDE, a grandfather sits down to read a story to his ill grandson. The story is one that was passed down from father to son for generations. As the grandfather reads the story, the action comes alive. The story is a classic tale of love and adventure as the beautiful Buttercup, engaged to odious Prince Humperdink, is kidnapped and held against her will in order to start a war. Westley, her childhood beau whom Buttercup thought was dead, has returned as the Dread Pirate Roberts to save her. On the way he meets a thief, Vizzini, and his hired helpers, an accomplished swordsman, Inigo Montoya, who is on the hunt for the six-fingered man who killed his father, and Fezzik, a giant, both of whom become Westley's companions in his quest. The stage is set for many twists and turns combined with swordfights, monsters, fire swamps, Rodents of Unusual Size and the Pit of Despair. Will Westley defeat Humperdink and reunite with his true love Buttercup? Will Humperdink's evil plan come to fruition? Will Inigo Montoya find the six-fingered man who murdered his father?
All these questions are answered in this hilarious romantic comedy fantasy film directed by Rob Reiner, and starring Cary Elwes as Westley, Robin Wright as (Buttercup) The Princess Bride, Mandy Patinkin as Inigo Montoya, Chris Sarandon as Prince Humperdink, Christopher Guest as Count Rugen, Wallace Shawn as Vizzini,Andre The Giant as Fezzik , Billy Crystal as Max, Carol Kane as Valerie, Fred Savage as The Grandson and Peter Falk as The Grandfather.
Contact the Feature Writers