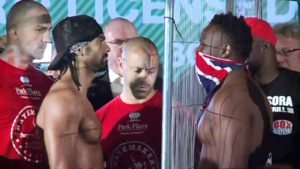 By Donald "Braveheart" Stewart
There was once a fence separating them in a press conference.
There were German police tracking each of them down after an altercation in a post-fight press conference where both of them threw punches – not just at each other apparently.
They then shared a ring and one of them got knocked out in the 5th round.
One of them has found religion and become reborn.
Neither of them are boring boxing men and neither of them shy away.
They are now manager and fighter.
For those of us who have followed their careers, David Haye's, 28-4, 26 KO's relationship with Derrick Chisora, 29-9, 21 KO's is far from freaky. It is far from daft. In fact, it makes perfect sense, but you have to steep yourself in the career of a man who has never done anything conventionally and never done anything but try and surprise us all – David Haye does not do things conventionally nor by half.
People may have the vision of two defeats against Tony Bellew in their minds when they think of Haye but for those of us who have been distant fans there are a panoply of images that go back to him being the colossus in the cruiserweight division before we heard of Eastern Europeans. Haye held 3 of the 4 belts, the lineal championship and the Ring Magazine belt. Along with Evander Holyfield he is the only boxer to hold titles at both cruiser and heavyweights.
We can remember his winning a world heavyweight title against a man who, literally towered over him and then there was the unrelentless chasing of the Klitschkos.
Unfortunately, there is also the big toe…
It began all so well.
Haye's initial boxing career was not the hard luck story of others. He was a good kid, raised right and from a good home. But he could whack. Boxing from London he began his career with 3 straight knock out wins as a kid and it all began with the problem of getting fights – not much change throughout his career…
As an amateur he fought against Courtney Fry and Odlanier Solis in the 2001 World Championship final. He beat Fry but could not beat the Cuban – though he made him take a count on his feet. Haye was the very first British boxer, to get into the World Amateur Boxing Championships final. He came away with silver, but he was also a notable maverick.
His amateur fights included a Commonwealth Games where he skipped out the England hotel to see a specialist for an injury – it was a repeatable pattern. He was then almost an Olympian but missed out on the 2000 Sydney Olympics in an eliminator loss.
When he turned pro he was lucky enough to box on terrestrial TV so he became a popular pugilist for the fans, rising as he did through the cruiserweight ranks to be the guy who took out Arthur Williams in 3, had the towel thrown in, in round 5, when he fought Carl Thompson when he was up on all 3 score cards, became European champion in 1 round, became the unified cruiserweight champ in 2007 when he fought Jean-Marc Mormeck in 7, after tasting the canvass – not the first knock down he had faced, then took another belt – from Enzo Macaranelli in London to cement his reputation in 2 – a fight he was supposed to lose – and then beat Nikolay Valuev on points in Moscow in 2008.
His media savvy was brought into focus after the Macaranelli fight when he was asked about working with Macaranelli's promoter, Frank Warren again he replied, "We thank Frank for sacrificing Macaranelli, but we'd feel immense guilt if we took any more free money from Sports Network. I have a hard enough time sleeping at night as it is."
After that fight the flirting with heavyweight began. The road to Chisora was set.
Both had Klitschko's to face and both fell short.
Firstly though, Vitali had agreed to fight Haye in London in 2009. Haye pulled out the fight, citing a back injury. He then beat Valuev, adding value to his status. Haye defended his title twice – against John Ruiz and then Audley Harrison – the less said about the Harrison fight the better. Haye knocked him out in the 3rd round, Harrison had landed one punch throughout the whole fight.
Haye was now in line for Wladimir.
Haye had chased the Klitschkos with a cannon like quality. Out the gun to make a fight, Haye followed them about, wore t shirts with their heads being held aloft by a Haye smirking with glee and became a constant pain at wherever they were appearing; it was relentless.
Eventually the Wladimir fight got made and though Haye had flattered to deceive he suffered a lot of tricks outside the ring in return for his antics before he lost on points. Haye was talking retirement before the fight and blamed an injury to his big toe for his defeat; he was ridiculed.
Haye had made a plan to retire by the age of 31 and now he was ready to swing out. Then negotiations started again to swing by Vitali. What got his temper up was that Vitali took on Chisora instead.
It was 2012 and Vitali, suffering some unexpected heat from Chisora including Chisora spitting in the face of Wladimir and slapping Vitali, it ended up a points win for Klitschko; it was almost as if Chisora was channelling his inner Haye…
The press conference after the Vitali/Chisora fight, saw Chisora and Haye get into a heated argument that was watched by many, ended up in a fight with more than a few and both boxers ended up fleeing Germany under a cloud.
Plans were made to end the feud in the ring.
Haye put retirement plans on hold to face Chisora. Haye was clear, this was a stepping stone fight for him to get to Vitali. Problem was that Vitali had other plans but for now Haye had a grudge match sanctioned in the UK by the Luxembourg Boxing Association. The British Boxing Board of Control were investigating both and neither had a UK licence to fight; Haye won by knockout in the 5th.
We then got David Haye's body falling apart – we did not truly realise how much it was falling apart.
In 2013 it meant that he could not face Manuel Charr due to injury.
In 2013 he was due to meet Tyson Fury but a week before the fight suffered a cut. The rescheduled fight in 2014 was off as Haye had shoulder surgery. Fury turned away and went elsewhere.
Haye then came back with a couple of warm up fights – ironically with opponents similar in stature to the ones chosen by Fury in his comeback before Haye faced the two fights with Tony Bellew.
In the first one Haye injured his achilles. The rumour that he visited a German specialist to check on previous shoulder surgery was shown to be false when his injury was exposed, and he apparently went to see about his achilles.
Haye changed trainer and then faced Bellew again. Haye had to pull out the first date for the rematch – an injury to his arm. When it did take place, Haye found he was an old man struggling to beat a younger man. Referee Howard Foster stopped his agony in round 5 and the retirement plan was now ready to welcome him. Boxing was not, however ready to say goodbye.
He was 39 years old and it was now 8 years after his confirmed, absolute, undeniable and total retirement date. Thankfully given, the service in the ring he'd delivered it had proven less of a commitment than an aim.
In his retirement statement he gave an insight into what injury had done to the latter part of his career as he stated, "In the past five years I have snapped both biceps, my rotator cuff and my achilles tendon. All four injuries were potentially career ending and each of them required operations with months of intense rehabilitation. The biggest physical challenge I had to face, however, was spinal surgery in March 2015. I herniated a disc in my lower back 10 years ago and years of intense training wore this disc away. This caused fragments of disc to push into my spinal nerve passage, resulting in chronic pain and loss of function in both legs. An operation was required to put a two-centimetre metal cage between two vertebrae and implant two metal rods with screws and bone grafts to fuse it all together. This was one battle I had to fight in private, and it's only because the process was recorded for a documentary that people will one day be able to grasp the severity of the situation."
Haye has always been a promoter and Hayemaker Productions was always there or thereabouts. It had been launched in a fanfare but had then struggled in amongst the cut throat business of bigger promoters and Haye having a career too, to manage. Now he had the time…
In October 2018 the link between Haye and Chisora was made.
Notwithstanding their own rivalry, Haye was the promoter when Chisora allegedly shook hands on a fight with his fighter, Joe Joyce and then pulled out; it was a bitter pill.
In a Sky interview, the change that happened was occasioned by Chisora. He commented, "Everything changed at the beginning of this year for me when I became Born Again. I changed loads of things in my life. I needed a great manager who knows boxing inside out. David was the right man." Chisora put the feelers out, got a meeting, got Haye hooked and now they plan history.
The first test, however, was the rematch with Dillian Whyte. Chisora got knocked out. As beginnings go, it could have gone better. There were calls for Chisora to retire but he is a fighting man.
His next chapter is on the 20th April at the 02 London against Senad Gashi. A German who is relatively unknown, he did fight Tom Schwarz – Tyson Fury's next opponent – but was disqualified in the 6th, he was also the guy knocked out by Carlos Takam last time out at the 02, so we expect a better result for Chisora.
Is it a come back worthy of headlines?
Is it like Fury's as it will lead to a long held ambition to be a world champion?
Will it be like Haye's and lead to retirement?
Whatever it will be, it will be highly entertaining because neither Haye nor Chisora is a boring boxing man…
Contact the Feature Writers