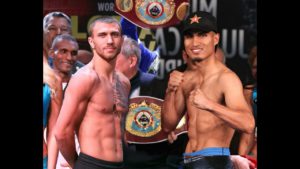 By Rich "Lite It Up" Lopez
About two weeks ago, we saw two of the top pound for pound boxers in the world clash in the welterweight division. The result was the bigger fighter Errol Spence, JR. outclassed the smaller fighter Mikey Garcia. We have to give respect to Garcia for taking this challenge and he did the best he can. To me, his loss should not change his status as one of the best fighters in the world pound for pound, even though some critics might dismiss him now. Not me though. I still rank Garcia as one of the best fighters out there and still the best lightweight. Some might argue the best lightweight is Vasyl Lomachenko.
This is why I think a Mikey Garcia Vs Vasyl Lomachenko fight needs to happen to settle the debate. I don't see any of the other top lightweights beating Lomachenko or Garcia. The one other boxer I think can give them both tough challenges is IBF Lightweight World Champion Richard Commey, but that's about it. Lomachenko already beat Jorge Linares and Garcia beat Robert Easter, JR. Devin Haney and Teofimo Lopez will be threats later on if they continue to win, but right now it's too early for them. Also, I see Lomachenko beating Anthony Crolla coming up next month. Garcia will most likely go back down to lightweight which is his more natural weight. I can guarantee a Garcia Vs Lomachenko fight would live up to the hype.
Who wins?
Both fighters have two similar opponents: Roman Martinez and Orlando Salido. Lomachenko stopped Martinez in five rounds while Garcia stopped Martinez in eight rounds. However, Garcia was able to beat Salido by a 8th round technical decisions, while Salido beat Lomachenko by a split decision. Both fighters have gotten better since those fights and I wouldn't base my decision on the outcome of those fights. The fight itself would be an excellent clash of styles. I can see Lomachenko giving Garcia trouble in the fight with his speed and lateral movements. At the same time, Garcia has the timing to catch Lomachenko in exchanges. I give Garcia the edge in experience and power. Garcia's power was not a big factor at junior welterweight or at welterweight but at lightweight it is. We also know, that Garcia has a really good chin due to the punishment he took in the Spence, JR. fight. I see Mikey Garcia winning a tough unanimous decision.
The big question is: Will the fight happen?
The sad thing is, the fight will probably not happen anytime soon. As hardcore fight fans want this fight, the promoters will get in the way of this one. Lomachenko is with Top Rank and Garcia is with PBC. Both fighters are top stars as well. Plus there is beef with Top Rank and Mikey Garcia stemming from a court lawsuit that happened a couple years ago. It's too bad, that we might talk about this fight that could of happened but never did. Hopefully I'm proved wrong and in the future this fight can happen.
So, what do you think? Can this fight happen and who would win?
Contact the Feature Writers