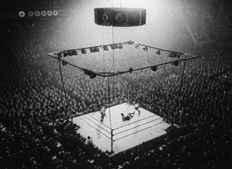 By Brian "The Beret" Young
Here we go fight fans, continuing on with our special boxing brackets. Rounds 1 and 2 saw some major upsets and created quite a bit of discussion. Now it's time to get to the nitty gritty, the Sweet 16. This is part V, the North and South (Pre-1975) and West and Midwest (Post-1975).
Just a reminder, this is a single elimination P4P tournament. The fighters and their rankings were done by a panel of boxing fans, but the picks are mine, love them or hate them (and I have heard from both). Let's keep the discussion going…and now
THE SWEET 16- NORTH
#1- Muhammad Ali vs #4- Rocky Marciano
Winner #1- Muhammad Ali (I don't care what the computer said)
#3- Willie Pep vs #2- Joe Louis
Winner #2- Joe Louis
SOUTH
#1- Sugar Ray Robinson vs #5- Archie Moore
Winner #1- Sugar Ray Robinson
#3- Harry Greb vs- #2- Henry Armstrong
Winner #3- Harry Greb
WEST
#1- Roberto Duran vs #5- Manny Pacquiao
Winner #1- Roberto Duran
#14- Errol Spence, JR. vs #2- Marvelous Marvin Hagler
Winner #2 – Marvelous Marvin Hagler
MIDWEST
#1- Julio Cesar Chavez, SR. vs #4- Evander Holyfield
Winner- #1- Julio Cesar Chavez, SR.
#6- Salvador Sanchez vs #7- Roy Jones, JR.
Winner- #7 Roy Jones, JR. (this one was hard and I am not 100% sure on this one)
Well friends, we are getting close. The next installment will be not only the Elite 8 but also the Final 4. Followed by a special Championship match that will be written as a full fantasy fight review, breaking down the fight in detail. Keep those comments coming and let us know if you agree or disagree so far, or even who you think will advance from here!
Remember to submit your questions/comments to me via the form box below by selecting Brian "The Beret" Young
Contact the Feature Writers