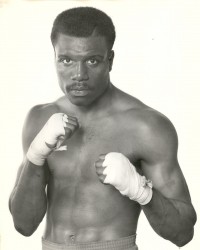 By Donald "Braveheart" Stewart
Once again it was time to deep dive. "Bad" Brad had given me a mission. There is little I need in terms of encouragement as I went off in search of a southpaw, super lightweight champion of yore – a certain Mr Gary Hinton 29-5-2, 11 KO's.
Reigning as he did between April and October of 1986, he was the IBF super lightweight champion and despite a small number of months reigning supreme, he was worthy of notice for a number of reasons – let me count out how many…
Firstly, he was a southpaw from Philly, fighting out of the Executioners Gym at 60th and Vine under head trainer Tucchi Gordon.
He turned pro in 1978 and took 7 years to get to the IBF title which he won on points against Reyes Antonio Cruz.
It was the middle of 3 world title fights and the only one he won.
His first defense, against Joe Manley, saw him lose it when he got knocked out.
Arguably, his most memorable fight, was when he fought the legendary Aaron Pryor.
He had many other big occasions including when he took on the future world champion, Charlie "Choo Choo" Brown. He lost and Brown was to get his world title 2 years before Hinton. Hinton was sure he had won that fight! "I had him hurt in the last round and thought I pulled it out," said Hinton.
The road to that title opportunity was therefore not littered with spectacular wins but exciting fights. His win, though for the USBA title against Jerome Kinney in 1984 was what made his name a respectable one when discussing world title opportunities. The fact he defended it successfully made his name more than a mere whisper.
In July 1984 he defended against Brett Lally, in Atlantic City. "He would come in with his head and butt me the entire fight," said Hinton. He won a majority decision earning that IBF title shot.
It came in March 2nd 1985 and in Atlantic City, Aaron Pryor, a giant of his time, stood in the opposite corner to Hinton. Pryor was 1-0 up due to a fight in the amateurs when he had beaten Hinton. Hinton had an advantage this time, Pryor himself. Struggling with his own demons in the form of drugs and the disappointment of not getting big name fights to define his era, his head space was full of broken glass.
All Hinton had to do, many felt at the time, was survive long enough to get closer to a victory as Pryor usually began quickly. Hinton managed to survive but Pryor was not to be denied and this time around, despite all the disadvantages he brought with him, the big punching Pryor got the decision with Hinton hitting the canvas in the 14th round.
Boxing fans though, some of whom, had very different ideas. There have been quite a few who thought that Hinton did more than enough to take the decision. Whilst it hardly ranks as the worse decision ever, you can see why some would have had Hinton winning. His first attempt at world title glory though had fallen short. What Hinton did do, was to cement his reputation; even though it was now 2-0. The win for Pryor allowed some theatre as he went over to Sylvester Stallone after the fight and gave him the belt; there were some who thought Stallone should have marched over and given it straight to Hinton!
Having lost his first world title fight he managed to squeeze in a USBA defense against Joe Manley. Whilst people talk about the fight with Pryor as being the best he fought in, the draw fought out with Manley was one that many more people salivate over after having seen it more. The fight was relentless and it was the type of draw leaving nobody unhappy because nobody had lost – it was a very tough fight.
The IBF then stripped Pryor of the super lightweight title because of inactivity; Pryor's demons were clearly winning and he had not defended the title in about 29 months!
It left Hinton in pole position and in Toscana, Italy on the April 226, 1986, he got that title by winning on points against Cruz. It was counterpunching and his left jab that won him the fight and the uncompromising yet unsophisticated style of this Philly fighter brought another world title back to that fighting city.
His first – and last – defense in Connecticut saw that man Manley avenge that draw between them stop Hinton in the 10th round to take the belt from his waist.
Later on Hinton was to give some context to that loss as he explained, "I was always told I would grow into a welterweight if not bigger but I wanted to stay at 140. I was having trouble making weight for this fight and was cramping up by fight time".
Afterwards Hinton would sign with British promoter Mickey Duff and Ivan Cohen from South Philly. Much was hoped for but we never saw him in the UK.
Hinton fought on five more times – four wins and a final loss which decided him to hang up the gloves. His last fight saw him having to lose weight to come down to 147. He met former WBC light welterweight champion Saoul Mamby, in Tampa.
It was not a great ending to his career as Hinton mused later on, "I knew there was something going on when Mickey Duff only gave me half the money. They hadn't taken anything up until then. He went out of his way to make sure Ivan Cohen wasn't there. When I was entering the ring, I got that same feeling with the cramps when I lost to Manley from making weight," said Hinton. He continued, "Duff took over in the corner after the 8th round telling me just to box.
I shouldn't have done it but when I did, he landed a right hand over my jab knocking me down. When I got up the referee asked me what state I was in. I kept saying I'm all right," said Hinton. The fight was stopped and Hinton complained, "If Cohen was there instead of Duff, I believe I would have won the fight," said Hinton. That hook up with the Brits was not a success this time around.
Last heard of, Hinton, is still a local lad in Philly. Like many boxers there were trials and tribulations of a former pugilist to be faced but he and his wife were settled and content where they were. There are memories there to be treasured and that is what we, as boxing fans, do regularly.
Contact the Feature Writers