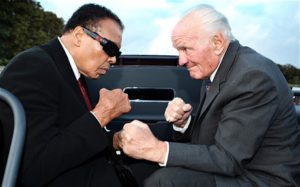 By Donald "Braveheart" Stewart
I grew up in Scotland, in the shadow of England.
I was unaware as a youngster that I was reacting to the orthodoxy and the cultural empire when I found myself disliking an icon of the sport but who left me cold; he was the epitome of the sovereign brand.
He was a hero of the English, an icon of the British establishment who won fights he should have won, got opportunities he deserved but just fell short when expectation was at its highest.
Is story is, when you put your own prejudice aside, remarkable. Such was his popularity that he is one of only four sports stars who has won the BBC sports personality of the year twice.
Sir Henry Cooper OBE, KSG 40-14-1, 27 KO's was a heavyweight boxer who didn't just win the British championship once, the Commonwealth belt once or the European title once but several times. When people thought he would he never got his hands on that world crown.
I was a wee Scottish lad who liked the unorthodox and the wee guy – we were just that kinda people. Henry Cooper was neither, he was a lump, a big lump who cut easily but how easily we prejudiced are so fooled.
He fought 55 times, won the British title outright 3 times in 12 fights, 10 of which he won, the Commonwealth title was won in 11 fights with a further 2 where it was on the line and he lost the European title once but won it and then defended it twice. He famously fought Muhammad Ali not once but twice; and lost the only world title fight in the second fight for both the WBA and WBC belts.
The first time was infamous for British fans because they thought Ali and his trainer cheated. It was the 18th of June 1963, when Cooper landed Ali, on the floor with a left hook. It was said that that punch travelled five and a half inches at 30 mph with multiple times the force of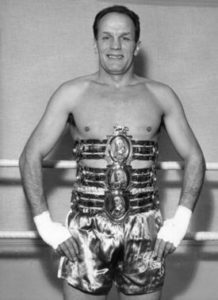 gravity, before striking the side of Ali's jaw. Known as 'Enry's 'Ammer, it dropped Ali as he had never been dropped before. 55,000 people then saw Dundee perform for Ali something that saw him "saved by the bell" amid that unique controversy; Angelo Dundee managed to do enough remonstrating with the ref, apparently cutting Ali's glove and he kept his man in the contest – his antics got him a few precious seconds – only 6 though and not the hours or minutes claimed by British outraged fans.
Years later Dundee would admit that he tweaked the loose stitching of his man's gloves and getting enough time for Ali to recover. Cooper knew that the time was vital when he commented "For a fit man, seconds are a lifetime. When you are really trained up, you need only 20 seconds and you are back to your old self" Dundee was also apparently guilty of using smelling salts to bring Ali around though only the glove issue led to any changes. Dundee's request for new gloves led to replacements being made available at the sides of the ring.
In the end Cooper was stopped in the fifth and Ali continued with his unbeaten record. Perhaps it was the fact that with only a third of the fight gone, Cooper had failed – it felt and ignominious failure to most at the time; we expected more and maybe I felt that too.
The second time Cooper met Ali in the ring, there was a world title on the line in 1966.
On the second occasion he was again stopped, this time in the 6th round. He was a bloody mess in front of 40,000 there watching.
This was long before the era of Anthony Joshua and Wembley arena fights of the magnitude we talk of now but Cooper's first fight with Ali was in Wembley in front of 55,000, his second was at the home of Arsenal Football club in front of 40,000 – he was the trailblazer in so many ways.
Copper was quintessentially English – a Londoner who from humble beginnings in a council estate in South East London – he grew up in the later years of the Second World War alongside his twin and fellow boxer, George and big brother, Bern. The country took to him warmly, giving hm the nickname of Our Enery. The dropped H in his name, in reference to his London upbringing and the way in which they spoke in the deepest part of London town.
His career was pretty impressive and in 1952, having been seen during his national service as a bit of a boxer he went to the Olympics as a light heavyweight. He lost in his first fight to Anatoly Perov of the Soviet Union, but he was an Olympian now. The Olympics came after winning two national titles as an amateur, before he turned professional in 1954.
His professional career saw him share a ring with the likes of Ingemar Johansson, Floyd Patterson, Brian London, Muhammad Ali and Joe Bugner. He straddled an amazing time the fifties and sixties through to the end in the early seventies.
He was more than just an observer by the end, he was a very active participant in the scene, though his final fight, against a young Joe Bugner who at 21 years of age was 16 years younger that Cooper was a clear indication that time was up. It was controversy at his height and controversy to the end as he was to lose his three titles – British, Commonwealth and European – to Joe Bugner on the now long forgotten quarter of a point margin. The crowd booed, Cooper retired and veteran boxing commentator, Harry Carpenter was clearly disappointed and appalled when he asked in commentary, "And how, in the world, can you take away the man's three titles, like that?" Copper took many years before he was able to talk to Harry Gibbs the referee who cost him those titles in the ring.
In retirement he cemented his reputation as a national treasure, making appearances, being a pundit and getting the attention that a dignified man should. He was not however quite the cute and cuddly figure portrayed at times. When he debated a long time opponent of boxing in Lady Edith Summerskill in 1970, she inquired: "Mr Cooper, have you looked in the mirror and seen the state of your nose?" Quickly, he replied: "Well, have you? Boxing is my excuse – what's yours?" It was ungallant, he acknowledged afterwards, but after a pleasant-enough discussion she had rather ambushed him.
He could also be quite opinionated and walked away from commentary when another British hero, Frank Bruno won his WBC title in 1995 against Oliver McCall. Cooper gave grudging praise and was far from a fan. He was also far from a fan of modern boxing, often sounding old school in his comments, lamenting a golden time of which he was principally at the heart.
His legacy is perhaps that according to one boxing journalist, as "the living manifestation of an age of tuxedos in ringside seats, Harry Carpenter commentaries, sponge buckets and 'seconds out'".
It left me a little cold then and even now I still struggle, though what was undoubted was his prowess and his ability with gloves on; that will never be doubted.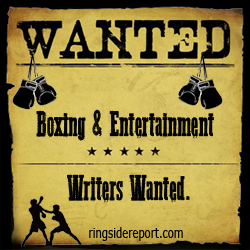 Contact the Feature Writers