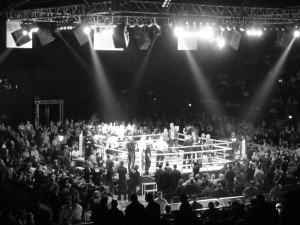 By Brian "The Beret" Young
Ladies and gentleman, the time is here to meet your Elite 8 Boxers in our ultimate boxing bracket fantasy tournament. Before we begin lets rewind, I decided I would create a fun boxing bracket. 64 fighters competing in a single elimination tournament. Broken down into 4 sub brackets just like the basketball tourney, North, South, West and Midwest. On the North side will be 32 fighters whose career was pre 1975 (prime), the Western Post 1975. The seeding will be the same as the NCAA with two of each #1-16 on each side matched the same way. Also, this is a P4P dream contest, so if a Featherweight faces a Heavyweight, for example, we judge not by size, but skill, reputation, etc.. Full disclosure, I contacted a group of boxing fans to come up with the fighters and the rankings but the decisions are mine.
For these last few fights I will give reasons for my pick and predict how the fight ends. So here we go, the last 8 men standing.
NORTH
#1- Muhammad Ali Vs #2- Joe Louis
Winner- #1 Muhammad Ali- KO 10
Ali and Louis are arguably the two greatest heavyweights of all time so picking a winner was not an easy task. But Ali had the better chin, as great as Louis' was. So Ali would be able to take out what Louis would dish out, and be fast enough to counter the Bomber. Louis would be arm weary and tired by the 10th and Ali would turn it on and stop the legend in a fight Louis would more than likely be far ahead in on the scorecards.
SOUTH
#1- Sugar Ray Robinson vs #3 Harry Greb
Winner- #3- Harry Greb via split decision or late round DQ.
Ray Robinson may be the greatest boxer ever, but Harry Greb was right up there. Greb was also fierce and a windmill who was not afraid to bend the rules, no, screw that, break the rules. And Greb was very good at it, he would use every trick in the book to throw the great Sugar Ray off and steal rounds with his seemingly endless punches. The possible DQ comes from a frustrated when a swollen/bloodied Robinson, having had enough, decides his best option is fighting dirty back, but not being as "experienced" as Greb, Sugar Ray would be flagrant and more likely to be caught by the ref.
West
#1- Roberto Duran vs # 2- Marvelous Marvin Hagler
Winner #1 Roberto Duran UD
I know what you are saying, Hagler beat Duran, but that wasn't the PRIME DURAN, in this fantasy the fighters are at their prime skill level and at Lightweight Duran may have been the perfect fighting machine. Hagler would be competitive and make it close, but Duran would have his hand raised.
Midwest
#1- Julio Cesar Chavez, SR. Vs #7- Roy Jones, JR.
Winner #1- Julio Cesar Chavez, SR. TKO 11
The speed and movement of Jones, JR. would only frustrate Chavez, SR. so long before the Mexican legend would just bull rush and keep the pressure on until the referee would step in and save the brave and game Roy Jones, JR. from himself.
THE FINAL 4 WEST
#1- Muhammad Ali vs #3 Harry Greb
The Winner #3 Harry Greb UD
I know this one will upset many readers but…. Ali and Greb starts out as a technical fight, Ali using his superior speed to frustrate Greb. But in time, Greb has had enough and opens that bag of tricks, starting with stepping on the foot of Ali, preventing him from moving away and The Pittsburgh Windmill opens up. Blasting away to the body and head of Ali. Ali takes the punishment and even lands a few pot shots of his own, but once Greb opens up his arms don't stop. Ali even tries to Rope-A-Dope Greb, but unlike Big George, Greb keeps the pressure on and doesn't wear himself out. Even managing to "lace" Ali and use his head as a third fist during clinches. Ali knows late that he must score a KO and goes for broke. Greb survives the final rounds with enough of a lead built up, due to the Rope-A-Dope costing Ali several middle rounds. It is a major upset, one which Ali insists is unjust, as do several ringside observers. But the scores stand and Greb advances to the Championship match.
THE FINAL 4 EAST
#1 Roberto Duran vs #1 Julio Cesar Chavez, SR.
The winner #1- Julio Cesar Chavez, SR. Split decision
In an ultimate dream matchup, two of the finest ring combatants in the history of the sport square off and do not disappoint. Duran starts out strong, stalking Chavez, cornering the Mexican icon and scoring several of the early rounds. By the 4th, Chavez has tasted the best Duran could dish out and figured out his timing. Chavez allows himself to be cornered only to use skill (and amazing uppercut) to spin Duran and take the offensive. By the ninth both men are tired but neither are willing to give an inch. It becomes a give and take fight thru the final round but Chavez digs a bit deeper, uses all his ring IQ to find his shots to stun Duran and is able to close the show with a second wind that is almost super human!
Well fight fans one match to go, stay tuned to RingSideReport.com for the breakdown of the championship match, Harry Greb Vs Julio Cesar Chavez, SR. and again, let me know your thoughts.
Remember to submit your questions/comments to me via the form box below by selecting Brian "The Beret" Young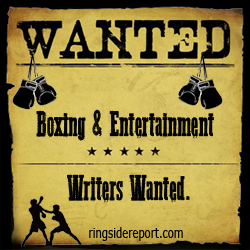 Contact the Feature Writers