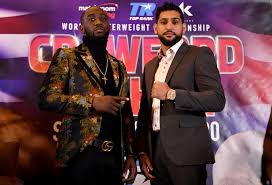 By Vinny "Glory Days" Lucci
In the past twelve months fight of the year honors should go to the venerable boxing trainer Virgil Hunter who somehow navigated the twilight zone known as a coma, all the while unapparent on most social media radar until his recent reemergence. Hunter was in New York training Andre Dirrell for a title fight at Barclays Center when persistent back pains made him seek medical attention to allow him to continue his duties and obligations to his fighter to the best of his abilities. He was prescribed Deca Durabolin a steroid used to raise insulin levels in which to feed muscles.
Unbeknownst to all he'd have a severe life threatening reaction that would take him to the brink of death. The medication instantly brought the onset of fatigue and his internal organs slowed to crisis mode. Hunter's kidneys shut down leading to a heart attack which propelled him into a diabetic coma for weeks.
If you ever allowed your mind to wander the dreadful expanse of never waking from a nightmare one can only imagine the horror of such a transcendental state forgoing your physical existence and tangible life morphing into an alternative universe of living only in the subconscious. According to Virgil his reality was a genesis somewhere in France, yet he swears he could hear every word of family and friends who kept bedside vigil. With the grace of God Hunter made a resounding comeback triggering an empathic reunion with Kahn in hopes of making the idyllic moment history.
The Event:
April 20 WBO welterweight champion Terence Crawford makes his second defense of title against world known but undeserving Amir Kahn at Madison Square Garden in New York City. Bob Arum of Top Rank promotes event that will be hosted by ESPN PPV.
The Stats:
The champion is known simply as "Bud" to his adoring hometown fans of Omaha Nebraska and has long been considered for pound for pound honors over the past several years. Standing 5'8" with a 74" wingspan the thirty one year old American sensation exhibits an extraordinary skillset from orthodox stance with the innate ability to switch to southpaw if needed. Boasting a perfect ledger of 34-0, 25 KO's Crawford had completely unified the JR. Welterweight division before moving north to 147 pounds last year.
Amir Kahn is an accomplished British boxer who hails from Greater Manchester England possessing a talented skillset and boxing acumen while trying to hide a porous chin. Standing a half inch taller than the champion but surrendering a three inch differential in reach will put him in unenviable dichotomy of being inside the champion's wheelhouse. At 32 years of age with a record of 33-4, 20 KO's his style matches up well on paper having also come up from lightweight division and establishing a name at JR. welterweight.
Previous fight:
Last October the champion turned back the challenge of one overzealous Jose' Benavidez who had been featured on a few Crawford undercards and had been calling out the champion insisting on cutting the line when it came to title defenses. Benavidez who held advantages in height, reach and possibly power was TKO'd with twenty seconds left in 12th round.
With the absence of Virgil Hunter from his corner while in physical therapy Kahn took on one Samuel Vargas, 30-5-2, 14 KO's last September in England and won a UD with Joe Goosen filling in for Hunter. The proposed tune up turned into a spirited affair where Kahn and Vargas traded knockdowns in second round and Vargas fell again in third. Midway through bout an out of shape Kahn slowed down pace dramatically and had to settle for decision where he insisted post fight he wanted to get rounds in.
What to look for fight night:
Both boxers vying for proper position with lead foot key factor in dictating the pace as well as controlling the rounds. The champion will constantly seek to keep one foot inside the pocket all night while the challenger will look to keep his just outside the gate in belief his hand speed will compensate the difference.
The Vinny Factor:
This time around it's a reality check. Amir Kahn has publicly spoken out that Crawford will be facing the bigger man who also happens to hold a better resume of competition. Nothing can be further from the truth. Crawford has been walking around at middleweight since he first caught the public's attention with ninth round blowout of highly respected Yuriokis Gamboa five years ago while Kahn manages to squeeze past his opponents by decision when he isn't getting himself knocked out. Terence Crawford has left behind an impressive wake of devastation to all who dare challenge him as he doesn't just beat you; he beats you up.
On the flipside, Kahn won decisions against the likes of Julio Diaz, Luis Collazo, Devon Alexander, and Chris Algieri while making repugnant boasts and dissing the very real challenges and offers to fight both Kell Brook and Manny Pacquiao. Eight years past his prime the "Kahn" job is over. Crawford will go from reality check to divine intervention in less than 12 rounds.
Odds:
Vegas odds have champion at -175 to + 138 for the challenger.
Prediction:
With sympathetic odds posted the East Coast hasn't seen much betting action leading up to the fight. After Kahn banks a few early rounds burning out the pads of his shoes Crawford will patiently gage the shortest distance between two points and act accordingly. His pride will not allow Kahn to hear the final bell.
Aftermath:
The reemergence of the legendary wisdom of Virgil Hunter will be the bright spot on a dull card with a main event that has a forgone conclusion. Kahn will have excuses, he always does.
Crawford is already trying to align a mega bout against rival IBF welterweight champion Errol Spence, JR. who is fresh off a twelve round domination of Mikey Garcia in what is the best possible unification among five belted champions.
Stay tuned…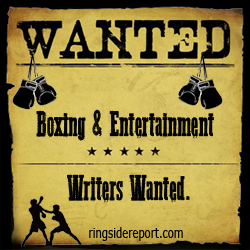 Contact the Feature Writers