[AdSense-A]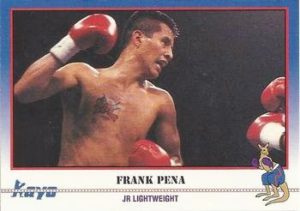 By Daniel Sisneros
Denver Colorado's Frank Pena was a celebrated amateur, winning the 1989 U.S. Nationals in the Featherweight division. His Dec. 20, 1990 professional debut was televised on espn, and he impressed boxing fans with a 4th round knockout over Mexico's Sergio Medina. Frank went undefeated in his first 16 pro bouts. I had the honor of working the corner opposite of Pena when he faced Albuquerque's Chino Sanchez on Oct. 26 of 1991. Pena dispatched of Sanchez with an impressive 2nd round technical knockout.
Pena suffered his first loss when he was upset on April 3rd, 1993 getting penalized 3 points for low blows, and dropping a 10 round decision to Mark Smith at the Aladdin Hotel & Casino in Las Vegas, NV.
Frank won his return match 2 months later with a 2nd round knockout of 9-2 Carlos Ortiz. He lost the matchup of young prospects, dropping a 10 round Majority decision to Freddie "Pit Bull" Liberatore on Oct. 13, 1993, in Boston MA. Frank's last pro bout was a 10 round decision loss to Juan Cervantes, that bout taking place Oct. of 1996 in San Francisco, CA. Pena finished his career with a pro record of 15-3-2, 8 knockouts.
The "Can't miss prospect" never got a title shot. In March of 2000, Frank's life ended too soon at the age of 28. He was a boxing fan's joy to watch with his power punching and skillful boxing style.
Purchase Dan's Hit Boxing Book Mat Tales: True Stories From The Bizarre, Brutal World Of Pro Boxing by Clicking the Image to ORDER it Now.