By Vinny "Glory Days" Lucci
In today's era of Alphabet soup titles where four belts occupy each division there is ample opportunity to turn every crossroads match into a viable and strategic maneuver validating rankings or producing a title shot. Somehow matching the precise two fighters into an intriguing main event where the outcome is not a forgone conclusion sells tickets. When still in doubt slap on a made up colorful title and hardcore fans will do the promoting for you by word of mouth.
The Event:
On April 20 Premier Boxing Champions will present Danny Garcia Vs Adrian Granados fighting for the WBC "Silver" welterweight title. The worthless "Silver" might as well be labeled Brown as it is a bullshit title as the event should be presented on its own merits. The fight will be hosted at Dignity Health Sports Park, Carson, California and presented on FOX network.
The Stats:
Danny Garcia is the name attraction on the bill having won legit titles at both Jr. Welterweight and welterweight. At 140 pounds he already owns a future hall of fame ledger having beaten Erik Morales, Zab Judah, Amir Kahn, Lucas Matthysse, Mauricio Herrera, Paulie Malignaggi, and Lamont Peterson before moving north seven pounds and besting Robert Guerrero and Brandon Rios.
Garcia Stands 5'8 ½" with a 68 ½" reach and fights from orthodox stance. Having just turned 31 the general media consensus and perception surrounding Danny is that he has passed his peak having recently been out boxed by Keith Thurman and out hustled by Shawn Porter in title fights. His record of 34-2, 20 KO's is still impressive considering he has never been stopped. The boxer from Pennsylvania will truly be under the microscope and expected to use this opportunity as a comeback vehicle rather than a tune up.
Adrian Granados is known as "Tigre" but has failed to truly expose his claws when presented with golden opportunities against Adrien Broner and Shawn Porter. Even though the boxing community at large thought he edged out Broner he didn't capitalize on his lazy opponent's non-aggression.
Standing 5'9" the orthodox boxer will look Garcia eye to eye when they face off but with a 74" wingspan will enjoy a 5 ½ " reach advantage making it the most significant attribute to nullify Garcia's experience. Granados is 29 years old and hails from Cicero, Illinois owning a 20-6-2, 14 KO's ledger.
Styles:
Garcia is a complete but flat footed boxer who wields good power in either hand but his new playmates at 147 pounds seem to handle it better. His best attributes have always been extraordinary balance and patience. Danny will box entire parameter of ring but can be a devil inside pocket.
Granados has been blessed with complete boxing skills making him astutely shrewd but his curse has been that he truly hasn't mastered any of them in which to build a battle plan upon. He will box from outside pocket but not stay loyal behind his jab. He often brawls two fisted flurries inside the pocket but forgets to exit allowing every opponent to tag him back.
Last Fight:
Last time out Garcia lost a UD to Shawn Porter in September at Barclays Center, Brooklyn New York for the vacant WBC Welterweight title. The decision was fair as Danny allowed Porter his typical bull rushes into pocket failing to play matador.
Granados also last fought in September stopping one Adalberto Borquez by third round TKO in Culiacan Mexico in a scheduled 8 rounder. Six months earlier at same arena he knocked out one Luis Fernando Valdez in three rounds of a scheduled eight thus leading us to wonder does he let it all air out knowing these fights aren't scheduled for twelve rounds where he needs to pace himself or does he just shine against inferior opposition?
What to look for fight night: In a word, the "jab." Trainer Angel Garcia must get his son on the stick and firing off triple jabs to gain entry inside the gate instead of just walking his man down. On the flipside Adrian holds two advantages on paper; the wondrous five and a half inch advantage in reach where a steady jab would serve him well and is more fleet footed which could make Danny's moniker of "Swift" look out of sink and rhythm throughout the bout if he remains steadfast to a fight plan and not be enticed into a war in the trenches.
The Vinny Factor:
This fight can take on Shakespearean proportions if the decided underdog is peaking as you read this and finally prepared to put it all together on this night. If Adrian does carry 147 pounds better than Danny while sticking to a game plan of boxing he can negate Garcia the opportunities needed inside the pocket. Failure to use his reach as he did against Porter will cost him the fight.
Danny allowed himself to incur two losses because both opponents forced their will and style upon him refusing to fight his fight. Garcia has a foe before him who has made the same mistake and must capitalize on it. Angel Garcia will need to be able to get Danny into a higher gear when necessary as when he could turn up the punch volume back at 140 pounds.
Odds:
Vegas has installed Danny Garcia as the favorite at -2775. Granados is +1350.
Prediction:
Garcia by decision. Granados has been very vocal that he doesn't believe he can win on scorecards so will be seeking to stop Danny which will give Garcia ample opportunities to work inside the pocket.
Aftermath:
Garcia can once again use his notoriety in securing a real title match perhaps against WBO champion Terence Crawford who showed interest just before signing to fight against Amir Kahn on same date. The Garcia camp was tardy in responding leaving Crawford to raise hell elsewhere. Another option is WBC rival Shawn Porter who just may find Danny his next mandatory come April 21.
A good hard fought showing by Granados will keep his fan friendly style aloft in upper echelon of top ten. Why? Because the five top slots are belted champions Errol Spence JR., Terence Crawford, Manny Pacquiao, Keith Thurman and Shawn Porter, not to mention the expected addition of Danny Garcia.
Stay tuned…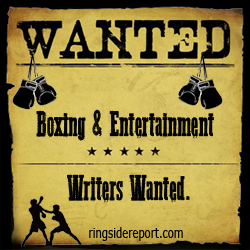 Contact the Feature Writers