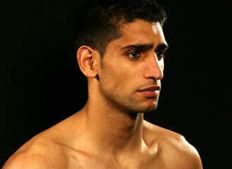 By Vinny "Glory Days" Lucci
Something wicked comes this way now and again as the sport of boxing never fails to morph from with inside itself and entertain the masses with back stories and self-inflicted hyperbole. This past week has spun some fascinating story lines from inside the ring and conference rooms. The unbridled balance of braggadocio and chaos leave the media with enough jargon to keep fans in rabid mode for weeks to come.
First off let's tip our hats at the recent victory of WBO welterweight champion Terence Crawford defending his title for second time on April 20, exposing challenger and fraud Amir Kahn once and for all. Pathetically the story line that emerged wasn't the sheer brilliance of Crawford negating Kahn's speed and systematically shortening the ring as early as the opening round entering the pocket at will but rather the punk manner in which Amir voluntarily threw in his own towel taking his five million dollar payday under false pretenses. Amir, you were paid to box or fight and you did neither. Your droll performance of uncompromising pain wasn't even in the entertaining caliber of Oscar worthy Adrien Broner when he fawned choking on a testicle in the tenth round against Marcos Maidana back in 2013.
While fans worldwide debated the validity of the blow which landed south of the belt line during the live broadcast the internet was abuzz with slow motion replays highlighting the fact that the TKO punch that strayed in the heat of combat was errant, but nowhere near the challenger's genitals. The punch landed much higher inside the crease of the leg to the right. Kahn's claim to be incapacitated is beyond amusing as he never executed his right to a five minute break to walk off the pain. When questioned by his trainer the venerable Virgil Hunter if he could continue his charge retorted "no." At the post fight press conference Hunter was bombarded by media questions as to whose decision it was abort the contest. He said, "Sometimes you can continue after a shot to the testicles, and sometimes you can't," bringing an intense ironic humor to Kahn's plight.
Furthermore he was caught crying in the dressing room and stated that he did not give Virgil the OK to halt the bout in which Hunter denies and said Kahn indicated he could not continue. Nowhere in the quiet debacle was a protest by Amir ever demonstrative. In retrospect Kahn's quotes border the grey zone between humorous and downright hysterical. Not only claiming he urinated blood after the bout but also boldly proclaimed "I'll fight to the end, you have to knock me out to get me to give up you know." Well, obviously not! The fact he now says he has lots of "fight" left in him and plans on continuing his career has some fans furious. Through all this Crawford laughed and said "the punch had no serious impact." I for you one am laughing harder.
After Amir Kahn had put himself on a pedestal and acted like royalty while negotiating mega bouts in media with ring immortal former and stable mate Manny Pacquiao along with fellow countrymen Kell Brook now looks like the ultimate avoidance act since Floyd Mayweather, JR. waited to accept the challenge of Pacquiao for five years. Having been knocked out and left for dead in his last meaningful bout against Canelo Alvarez back in 2016 there were no noteworthy performances sandwiched in between his knockout loss to Danny Garcia in four rounds way back in 2012. Allow me to be blunter as Kahn hasn't had an impressive win since stopping Zab Judah in four rounds back in 2011. That makes him eight years removed from his prime and as I stated weeks ago in handicapping this bout the "Kahn job" is over.
Every loyal fan of the sport who plucked down their hard earned $69.99 for the ESPN PPV should demand a total refund, as ESPN should cancel Kahn's paycheck for non-compliance of honoring his agreement to participate in a boxing main event.
Kell Brook has drawn a line in the sand and publicly declared he will no longer entertain a fight with Kahn who has ducked him for years and promised him a long overdue match just before signing to fight Crawford.
With Kahn coming off this embarrassing surrender there simply is no champion around who will be willing to tarnish their hard earned reputations facing a washed up boxer with a paper heart and glass chin. Look for Manny Pacquiao, Errol Spence JR., Keith Thurman, Shawn Porter and Danny Garcia to all move on to greener pastures in keeping pace with Spence, JR.
Ringside Report has urged fans for some time to boycott PPV with its unnecessary inflated pricing and bloated sense of fan worthy events. Be smart. Boycott Amir Kahn also. If Tuesday Night Fights ever made a comeback he just might deserve a spot on undercard.
Stay tuned…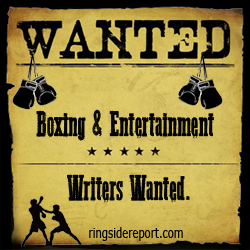 Contact the Feature Writers