By Vinny "Glory Days" Lucci
While fans fantasize speculation if Deontay Wilder and Anthony Joshua will ever get their act together and take it on the road the real clash of the titans is just almost upon us. Two beasts on a collision course about to walk the three wooden planks to glory in anticipation of being held aloft on shoulders of countrymen while draped in cape like national flag like and belted with glistening titles befitting of an Olympian god.
The mosaic paints too perfect a picture in this day and age when such proposed contest of skill is sadly bandied about until your puppy grows old. Time for fans to exhale and breathe deep the exalted bravado of two current champions who signed contracts like they were engraving history with hammer and chisel. The sole expectation of such overzealousness is magnifying the legacies they will one day leave behind.
The Event:
On May 4th in celebration of Cinco de Mayo weekend Golden Boy Promotions and Matchroom Sport will promote the Middleweight unification match between IBF champion Daniel Jacobs and WBA champion Canelo Alvarez. The much-anticipated event to be hosted at T Mobile Arena in Paradise, Nevada, and shown exclusively through DAZN live streaming.
The Stats:
Saul "Canelo" Alvarez is a Mexican icon form Guadalajara who is world renowned and looking to cement his claim as the best boxer extent. Standing 5'8" tall with a 70 ½" reach he makes up for disadvantage in height and reach with preponderance of speed and power. Regardless of whether you believe he outpointed Gennady Golovkin or not his significant improvement in ring generalship at 28 years of age indicate we are witnessing his absolute prime right now. With an impressive ledger of 51-1-2, 35 KO's spanning an improbable 14 year professional career Alvarez has won titles in four weight divisions making this matchup an optimistic "fight of the year "candidate.
Daniel Jacobs is an American boxer who hails from Brooklyn New York and has earned worldwide recognition in a twelve-year career having achieved championship status twice. Jacobs is a formidable sized middleweight who stands a hair short of 6' with a 73" wingspan who has long been rumored to enter ring fight night as a small cruiserweight. His moniker of "Miracle man" is a reference to his surviving and beating osteosarcoma which manifested as a bone cancer of his spine back in 2010. He boasts an intriguing resume of 35-2, 29 KO's.
Last Fight:
On December 15 making the first dent in his new 356 million dollar five year deal with DAZN Alvarez turned WBA Super middleweight champion Rocky Fielding into a piñata dropping him four times with body shots until referee mercifully halted the slaughter with a third round TKO. So sure of victory promoter Oscar De La Hoya booked it three months to the day of Canelo's edging out Gennady Golovkin where both combatants endured deep facial lacerations under eyebrows. For a fighter who has claimed for years not to be a legit middleweight the 168 pound belt fit snuggly on his waist.
If ever there was a perfect tune up opponent for this bout old sparring partner Serhiy Derevyanchenko surely fit the bill and came with mandatory status for vacant IBF title and top flight promotion. Serhiy at 33 years of age possesses the same body type at 5'9" with 68" reach to go with relentless two fisted anvils and stellar chin. The transplanted Ukrainian who lives for the pocket gave Jacobs a good test of what is to come last October at the HULU Theater at Madison Square Garden. Jacobs won a split decision but clearly won the bout by utilizing his height, reach and ability to tie up his adversary as both gents were unleashing hammers.
What to look for fight night:
Canelo has proven he can play matador or bull with equal aplomb. Having survived and flourished through 24 rounds of mayhem against rival Gennady Golovkin, Alvarez will be of the mindset that Jacobs cannot hurt him. His plan will be to bore his way into the pocket and get under Jacob's jab. Once inside he will work the body with both hands forcing the chin to expose itself as a secondary target. Danny truly believes he is of the ultimate pedigree and can emerge victorious with carefully orchestrated power shots and again utilizing his natural advantages. What he must do is not forgo a body attack like Gennady did and try to extend the length of the pocket by boxing the parameters of entire ring while making his power shots count.
Both champions must be aware of punch stats and let their hands go. Danny fighting in "House that Canelo built" will need to win rounds as clearly as possible leaving judges open to ridicule if he fails to sway key rounds. While no one may ever prove a fix was in concerning Alvarez's razor thin draw and win over Golovkin, 47 out of 50 writers polled ringside the night of rematch had Golovkin winning, especially after going for broke the final four rounds.
The Vinny Factor:
There isn't a single boxer around in any division that I respect and admire more than Daniel Jacobs. He is a class act and the gent has an outstanding champion's heart and skillset. He may also be not so secretly passed his peak as he hasn't been able to capitalize on his light heavyweight frame and produce a knockout in his last four bouts. While few expected him to put Golovkin down in their unification match back in 2017, he was the betting favorite in past three bouts against Luis Arias, Maciej Sulecki, and Serhiy Derevyanchenko whose combined records were 56-0 before getting into the ring with Danny.
Sitting ringside for all four bouts I witnessed Jacobs inexplicably hold back when he hurt his opponents. Against Golovkin there were a few key exchanges where Danny let go with four punch combinations that got Golovkin's attention, but instead of stepping inside gate and putting a few strings of combinations together he preferred to stamp his foot in defiance and bang his gloves together putting on a rather good show for his fans but doing little in stopping Gennady from controlling most rounds. Somehow the assassin's mindset that took out Caleb Truax, Sergio Mora 2 x's, and Peter Quillin back in 2015 now seems to be a distant memory.
Duly noted significant fighters who chose to box instead of brawl heard the score cards read against Canelo; (Shane Mosley, Austin Trout, Floyd Mayweather, JR., Erislandy Lara, Miguel Cotto, Julio Cesar Chavez, JR., and Gennady Golovkin) leaving Danny on a dance card filled with landmines and no margin for error.
Odds:
Vegas has installed Canelo Alvarez the betting favorite at -360. Daniel Jacobs has been respectfully placed as the underdog at +300.
Prediction:
Alvarez by decision. This is one time where I wish I was wrong but the first key to handicapping is going with your head, not your heart.
Aftermath:
Canelo will look to add another head or belt to his collection in September as a preamble to rematch with Golovkin in December. While Jacobs will ask for one himself he'll have to put on a herculean effort that both media and fans will endorse. Newly crowned WBO champion Demetrius Andrade could provide a logical slot on Alvarez's busy calendar leaving long time pretender Billy Joe Saunders out in the cold until next year along with highly confused Jarmall Charlo who has yet to face a name middleweight while masquerading as the WBC "interim" champion.
Stay tuned…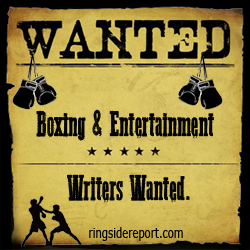 Contact the Feature Writers