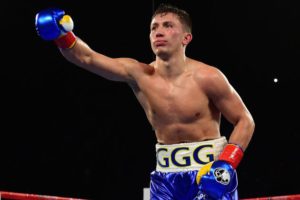 By Vinny "Glory Days" Lucci
For all the Canelo Alvarez fans who hoped to be reading the career epitaph of nemesis Gennady Golovkin right about now be forewarned that that two titans are back on schedule to clash this September. For those with short term memories let me remind them he lost his belts on MD in which 47 out of 50 boxing writers polled ringside thought Golovkin won. Back that up with the fact he out landed Alvarez in 8 out of the 12 rounds is more than compelling. What's more than amusing is all three judges had Canelo up 87-84 after nine rounds, in which Gennady then turned up the heat, the last three rounds and went for the knockout taking all three convincingly.
Yet Steve Weisfield and Dave Moretti dared to enter a final tally at 115-113! (Glenn Feldman scored it 114-114.) By all journalistic logic Golovkin should have once again pulled even on scorecards and remained champion with a draw as Feldman's score card indicated.
Hate to dwell on bitter notes in memory lane but if highly inept judge Adalaide Byrd hadn't handed in an absurd Alvarez score card of 118-110 in first bout there truly wouldn't be a need for rematch. The fact Byrd had a history of controversial decisions coupled with Alvarez coming up dirty by VADA for steroid use more than once and one has to wonder why the hell GGG has become an afterthought?
Make no mistake this article is not about kicking sand on Canelo who not only is the current biggest draw in boxing, but his skillset and resume undeniably place him somewhere in top three pound for pound. Directly after rematch post-fight Canelo claimed he was going to take some time off with family and bask in this victory. Instead promoter Oscar De La Hoya had other plans and wanted to make a dent in Canelo's new DAZN contract that promised him an eleven fight, five year deal worth 365 million and got him back in the ring three months to the day with one Rocky Fielding who held the WBA super middleweight belt. Alvarez treated him like a human piñata and dropped him four times in three rounds forcing referee to halt the bout. As Canelo prepares to take on the formidable challenge of WBC champion Daniel Jacobs on May 4, Gennady is once again about to make his presence known in middleweight division. Having made 20 successful title defenses his ledger now reads 38-1-1, 34 KO's.
Gennady has recently signed a three year 100 million dollar deal with DAZN with first event slated for June 8 at Madison Square Garden against unbeaten and largely unknown Steve Rolls who hails from Canada with an 19-0, 10 KO's record. At thirty five years of age he is offered up as a sacrificial lamb much the same way Alvarez was afforded a breather against Fielding. Gennady is listed as 25/1 favorite.
So much for smooth sailing as the most stable corner in past nine years just hit choppy seas. This past week Golovkin has dismissed longtime trainer Abel Sanchez saying "I want to build upon what I have already achieved and continue to better myself. Therefore I will not be training with Abel Sanchez."
With total class that has been his trademark he added to the verbal "big drama show" by saying "Abel is a great trainer, a loyal trainer; and a hall of fame trainer. I want to thank Abel for the lessons he taught me in boxing."
The public retort by Sanchez kicked up a mini firestorm by a bitter Abel who did not pull his punches saying "He (Gennady) proposed and insisted on an insulting new trainer compensation schedule. My dignity and honor does not allow me to be screwed like that. It's unfortunate that being greedy, being ungrateful and no ethics, honor or integrity will end this relationship.
As this story line first broke I remember a very bitter Angelo Dundee parting ways with Sugar Ray Leonard after receiving a nominal check for his work for the Marvin Hagler mega fight. Dundee was appalled not receiving the trainer percentage he was accustomed to for years based simply on the fact that Ray was not willing to part with more money than for his services than he ever had to before.
Fascinating how Oscar De La Hoya and his "Tarnished Boy Productions" look to spew jealousy just to keep relevant and in the spotlight. De La Hoya claims that Gennady is breaking a nine year relationship with Sanchez simply so he can publicly blame loss to Alvarez on his trainer. Oscar, time to put the big boy pants back on and leave the pantyhose in locker room.
Epilogue: It is sad when these father and son type relationships break up on bad notes between trainer and protégé. Having not interviewed either man on this subject I have too much respect for both to weigh in with an opinion on this private matter.
Gennady said he will announce shortly who will take over as trainer leaving the boxing community at large guessing who will fill Sanchez's shoes. Noteworthy trainer Robert Garcia has already chimed in that he would love the chance to train Golovkin but every trainer worth his salt would also jump at the chance.
I remember talking shop with other writers last year over the fact that in both Canelo bouts combined Gennady inexplicably landed a grand total of 14 body punches making me wonder out loud if Abel took him as far as he could go. If I had Gennady's ear I'd steer him to the Wild Card Gym in Hollywood California and see if the great Freddie Roach is as good a fit as he appears on paper. Not only does Golovkin live in California, but Roach's work with hand pads and going to the body are legendary.
The Vinny Factor:
I am sure every mechanic in the world would love to fine tune a Bugatti. Logistics dictates you get the very best.
Stay tuned…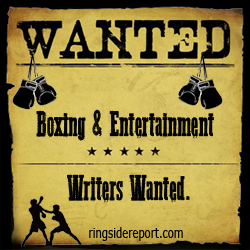 Contact the Feature Writers