By Rich "Lite It Up" Lopez
It's fight week and we have a good one in store for this weekend. It will be the return of boxing's biggest star Saul "Canelo" Alvarez, 52-1-2, 35 KO's, of Guadalajara, Jalisco, Mexico. It will be Canelo's second fight of his 11 fight deal with DAZN. His debut on DAZN was back in December at Madison Square Garden in New York, when he dismantled Rocky Fielding in three rounds. With the victory, Canelo won the WBA Super Middleweight title in a third weight class. Sure Fielding was not the best super middleweight of the division but this was more of a tune up fight for Canelo and his debut at Madison Square Garden. Plus he came off a tough fight in his rematch with "GGG". This Saturday in Las Vegas he will take on the "Miracle Man" Daniel Jacobs and we should applaud Canelo for taking another risky fight.
Canelo has never ducked any fighter and this is why he is one of the most popular fighters today. Canelo did not have much of an amateur career, so he started professional at the young age of 15 years old. The red headed Mexican had already started to make some buzz in Mexico due to his unique look and the outlook was good but not everyone was sold on him at that time. That started to change when he started to take on bigger challenges and signed with Golden Boy Promotions.
At the age of 20, Canelo became the WBC World Super Welterweight Champion. Nine years later, Canelo is now the Lineal Middleweight Champion and also has the WBA and WBC titles. The resume speaks for itself. Even though they were close fights, he defeated Erislandy Lara and Austin Trout when both fighters were in their prime and considered dangerous opponents. If you recall, Golden Boy Promotions did not want Canelo to take the Lara fight, but Canelo insisted otherwise.
Canelo also defeated the future hall of famer Miguel Cotto. Even with fights were Canelo was the big favorite to win, he won in spectacular fashion. He knocked out James Kirkland and Amir Khan, plus he dominated Julio Cesar Chavez, JR. in a shutout. Then of course you have the two fights with "GGG", which were close, but leading up to the fight, most fans picked GGG to dominate or knockout Canelo. In those fights, Canelo was competitive with "GGG" and he proved why he is an A-level fighter regardless who you thought won those fights. The only loss on Canelo's record is to Floyd Mayweather, JR., who is one of the best fighters of our time. No shame in that and Canelo has improved since then.
On to the Jacobs fight, which is a great match up for the sport and for the fans. Jacobs presents a great challenge as he is the number two middleweight in the world. To me Canelo is a slight favorite in this fight and Jacobs is a live underdog. I see Jacobs starting off well as he usually does in his fights and take the lead in the fight. Jacobs' speed and height will give Canelo issues in the fight but I see Canelo coming on in the late rounds. In Jacobs last two fights, Jacobs has shown to fade in the late rounds and he can't afford to do that with Canelo. I like both fighters and it's hard to root against either of them. For my prediction, I believe Canelo will shine in this fight and will win by a 9th round TKO in a war. No disrespect to Jacobs, this is just my prediction. However, if Canelo wins on the scorecards, let's hope it's a fair one. Some fans don't give Canelo his credit due to some close wins in his career or they believe he lost one or both of the GGG fights. A convincing win for Canelo on Saturday night will be needed.
Right now Canelo is ranked in the top three in most of the P4P lists. I have him number one at the moment, but let's wait and see where he stands after the Jacobs fight. At the end, Canelo is not only attempting to be the best in boxing today but a future hall of famer. In addition, he would like to be recognized as one of the best fighters from Mexico and be mentioned with names like Julio Cesar Chavez, SR., Juan Manuel Marquez, Salvador Sanchez, and Ricardo Lopez, just to name a few.
As long as Canelo keeps winning and fights the best fighters out there, he will achieve all of his goals.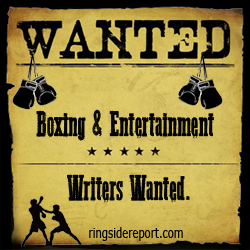 Contact the Feature Writers