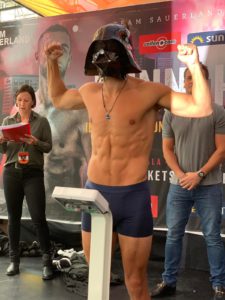 Anthony Yigit surprised fans by dressing as Darth Vader at the weigh-in today in Frankfurt ahead of his fight with Sandro Hernandez at the Fraport Arena.
The former World title challenger went undercover as the famous Star Wars villain, posing for pictures with unsuspecting spectators before taking to the scales and making weight for his eight-round super lightweight clash.
"Tomorrow is May 4th, Star Wars Day, so I wanted to do something fun to commemorate that," explains Yigit. "I was in the crowd taking photos and challenging people to lightsaber fights before my name was called. No one knew it was me so everyone was pretty shocked when I took off the mask."
And after coming face-to-face with his opponent, 'Darth Dig It' had the following to say: "The force is strong with him, but not strong enough. He will feel the full power of the dark side when we meet in the ring tomorrow!"
Download a free-to-use video of Anthony Yigit from today's weigh-in here.
Yigit fights on he undercard of the IBF International Light Heavyweight title clash between German rivals Leon Bunn and Leon Harth. All the action is available to watch live on Sport 1 in Germany and Viaplay in Sweden.