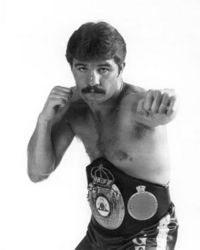 By Donald "Braveheart" Stewart
Anyone with the nickname "Mad Dog" is likely to bring with them a reputation. An amateur champion in the USA at welterweight in 1980, then at light welterweight he became the WBA world champion as a professional, Gene Hatcher 32-7, 23 KO's was always going to be … a mad dog…
An amateur champion, in 1980 he was the AAU welterweight king before he turned professional in 1981. Of course, that boycott of the Moscow Olympics probably hastened that change to the pro ranks in 1982 as it hindered so many amateur athletes in the US and probably stopped Hatcher from making his mark as an amateur when the boycott saw American athletes staying at home. It would have been great to see what he could have achieved in that arena.
Along his professional pathway Hatcher became most noticeable for his wins against former WBC super featherweight champion, Alfredo Escalera in 1982 and the Ring Magazine's "upset of the year" in 1984 when he beat WBA champion, Johnny Bumphus in New York.
The fight against Bumphus was noticeable because there was some dubious wrestling between the fighters followed by a melee in the ring after the stoppage. When the fight was stopped, Bumphus and his team were far from happy about it. Hatcher deserved the win and many thought he had creditably come from behind to upset the champ. For Hatcher, it was a deserving win, and the nature of its ending should not take away from the achievement.
It was in the 11th round that Hatcher caught Bumphus, crushing him with a left that sent Bumphus down. Bumphus got up, staggered and Hatcher got the ending he was after when the referee called a halt to the punishment. Bumphus wanted the fight to keep going and went after Hatcher, they were separated by officials. The official ending though, was recorded as a Hatcher win; Hatcher was only 25.
Whilst the reaction of Bumphus might have appeared strange it might have had something to do with the fact that Bumphus was down to face Clinton Mackenzie next, but Hatcher scuppered that plan; wonder why he never entered the ring against Mackenzie instead.
When Hatcher defended his title the first time, against Ubaldo Sacco, in 1984, he won. His power was certainly felt by his opponent as Hatcher allegedly broke Sacco's jaw; he was no powder puff puncher. His reputation was of a come forward fighter who refused to give up. Though he never got too many fans excited about his style he entertained and got many a job done.
Hatcher though seemed a bit shy of a rematch and when Escalera faced him for the second time, Escalera won in 10 rounds. When he faced Sacco for the second time, he lost the rematch in July 1985, being stopped due to a cut in round 9.
The rematch with Sacco was not pretty. The cuts he suffered began to be an issue for him and making weight may have also been an issue as he started to take on fights at different divisions.
We came to know his name in the UK because he had his last world title attempt against a Brit. Hatcher was unable to take the WBC and IBF titles from our Lloyd Honeyghan in 1987.
Before the fight there had been talk of how awkward he was going to be and how he might prove a tricky opponent for Honeyghan. Honeyghan stopped him in 45 seconds, giving us plenty to crow about but that would not be a fitting memory with which to end this career… Hatcher's fall to the canvas, awkward though it was, was a coup de grace from which he was not really to recover. The fight was not in the UK but in a bullring in Marbella. It was an open air fight under the stars and promised a spectacle. What it delivered was far from the high end fight people expected.
The ends saw Hatcher floored and down for 4, got back up, took more punishment, slid to the floor and the ref was, according to British boxing guru, Steve Bunce, "abysmal". In his book, Bunce's Big Fat Short History of Boxing, Bunce recorded both fighter's views after the fight. Honeyghan, giving rise to Bunce's own view of the referee said, "The ref didn't stop the fight – I did. I stopped throwing punches. I just walked away. I didn't want to hit him anymore. He was out cold."
It took several minutes for Hatcher to get to his stool after the fight was stopped but his assessment, as told to Bunce of his opponent was fair, "Honeyghan is a helluva puncher, but I still think he's an arrogant son of a bitch."
He actually continued to box, fitting in another 7 fights where he managed 5 wins! In 1995 though, he called time.
If his assessment of Honeyghan was accurate, what of ours of his professional career. Time should be very kind to him and as he preaches from his pulpit now as a full time pastor at the Hatcher Ministries, we can reflect on the brutality of his career being one that brought rewards and recognition of man who contributed, entertained and gave his all. He came forward and kept going until you stopped him – perhaps learned as a life lesson at the knee of a father who, like his son, like the old fire and brimstone treatment…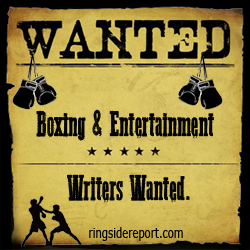 Contact the Feature Writers