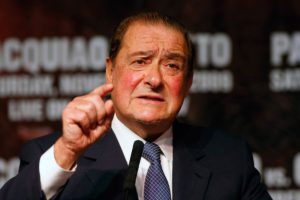 By Anthony "Zute" George
The aftermath of ESPN/Top Rank Boxing's first pay per view is not good. First, the way the fight ended was horrific, and the fact that Kahn keeps talking trash makes it worse.
Speaking of talking trash, what in the world was Bob Arum doing calling out Al Haymon? Now, I do not question Mr. Arum's success. Not one iota. He has made billions of dollars in a sport where most people are satisfied making peanut shells, but his tirade about Haymon was not his best moment.
Bob had to realize the scope of the situation and he did not. The crowd, while a decent size, was far from a sellout. Bad. The crowd that was there, was irate about a main event they felt they just got duped into buying, and the boos were resounding. Worse.
To call out Haymon at that moment was a bad decision. It was not what the paying crowd wanted to hear. Plain and simple. With that said, would there ever be a good time to throw out such accusations? If everything they say about Al is true, such a verbal attack is not going to get you any flies. Haymon is just going to spit out that vinegar.
And it gets worse. The preliminary pay per view numbers are in for Crawford Vs Kahn and they are horrific. 150,000 buys, for a card that featured one of the prominent pound for pound fighters in the world, and, had a very robust promotion; Top Rank Boxing spared no expense in getting this fight out there, and only 150,000 buys? Ouch.
Even taking exaggerations into consideration, the Spence Vs Garcia pay per view doubled the buys of Crawford Vs Kahn.
Based on the pay per view numbers, Errol Spence, JR. is now calling out Arum. Telling him a 50/50 split after seeing these numbers is not fair. And to the letter of the law of the boxing business, Spence, JR. would be correct in this estimation.
Bob Arum has no muscle when it comes to making Spence, JR. Vs Crawford. Crawford's numbers were bad, and he has no viable alternative for Crawford to fight. On the flip side, Spence, JR.'s pay per view numbers were decent, great if you compare them to Crawford, and he indeed has viable alternatives to fight.
Up first, Shawn Porter. Next, possibly the winner of Thurman Vs Pacquiao, or Danny Garcia. All of which would sell and have the interest of most fans. The only way Spence, JR. Vs Crawford has a chance to get made is if Haymon and the PBC dictate the pace. Any chance Mr. Arum lets that happen? Unlikely.
Crawford is probably too proud to let that happen as well. However, if they truly believe they are the better fighter, take the risk and show the world. A victory over Errol Spence, JR. will no doubt put Arum and Crawford in the cat bird seat. Right now, the numbers are just not on their side.
The harsh reality is Terence Crawford, as great as his is, could not equal Spence, JR.'s pay per view numbers against Garcia in two fights. The numbers for the Viktor Postol fight, Bud's only other pay per view, were even worse than Kahn's. You must ask, if Arum had those numbers in his favor, would he be okay with a 50/50 split? The nature of capitalism, and Bob is indeed a great capitalist, suggests not. Never leave anything on the table. Right?
I do not have any dog in the Arum Vs Haymon fight, I am just calling it as it is. There are plenty of Al Haymon haters out there, however, and if Spence, JR.Vs Garcia performed as bad as Crawford Vs Kahn, they would be fixing to hold ticker tape parades across the nation in celebration.
Mr. Arum is better suited focusing on making some fights the fans want to see and can probably be made.
For starters, how about offering Deontay Wilder the same deal you gave Spence, JR. for the Tyson Fury rematch? Why did Wilder have to agree to other fights with Top Rank, and less of a cut compared to Fury? Had Wilder and Haymon been offered a 50/50 split down the middle, there is a good chance they would have accepted.
Also, where Bob does have all the horses in his stable, presumably, is at lightweight. If Bob Arum wants to make fights fans crave to see, how about really pushing for the Vasyl Lomachenko Vs Teofimo Lopez fight?
That fight can be set up with Lomachenko fighting Commey, and "The Takeover", as Lopez refers to himself, facing Luke Campbell for the vacant WBC lightweight title. With the winners fighting each other. Presto, there it is. Short time marinating that the fans will buy.
Bob and Top Rank hold the cards to make Lomachenko and Lopez happen, and there is hardly a whisper about this fight from the Top Rank office. In fact, Teofimo is the only one who is talking about this fight at all. Why?
"The Takeover" has stated that he is leaving the lightweight division after 2019, making the fight with He and Lomachenko unlikely if it does not happen this year. If Bob Arum fails to deliver this fight to the fans, barley lifting a finger to try, well, then it is fair to question his true desire to give the fans what they truly want.
At the end of the day, Bob Arum is not going to lose a red cent, not personally, and Top Rank Boxing and the PBC will continue to make in house fights, some will be hits, some will be misses. The boxing carousel is a stubborn thing. And it stops for no one. You either get off or hang on for the ride.
Other than the fans, the biggest loser in all of this appears to be Terence Crawford. Unless certain fighters move up, Bud is staring down at a bunch of fights nobody will want to see, and he will not be able to transform his big talent into gargantuan paydays. And that is unfortunate.
However, that is the boxing business…
Check out "Zutes Boxing Talk", which airs every Wednesday live from 7PM to 9PM ET. The show is dedicated to discussing the sweet science straight up with no twists. "Zute" has interviewed boxing legends such as Carlos Palomino, Mike McCallum, Pernell Whitaker, Jeff Fenech, Buddy McGirt, Mark "Too Sharp" Johnson, Marvin Camel and Eddie Mustafa Muhammad. As well as today's stars like Danny Garcia, Sergey Kovalev, Regis Prograis, Teofimo Lopez and Gary Russell, JR.
Follow the link to listen live or catch archived shows on demand.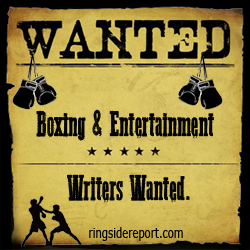 Contact the Feature Writers