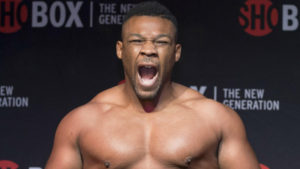 By Vinny "Glory Days" Lucci
I wonder if Anthony Joshua walks around the gym singing "Clowns to the left of me, Jokers to the right, here I am stuck in the middle with you." While he was planning the demise of next challenger to his WBA, IBF, and WBO belt collection it appears the "Baby Miller Story" has come to an abrupt ending without sacrificing a brutal knockout in the ring.
Jarrell Miller, known to fans as "Big Baby" somehow got himself ranked without the benefit of ever having beaten a ranked heavyweight contender. Miller's having went from undercard status to fighting for heavyweight championship of the world at Madison Square Garden on June 1st left many a deserving contender shaking their head in disbelief. The amusing thing about the placation of his demanding this title shot is the boomerang karma that seemed to go with it.
When early negotiations to unify titles against WBC champ Deontay Wilder once again failed to materialize promoter Eddie Hearn of Matchroom Sport reached out to Miller figuring to keep Joshua busy with a colorful character. On April 20th Big Baby had his application for a New York State license to participate in this match denied by the New York State Athletic commission. Miller had failed three drug tests provided by VADA (Voluntary Anti-Doping Association) including GW1516 which is a banned endurance enhancing synthetic drug that also helps burn fat along with EPO (Erythropoietin) another forbidden performance enhancing drug that stimulates red blood cell creation. In a later test the result of GW1516 turned up positive once again leaving no doubt of misinterpretation of guilt.
Jarrell's public response was "A lot can be said right now. I'm going to get straight to the point, I messed up. I made a bad call. There's' a lot of ways to handle a situation. I handled it wrongly and I'm paying the price for it. I missed out on a big opportunity." Yes, a shot at the heavyweight championship of the world was a "Rockyesque" opportunity but the blown payday of nearly five million dollars may never again be realized again.
Miller remorsefully went on to say in part, "I hurt my family, my friends, my team, my supporters but I'm going to own up to it. I'm going to deal with it. I'm going to correct it. I'm humbled by the experience."
The admission of guilt and reluctance to hide behind denials or excuses will weigh in his favor when judgment time rolls around which bring the situation to an interesting "catch 22." Since Miller's N.Y. license was expired the N.Y.S.A.C. can't revoke it, only deny a new one. It's not clear if commission plans any further disciplinary actions like a one year suspension. If they do, out of protocol other states will follow. If they don't, what the hell kind of message are they sending the cheaters of the sport? Ringside Report in all fairness to those who labor the exorbitant pains to achieve success supports a ban on a zero tolerance basis.
During this debacle the champion has pretty much kept low key awaiting promoter Eddie Hearn to save the day/date and find a suitable replacement. With WBC champ Deontay Wilder booked to defend against Dominic Breazeale on May 18, and Tyson Fury finding an undefeated heavyweight named Tom Schwarz to dance with on June 15 left the portal of opportunity shrinking by the minute. The logical protagonist would be top ranked fan favorite Luis "King Kong" Ortiz who is void of any commitment and the best draw possible to engage the fans, media and Joshua himself, but clowns to the left of me, jokers to the right, the forty year old Cuban boxer turned down the match citing he was low balled monetarily so that Joshua could avoid him.
News flash Luis, at your age and having already been knocked out in first title try against Wilder you should have jumped on this chance rather than have to take two or three more bouts to realign the circumstances. A loss to anyone along the way puts you at the back of the line.
Almost completely out of options Hearn will most likely be calling on Michael Hunter, 16-1, 11 KO's to cut to the head of the line like a customer at bakery shop who is double parked in fire lane.
The Vinny Factor:
Getting back to Jarrell "Big Baby" Miller he must understand his regrets must come from his actions themselves, not just the fact he got caught. He was quoted as saying, "My heart is bleeding right now." Well my huge steroid bond friend, what if you weren't caught and you seriously injured another fighter in ring? Would your heart bleed for your fallen opponent or for self-pity you displayed this week?
Stay tuned…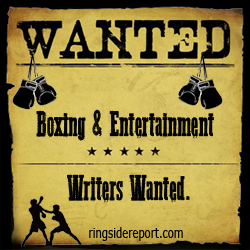 Contact the Feature Writers