By Anthony "Zute" George
Every pugilist who ever laced up the boxing gloves has one common goal, fighting for a world title. Many boxing pundits spend a lot of time downplaying the world championship belts of today. In some cases, they are down-right nasty about it. Despite the expanded energy to deem world championship belts meaningless, world championship belts still mean a great deal to the fighters. As every professional knows what having a world strap around their waist means. More television time and a whole lot more money.
Andy Ruiz, JR., 31-1, 21 KO's, gets a chance to fight for this opportunity on June 1st, at Madison Square Garden, in New York City. The Destroyer is getting a crack at the three belts Anthony Joshua holds in the heavyweight division, as a replacement fighter. Ruiz's Wally Pipp moment comes at the expense of Jarrell "'Big Baby" Miller. While Miller did not lose his opportunity to fight because of a headache, no, Miller's reason for being replaced is much more disgraceful than that, the analogy still fits. Will Andy parlay his Wally Pipp moment into a Lou Gehrig like career? There are a lot of factors involved.
Andy first turned professional in 2009, and caught the eye of many boxing pundits because of his unique skill set. Presenting with the type of body that one would think would me more successful at the buffet table, rather than the boxing ring (Andy has referred to himself as a 'fatboy'). Ruiz can move extremely well, has unbelievable hand speed, better than average power in both hands, and he is well versed at giving angles. He fights more like a middleweight than a slow, plodding heavyweight.
In 2012, Ruiz stated that, "Hopefully I become the first heavyweight Mexican champion."
The Destroyer's first opportunity at his goal came in 2016, when he fought Joseph Parker for the vacant WBO heavyweight title. Andy lost a majority decision. Somehow, that fight has not aged well, as many boxing pundits refer to it as a dull fight. Nothing could be further from the truth. Parker and Ruiz fought on a high level, trading crisp exchanges throughout the 12-round stanza.
The big difference in the fight was the hometown cooking Parker enjoyed, the fight took place in New Zealand. The scorecards read in favor of Parker, 115-113 (twice), while one judge saw it even, at 114-114.
Going into the fight, there was some speculation about how Andy would perform. The consensus belief was that he was overly protected up until that point, and not ready for the championship level. Which is not the typical stock and trade of Top Rank Boxing, the promotional company who Andy was under contract with. Indeed, Top Rank has a reputation of slowly developing their young talent, however, they usually remove the training wheels, if you will, before a fighter competes for a world championship. That did not appear to be the case with Andy, as a major step up in class appeared to be missing from his resume, prior to fighting Parker.
Ruiz proved all doubters wrong, as he clearly showed he can compete on the championship level. Top Rank's slow-moving formula indeed had a positive effect on Andy.
Regarding the fight, Andy stated, "I can't take nothing away from Joseph Parker, he got the win in his hometown. There were a lot of things I could have done differently to get that win. He was the best fighter I fought." Refreshing honesty.
Rather than getting back in the mix after his first loss, Andy opted to take a long layoff. "I took some time off after the Parker fight. I started to make investments. Me and my dad have a construction company, so, I took a little time off to be with the family," Andy explained.
Since then, Andy has split ways with Top Rank Boxing, and is now a PBC fighter. Andy explained that he had to reach deep into to his wallet to buy out his contract with Top Rank, which had one fight remaining. The move to leave the giant promotional company has already paid dividends, however.
His first fight with the Al Haymon company was against Alexander Dimitrenko, 41-4, 26 KO's, on April 20th of this year. A solid, stoppage victory. Just six, short weeks later, The Destroyer will be competing in the biggest fight of his life. A win over the undefeated Anthony Joshua, 22-0, 21 KO's, will change his life in oh so many ways.
For starters, it would be the favorite for upset of the year, as replacement fighters in world title fights are never supposed to win. Indeed, boxing history shows fighters have increased their stock and stature from such fights, Bert Cooper against Evander Holyfield, Vitali Klitschko against Lennox Lewis, are examples of fighters taking a fight for a championship on short notice, but more often than not, they fail to secure the win.
What are Andy Ruiz, JR.'s chances? At press time, Andy is a 12-1 underdog. Sizeable, indeed. The skill set that Andy possesses does not appear to be in keeping with those odds. Only time will tell just how accurate these odds are. Thankfully, the wait is not that substantial, as June 1st will be here with the same blistering speed as an Andy Ruiz, JR. two piece.
The quotes from Andy Ruiz, JR. came directly from Zutes Boxing Talk.
Check out "Zutes Boxing Talk", which airs every Wednesday live from 7PM to 9PM ET. The show is dedicated to discussing the sweet science straight up with no twists. "Zute" has interviewed boxing legends such as Carlos Palomino, Mike McCallum, Pernell Whitaker, Jeff Fenech, Buddy McGirt, Mark "Too Sharp" Johnson, Marvin Camel and Eddie Mustafa Muhammad. As well as today's stars like Danny Garcia, Sergey Kovalev, Regis Prograis, Teofimo Lopez and Gary Russell, JR.
Follow the link to listen live or catch archived shows on demand.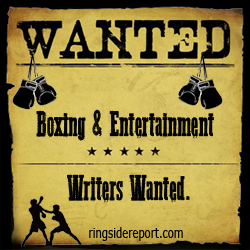 Contact the Feature Writers