By Anthony "Zute" George
When the announcement that Oleksandr Usyk's heavyweight debut was put on hold, due to a bicep injury, disappoint ensued throughout the boxing world. After all, Usyk, 16-0, 12 KOs, is one of the best talents in boxing, and his step up from the cruiserweight division, to the heavyweight division, was an ambitious move that the boxing world was eager to see unfold.
For Usyk's heavyweight debut, he was scheduled to face Carlos Takam, a heavyweight who has faced some the best the division has to offer and has performed acclaimable; albeit in defeat. Despite being 38 years of age, Takam appeared to still have plenty in the tank. Making his matchup with Usyk on, May 25th, an anticipated one.
In contrast, Evander Holyfield and David Haye, also celebrated cruiserweight champions who moved up to heavyweight, were matched much softer for their first crack at the big boys. For his heavyweight debut, Holyfield was served up a shopworn James 'Quick' Tillis, who was once a fine heavyweight, but way past his prime. While Haye faced a past his peak Monte Barrett.
Had Usyk gotten past Takam, and the smart money pointed to that being the likely scenario, talk of Usyk fighting for a heavyweight title was rumored to be next. Ambitious, indeed.
Now, what we have is a waiting game. How long will Usyk be on the shelf? Who will be served up for his heavyweight debut now? When you have more questions than punches being thrown, it is never a good thing in boxing.
The biggest question being, how successful will the undisputed cruiserweight champion be as a heavyweight?
Usyk is a slick southpaw, who is accurate with his punches and extremely difficult to hit. At 6'3, he pales in comparison to the giants competing in the division now, however, he appears to be head and shoulders above most pugilists today when it comes to pure boxing skills.
Prior to 2018, Usyk was somewhat of an unknown commodity amongst American boxing fans. After his 2018 campaign, Usyk was the fighter of the year, and becoming must watch television for boxing fans
.
The Ukrainian southpaw was brilliant during his 2018 campaign. Competing in the World Boxing Super Series cruiserweight tournament. His performance against the more than formidable Murat Gassiev was boxing 101. A masterful clinic where he pitched a virtual shutout. It can be argued that Usyk's dominance over Gassiev is the greatest performance in cruiserweight history. A history that began with Marvin Camel spilling pints of blood, for the glory of being the first ever cruiserweight champion.
Camel's cruiserweight reign was followed by Evander Holyfield, one of the greatest fighters of all time. After his initial close war with Dwight Muhammad Qawi, The Real Deal cut through a very formidable crop of cruiserweight fighters like a hot knife through butter, then transitioned to the heavyweight division. At heavyweight, Evander created a fantastic legacy and provided thrills for fans that will never be forgotten.
Then came David Haye, another fine cruiserweight champion, who perhaps had his legacy enhanced because he also had magnetic charisma. Haye's dominance over Jean Marc Mormeck and Enzo Maccarinelli were his finest performances, which are baked in the cake in cruiserweight lure. Haye's transition to heavyweight, while it had its moments, did not come close to what Evander accomplished.
Where will Oleksandr Usyk's heavyweight experiment land? Ahead of Evander? Behind Haye? Somewhere in the middle? Unfortunately, all we can do is ask such questions until he gets healthy again.
Check out "Zutes Boxing Talk", which airs every Wednesday live from 7PM to 9PM ET. The show is dedicated to discussing the sweet science straight up with no twists. "Zute" has interviewed boxing legends such as Carlos Palomino, Mike McCallum, Pernell Whitaker, Jeff Fenech, Buddy McGirt, Mark "Too Sharp" Johnson, Marvin Camel and Eddie Mustafa Muhammad. As well as today's stars like Danny Garcia, Sergey Kovalev, Regis Prograis, Teofimo Lopez and Gary Russell, JR.
Follow the link to listen live or catch archived shows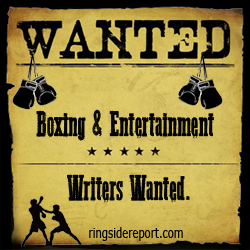 Contact the Feature Writers