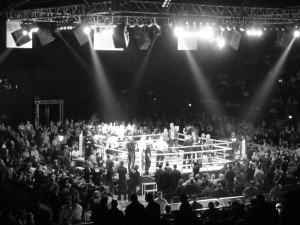 By Vinny "Glory Days" Lucci
There is only one sport enveloped in an elegant madness where both the fans and media expect the worst but keep riveted nonetheless. The past two week were a classic example of the high hope dreams beyond the horizon line and the pitfall of landmines we just navigated.
Former middleweight champion Gennady Golovkin recently split with longtime trainer Abel Sanchez who took him from anonymity to a fantastic nine year run over a monetary dispute with future DAZN contract percentage. The three year deal that guarantees the great fighter a hundred million dollars presented Sanchez with a smaller piece of the pie than he was accustomed to. Abel felt slighted, cheated and insulted publicly stating his pride could never allow him to accept the deal.
Golovkin bypassed some of the more well-known trainers and hired Johnathon Banks formally a protégé of the late great Emanuel Steward and a product of Kronk Gym in Detroit. Banks won a Cruiserweight title and competed at heavyweight. He is best known for taking over the corner of Wladimir Klitschko, who by the way of gym gossip has been hinting at a comeback.
The world watched with mixed emotions as Canelo Alvarez as expected won a close decision at T Mobile Arena, (The House that Canelo built) where Ringside Report handicapped it in advance that the multi-talented Daniel Jacobs would need to win by stoppage. The scores of 115-113 (twice), and 116-112 were pure exaggeration. Canelo simply is awarded "any" rounds that are close which makes me wonder why the judges even bothered to give Daniel any rounds at all. The bout was close. A draw? Perhaps. One point either way, perhaps. Canelo by eight rounds no way in hell.
Golovkin had an interesting take on the bout having fought both men saying "It was a nice sparring session." Post-fight neither combatant had any ill will for the other.
Of note, Jacobs was fined a million dollars for over hydrating 3 ½ lbs. by boxing commission the morning of the fight weighing in at 173 ½ pounds. The gamble that the Jacobs corner was betting on focused with sacrificing a tenth of ten million dollar payday in order not to weaken him and make up monetary difference next fight.
Canelo's trainer Eddy Reynosa broke media protocol where it was assumed that Alvarez would next meet Golovkin in September. He stated frankly that they would be looking only for bouts that came with title belts. The one belt Canelo does not possess is strapped on the waist off Demetrius Andrade who will be defending his WBO title next month against Maciej Sulecki. Should the undefeated Andrade repel the pesky challenger he will be in high demand by both Golovkin and Jacobs knowing the belt holds the key to getting Canelo back into the ring.
Onward, there is always the much hyped speculation of what's next as the calendar months wane on. In a childish game of tag, "you're it." WBO welterweight champion Terence Crawford called out IBF welterweight champion Errol Spence JR., as well as the other belt holders Manny Pacquiao, Keith Thurman, and Shawn Porter. Spence, JR. said the bout would not come about until 2020. Somehow media had projected that Canelo Alvarez might meet Spence, JR. first. Common sense dictates if Spence, JR. is dragging his feet to mix it up with Crawford fighting a peaking Alvarez is as insane a challenge as WBC/IBF lightweight champion Mikey Garcia going after Spence, JR. last March.
Signed on the dotted line and written in stone there will be a unification match between Manny Pacquiao and Keith Thurman for sole possession of WBA welterweight title on July 20. While Vegas hasn't set the line the odds should favor the elder statesman Pacquiao as the two year sabbatical Thurman needed to heal an injury shoulder made him look slow and sluggish in January winning a MD against Josesito Lopez.
This past Saturday Jarrett Hurd lost his unified light middleweight titles (IBF, WBO) to Julian Williams by UD and suffered his first defeat. If you missed this war of attrition make it a point to catch a replay. While they basically threw punch for punch inside the pocket for all twelve rounds the huge difference was the sheer crispness of Williams' punches that seemed to control the bout from opening bell raising his profile considerably as "the" man in the division.
Sadly the boxing community lost two brethren last week. Bert Cooper joined the curse of the eighties heavyweights who passed before their time including John Tate, Tommy Morrison, Mike Dokes, Greg Page, Trevor Berbick, Corrie Sanders, James Broad, Leroy Jones, David Bey and Carl Williams. Cooper was a colorful contender who fought for a title twice and faced some of the best names of the nineties. Burt lost his battle with pancreatic cancer on May 10 at the age of 53.
The following day we lost ring judge and commentator Harold Lederman of HBO Boxing fame. His friendly banter and down to earth analytics made him a fan favorite as he was elected into the International Boxing Hall of fame in 2016. Harold was 79 finally succumbing to a long battle with cancer.
The ring bell strikes the ten counts. Rest easy gents, you both will be missed.
Stay tuned…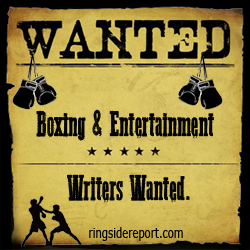 Contact the Feature Writers