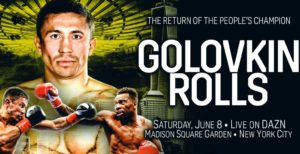 By Vinny "Glory Days" Lucci
There is a scared synergy between my fingertips and keyboard every time I prepare to breathe insight on the trajectory of Gennady Golovkin's next ring walk. Casual fans who after witnessing Canelo Alvarez give away half the rounds to Daniel Jacobs this month still thinks he walks on water while most of the media covering both his bouts against Golovkin think Gennady's waist should still be adorned with title belts. Hard core fans who have endured the passing of torches as eras fold wait in synchronicity knowing full well that "Triple G" isn't back because he never left; and he's bring hell into the ring with him.
The Event:
On June 8 Tom Loeffler of 360 Promotions along with GGG Promotions brings a 12 round bout between Golovkin and undefeated contender Steve Rolls. The non-title event will be hosted at Madison Square Garden in New York City and contested at catch weight of 164 lbs. Gennady will be baptizing the first notch on his newly minted DAZN (live stream) contract where he is guaranteed a hundred million dollars over the three year duration in a six fight deal.
Backstory to Fight:
In February Golovkin sued former management team of Oleg and Maximilian Hermann over claims they intentionally failed to account for revenue, took excessive commissions of which more than they were owed and failed to provide services for recent fights but they are demanding money anyway. He severed ties with them back in 2017, and court documents claim Golovkin is seeking millions more for misuse of relationship where they have used illegal and unlicensed tactics to extract millions from the boxer through wholly impermissible and unconscionable fees.
In April Gennady and his trainer of nine years Abel Sanchez went their separate ways after Golovkin presents his long time mentor with new restructured salary per fight based on his huge acquisition of DAZN contract. Sanchez was expecting his usual scale and declined offer claiming his pride and honor couldn't accept a radical cut. He went on to vilify Golovkin saying he was greedy and ungrateful with no ethics or integrity which lead to breaking the partnership. GGG regardless had nothing but praise for the man who guided his career.
In May Golovkin bypassed the logistics of who would succeed Sanchez as head trainer with several prominent names being mentioned electing instead to go with Johnathon Banks of Kronk gym fame.
While the boxing world waits on baited breath for the hopeful Alvarez/Golovkin trilogy Canelo's trainer Jose "Chepo" Reynoso has clearly stated the his charge would be looking to fight only for titles making Demetrius Andrade's WBO title a highly sought after belt to covert by both Alvarez and Golovkin as well as Daniel Jacobs.
Stats:
Gennady stands 5'10 ½" with a 70" wingspan at thirty seven years of age. The orthodox boxer of Kazakhstani heritage now calls Los Angeles home and has compiled an impressive ledger of 38-1-1, 34 KO's with future hall of fame run as middleweight champion with 19 successful defenses.
Steve Rolls at thirty five years of age is a late bloomer prospect who has been elevated to contender status with a record of 19-0, 10 KO's. The native Canadian stands 5'10" with a 72" reach. With no recognizable names on his resume he is woefully unprepared for the task at hand and is rolling the dice that he can capitalize on Gennady's age and recent ring wars with Alvarez.
His last bout was a UD ten round victory over one KeAndrae Leatherwood in Toronto Canada last December winning vacant USBA middleweight title. Old time fans will remember that silly trinket that used to be a staple of "Tuesday Night Fights" some thirty years ago.
What to Look for Fight Night:
With an impressive highlight reel it's easy to envision Rolls taking a step up in competition and looking to enhance his record with a small string of victories over former Golovkin victims like Martin Murray, Willie Monroe, JR., Kell Brook or David Lemieux "making his bones" and using the experience as a barometer for his talents among the top contenders. Instead he has egregiously cut to the head of the line making common sense null and void.
Gennady will reverse "rolls" and walk his adversary down after a few spirited exchanges in first two rounds. Every time the challenger tries to open up his arsenal he will be quickly reminded he is facing the best middleweight chin the division has seen since Marvelous Marvin Hagler's reign that won't budge an inch. From there the forecast calls for pain.
Odds:
Vegas has installed Golovkin the favorite at -1000 with Rolls listed as +1600
Prediction:
A still hungry GGG stops his prey before the tenth round.
The Vinny Factor:
To quote an amusing line from the movie "Roadhouse" where the new cooler Patrick Swayze fires the former head bouncer, "What am I supposed to do now?" (Reply) …"There's always Barber College."
Aftermath:
Golovkin was forced to wait for Alvarez for four years while he grew older simply because he was a gentleman and didn't publicly demand the fight which gave promoter Oscar De La Hoya all the leverage he needed to play puppet master pulling the strings to his career like a Vito Corleone. With no time left to extradite a battle plan or course of action to get Alvarez back into the ring he must be vocal to the hordes of press and uncharacteristically demand it.
Stay tuned…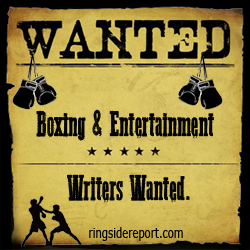 Contact the Feature Writers