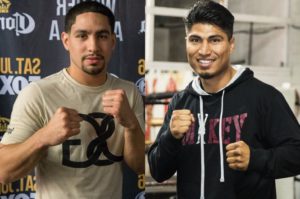 It has been announced that the two Garcia men will face each other in their next fight next month at the Staples Center. Although the two share the same surname they do not share a bloodline so you can be sure to find no brotherly love at the fight. The bout is set to be one of the most intense this year as both men look to prove their superiority. Although for Mikey the bout will no doubt be difficult after his huge loss to Errol Spence, JR. earlier in the year, fans are hoping that Mikey has trained to perform better in the weight division.
For Danny Garcia, although on paper his record is incredible as he has only faced two losses in his career, both of them occurred in his last four fights. The first loss came from facing legend Keith Thurman and the second from Shawn Porter where both boxers were competing for the vacant WBC welterweight title.
Both Garcia men have incredible reputations with a lot riding on this fight, whilst Mikey needs to prove himself worthy of remaining in the division, Danny needs to demonstrate he isn't losing his touch and is back to winning ways. Danny Garcia Vs Mikey Garcia betting is well underway with a lot of bookies already giving incredible odds, be sure to get your prediction in for the big fight!
Mikey Garcia
Although Mikey Garcia has faced a lot of criticism lately for his first result in the welterweight division, his reputation previous to that has to be admired. Garcia began his career in the featherweight division, since then he has competed in five divisions, whilst winning world champion titles in four of them (featherweight, super featherweight, light welterweight and lightweight). Of his 40 fights, he has only ever had one loss, which was his most recent against Spence in the welterweight division which no doubt is the next target for achieving a world championship title in. Mikey Garcia has also achieved 30 KOs since he first turned pro in 2006, an incredible boxer who needs to prove himself again. It can be said that because of his previous success, Garcia will have learned a big lesson from his fight against Spence and be ready to take on Danny Garcia in August.
Danny Garcia
Danny Garcia, although not as diverse with different weight classes as Mikey is, has certainly seen a similar amount of success. He has achieved many titles in his professional career including the WBO Inter-continental light welterweight title, WBC light welterweight title and WBC welterweight title. He is the current holder of the WBC Silver welterweight title, which is probably why Mikey Garcia has targeted him next, so he can claim that new title in a new division. As far as the stats go, Danny has a slightly longer reach of 68.5 inches and heavier weight of 63kg compared to Mikey's 68 inches and 61kg, but spectators aren't too sure that those numbers are going to make much difference in the fight! Danny Garcia heads into this fight with recent losses but should be looking at this fight as a win for him with more experience in the division.
It will be an intense fight to watch as both men have something to prove. If Mikey Garcia is to lose the bout, will it spark his retirement altogether or just to a lower weight class? If Danny Garcia is to lose, is he facing the beginning of the end, or just a long rut that he will need to crawl to get out of? The fight is no doubt set to be one of the highlights of the year, be sure you don't miss it.