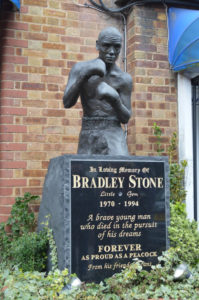 By Donald "Braveheart" Stewart
In recent weeks, we lost three boxers from ring fatalities, I had already planned to look at Bradley Stone,17-2-1, 7 KO's,. The circumstances around anyone losing their life at such a young age are simply tragic. To do so for a sport leads to all sorts of questions that arise from those who, quite rightly, get to question whether or not it ought to continue. Democracy should engender decent debate.
I am not medically qualified to enter that debate. I can but look upon the pugilistic sport and know that what we have is a pure science that will provide entertainment, danger and thrill. Not always all three and sometimes not even one out of the three but it does give us something to argue over, debate and disagree about.
In 1994 23 year old, Bradley Stone, was a super bantamweight prospect in a ring with Richie Wenton for the British title. He was stopped in the 10th round of their scrap at York Hall, Bethnal Green, London.
He walked out the ring.
He was cleared by a doctor to go home.
Later on, in the early hours of the following morning, Stone was taken to hospital, having fallen ill at his girlfriend's.
A neurosurgeon removed a blood clot form the left side of his brain and he slipped into life support. According to the neurosurgeon and reports of the time, it was the worst boxing injury since that suffered by Michael Watson in 1991.
Watson survived but Stone lost his life two days later and we mourned his loss.
Watson's tragedy had led to massive changes in the way that we supported fighters medically in the ring. After the fight, Stone had been cleared by a doctor to return home, because of those measures. They were much more comprehensive than had been in place for the Watson fight – and principally because of lessons learned from then, however tragedies cannot always be avoided.
Stone's loss came in a very difficult year as his family had already lost his father and his brother. Stone had also been in the ring with Tony Silkstone from Leeds who committed suicide just after Stone beat him. You can but imagine the effect that would have on any young man.
Stone's fight record had been good, his final fight being a British title fight, that loss, not his first, but he was talking in the dressing room afterwards about a rematch. His promoter was keen.
In the lead up to that British title fight his first loss, in his previous fight had led to a full medical being performed by the British Boxing Board of Control and he was cleared to be in the ring.
The fight, stopped in the 10th round by referee John Keane, when Stone had not responded to four clean shots to his jaw, raised lots of questions then about the safety of fighters afterwards but the fact was that plenty of care had gone into the fight – it just wasn't enough on this occasion.
The problem with headlining tragedies is that the man, Bradley Stone is in danger of becoming a footnote and someone that was mentioned in only one connection – tragedy in the ring. Whilst it serves, particularly in 2019 to remind us the dangers faced by people who don the gloves and should serve as a memory we should also not forget that he was a boxer who wanted glory. He was a fighter who worked hard for what he received. He was a pugilist, a master of the sweet science that got him into a title fight that unfortunately took his life.
The Peacock Gym in Canning Town, London don't forget because they have a whacking great statue in bronze outside of their gym of Stone. It captures an image of a man in a ring prepared to put it all on the line. The statue is an action depiction of the man; not some idealistic stance to draw admiration. As it is an action shot, which means we have no doubt about what he did and no doubt about what he was. It is admirable and courageous, as he was.
The bald facts that are his final record show 17 wins, 2 losses and a draw. It is a final record at the tender age of 23. He was unbeaten in his first 17 fights, professional at the game for a total of only 4 years and his only title fight against Richie Wenton that fateful night when he failed to beat him and become British champion; he would have certainly come again.
Stone made his debut in 1990 against the legendary British journeyman Des Gargano. Two months later, in his third fight he drew against Gary Hickman. He then went on an 11 fight winning streak that saw him face boxers that were of his level and a little below. It was not a padded record by any manner of means but it was not up against top level fighters until that night he took on Tony Silkstone.
Silkstone was unbeaten in 14 fights and the fact that Stone was able to stop him in the 3rd obviously got him noticed. What appears odd to the outsider is that Stone then went on to lose 6 months later to Boualem Belkif. Belkif had lost more than he had won, and Stone was expected to win that fight comfortably.
Just over a month later he was to be in the ring again for that British title. Boxing can be a difficult game to read and certainly you would have thought he had lost his shot but no he was in that ring and taking on a man who was to go on and fight for a world title – against none other than Marco Antonio Barrera!
Before that journey Wenton had to get back in the ring. His next fight, after Stone's death was against Neil Swain and it saw Wenton retire in the 5th round. It was to be understood but was not expected. His reasons at the time ably explained, as he stated, "My mind just wasn't there. I had a lot of things on my mind tonight, a lot on my shoulders."
The statue ism, according to the gym a Government Health Warning to all budding fighters who cross their threshold. It is a reminder of a decent fighter, but his memory should be more than his last stand, of a boxer who gave and tried and left people knowing that he had nothing more to give, but while he did give he did so honorably.
Contact the Feature Writers