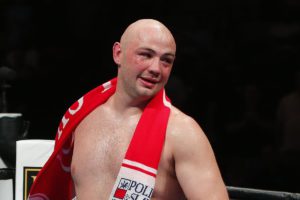 By Anthony "Zute" George (At Ringside)
Saturday night at The Barclays Center, in Brooklyn, New York, action, upsets and granite chins were on display. With Adam Kownacki and Chris Arreola stealing the spotlight and providing the eight thousand plus in attendance with thrills they will never forget.
In a fight that pitted the young lion against the grizzled veteran, with the winner to be placed in a superlative position for a big money fight, it was the young lion, Kownacki, that prevailed by being more active, and showcasing a granite chin.
This summation is not to suggest that Chris Arreola did not feature a robust work rate, however. In a fight that saw two big heavyweights fight at a featherweight pace, The Nightmare would have out punched most of his peers on this night; considering he hurt his left-hand hallway through the stanza, that is remarkable. Chris's chin was also exceptional, as he took bombs from a powerful, two-hundred- and sixty-six-pound man. As far as Adam's weight goes, he came in slightly over the target weight range that he told Ringside Report he wanted to come in at, 260-265 pounds. Adam did indicate that he did train hard for this fight, which is evident from his work rate throughout the fight.
The only major disappoint was the lopsided scorecards, which read 118-110 and 117-111 (twice). The fight was much closer than that. Don Trella, who has been a thorn in the side of competent judging for a long time, only managed to give Arreola two rounds. Ringside Report scored the fight 115-113 for Adam Kownacki. Arreola closed well and won a few of the middle rounds.
As far as Arreola goes, many people uttered the word retirement after this fight. Chris is on record as saying, "Retirement is something I need to talk to my family and team about. I gave it my all this fight. I let it all hang out. After breaking my hand, I kept fighting because I believed I could win." If Chris does decide to hang up the gloves, he can say he went out punching, even when everything was stacked against him.
As far as Adam Kownacki goes, his future appears bright, "We'll see what the future holds. Hopefully next year I'll get the title shot," stated Adam after the fight. Adam would be better suited to come in at a lower weight, as his punches lost a lot of snap and starch as the fight went on, a leaner version of Babyface, should equate to a crisper version of the young stud. Imagine what kind of a work rate he could churn out five to ten pounds lighter?
With the victory, Adam Kownacki improves to 20-0, 15 KO's, while Chris Arreola falls to 38-6-1, 33 KO's.
The undercard was chock full of upsets, where the better chin was the deciding factor in many cases. The co-feature between Marcus Browne and veteran Jean Pascal was evident as such. As the younger Browne appeared to be outclassing Pascal, controlling the pace and landing the harder shots in the first three rounds. However, one right hook from Pascal in round four turned the fight on a dime and shocked the Brooklyn crowd. The equalizer from Pascal put Browne down, and Browne did not appear to have his legs when he got up. Browne did benefit from the one-minute rest and went on to win rounds five and six. But just when you thought Browne was once again controlling the fight, Pascal dropped him with another equalizer in round seven. A second knockdown in the round gave Pascal a crucial 10-7 round.
Round eight was not going well for Browne, he appeared to be jelly-legged and Pascal was measuring for the finish. Those plans were put on hold, however, when a Pascal headbutt opened a grotesque cut over Browne's left eye. Putting a halt to the bout. The headbutt was ruled unintentional so the scorecards were collected. In what seemed to be an inordinate amount of time to read the scorecards; which never seems to bold well for the B-side fighter, Jimmy Lennon finally read the decision, 75-74 three times for Jean Pascal; this time the B-side prevailed. Ringside Report also had it 75-74 for the underdog. There were some grumblings about the head butt being intentional; as Pascal was doing his best Billy goat impressive throughout the stanza, but it was still a tremendous effort from Pascal, who showcased his formidable chin in the early rounds.
Regarding the headbutt, Pascal is quoted as saying, "Boxing is boxing. We clashed heads, but at the end of the day, I was winning the round. I dropped him three times. It was a close fight, but I believe I was winning." The nature of the fight suggests a rematch as soon as Browne's cut heals, but Pascal was not interested in talking rematch, as he was more focused on the recent success of his home country of Canada, including that of the chart-topping Drake. No, he does not appear to be a jinx. Jean Pascal's victory makes him the interim WBA light-heavyweight champion, and the fight jumps on the short list of upsets of the year. Jean Pascal improves to 34-6-1, 20 KOs, while Marcus Browne falls to 23-1, 16 KO's.
In another upset, albeit somewhat milder, Wale Omotoso stopped Curtis Stevens at 1:28 of round three in a junior middleweight fight. It was an odd fight as Stevens appeared to be doing the better work, as well as being the more polished pugilist, but went down every time his chin was touched. With the victory, Wale Omotoso improves to 28-4, 22 KOs, while Curtis Stevens fall to 30-7, 22 KO's.
In another surprise, heavyweight Brian Howard blitzed Carlos Negron in sixty-six seconds. Negron nearly fell through the ropes and gave the crowd a scare as he did not get up right away. Negron did manage to rise and leave the ring by his own power after being thoroughly check by the ringside physician. Brian Howard improves to 15-3, 12 KOs, while Carlos Negron falls to 20-3, 16 KO's.
Welterweight Julian Sosa had an unbeaten record, and a sizable fan base in attendance, however he needed much more against the upset minded Brian Jones. Jones, who has been put in tough his whole career, stalked and slugged his way to victory against the inexperienced Sosa, who falls to 13-1-1, 5 KO's. Brian Jones improves to 15-10, 9 KO's.
Deontay Wilder's baby brother, Marsellos Wilder scored a unanimous decision victory over Nicoy Clarke in a cruiserweight bout. Scorecards read 40-36, 40-36 and 39-37. Early on, the longer Wilder was content on scoring on the inside against the southpaw Clarke. Wilder did have some moments of scoring from distance during the fight, but for the most part the bout was fought at close quarters. Wilder did throw Clarke to the canvas on two occasions, as the fight was a rough inside tussle. Wilder improved to 5-1, 2KOs, while Clarke fell to 2-4.
In other action, female Helen Joseph, 16-3-2, 10 KO's, won a six-round unanimous decision over Edina Kiss,15-11, 9 KOs. All three judges scored the bout for Joseph, 60-53. In a four round 154-pound contest, Kestna Davis won a unanimous decision over Jamie Meza. Davis improved to 4-0, while Meza falls to 0-3.
Contact the Feature Writers