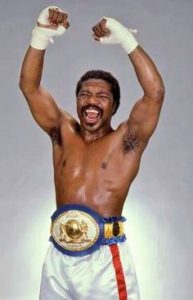 By Kassandra "ThaBoxingwhisperer'' Phillips
When many hear the word hawk the first thing that comes to mind is a bird soaring through the sky, but to many in the boxing world our hawk was Aaron Pryor. It was only three days ago today that on August 2nd 1980 that "The Hawk"…. defeated Antonio Cervantes to become WBA Super Lightweight Champ.
"The Hawk" had a very extensive amateur career with a record of 204-16. He finished off his professional record at 39 wins with 35 being via the KO route and one loss. Pryor had a very intense way of motivating people and making a major impact on the boxing world. Not only did he light up the world of many in the craft of Pugilism, but he worked as a motivational speaker for the NFL's New York Jets.
Aaron had a special way to excite and thrill fight fans in his era. In the ring he delivered lighting face combos that helped earn him the legendary status he holds till this day.
Pryor also displayed a remarkable chin which is obviously something great to have in boxing. "The Hawk" was inducted into the International Boxing Hall of Fame in 1996 and a few years later The Associated Press voted him the number one junior welterweight of the 20th century. His journey and amazing record leaves a lasting impression for the boxing world in modern times and I personally hope modern fighters in this era can take away valuable lessons from this career.
Rest in power champ the boxing world appreciates all that you gave to us…
Contact the Feature Writers