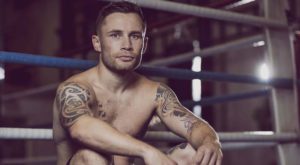 Carl Frampton broke new ground in the boxing world today, but not in the way he would have hoped. The former two-division title holder picked up a freak injury on Monday, according to sources within his camp.
While the full extent of the injury is unknown, it is believed Frampton has broken his hand. As a consequence, he will not be headlining ESPN+ in Philadelphia this Saturday. Fans already considering bets for the fights versus Emmanuel Dominguez will now turn their attention to matchbook bonus code for UK to bet on the rest of the ESPN+ card.
British fighter Frampton has been seeking a return to the title stage so will view this postponement as a major blow. Not least because of the manner of the injury, which could end up going into boxing history books for all the wrong reasons.
Certainly, the injury will go down as one of the most bizarre the sport has seen. Frampton confirmed he fractured the fifth metacarpal in his hand when another guest in his hotel accidentally knocked an ornament on top of it when he was resting in the lobby.
"Today a freak accident occurred and I wont to be able to take part in my fight vs Emanuel Dominguez," Frampton wrote in a statement. "A large ornament, in the hotel lobby, was knocked over accidentally and hit me on the left hand, fracturing the 5th metacarple (sic)."
"I'm extremely disappointed for the traveling support and for myself and my team. I've put everything into this camp, I've been away from my amazing wife and kids for most of it and it all feels like a waste."
Frampton was scheduled to meet Dominguez in what would have been his first bout of 2019 and his first since singing with Top Rank. The Northern Irish boxer had talked up his confidence of one day returning to the title scene. However, with another opportunity passing, time is running out for the 32-year old.
Interestingly, while Frampton is still a relative draw thanks to his fanbase, there was little buzz surrounding the fight. Many have questioned Top Rank's decision to place Frampton against a poor opponent such as Dominguez in the first place. Little chatter has surrounded the bout and there is a sense Frampton needs to be fighting a better caliber of fighter if he wants to return to the title picture.
Frampton will now have to wait for a comeback fight that will be his first since he was outclassed on points by featherweight belt holder Josh Warrington last December.
The British fighter has lost appeal in recent years. Once considered a bright star in the sport, Frampton has not been at his exciting best in recent years. Of course, his exciting best included being a world champion and Fight of the Year contender in 2016. Frampton first claimed a championship when he took a belt at 122 pounds in 2014, which he defended on three occasions. He later handed Leo Santa Cruz his first loss on the way to winning the featherweight title in a modern classic in New York City in 2016.
Santa Cruz returned the favor in 2017 and put a first loss on Frampton and the Brit has never been quite the same since.
Frampton's bid to re-establish himself on the title scene will now not happen at ESPN+. Instead, the headline bout will be between Jason Sosa and Haskell Lydell Rhodes, touching gloves at 6:30 p.m. ET/3:30 p.m. PT on Saturday.