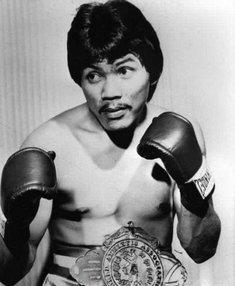 By Donald "Braveheart" Stewart
Hawaiian Punch might sound to us like an exotic cocktail but a blended mix of fast and furious was what made Andy Ganigan, the original Hawaiian Punch, 34-5, 30 KO's, someone whose nickname fitted his approach to boxing. It is now 7 years since his passing but the effect he had on the business of boxing is as long lasting as the tragedy that overshadowed his final years on the earth.
Though we never got to see him fight in the UK, he nearly did as he was almost a contender for my fellow countryman's Jim Watt's belt but lost a fight against Roberto Vasquez of Texas. Vasquez came to Scotland, in his stead, to the Kelvin Hall in Glasgow and must have wished he did not beat Ganigan in the final eliminator. Would Ganigan have fared any better – we were never to know.
What we do know is that Ganigan was a dangerous fighter, though he may have suffered form being less than able to take a shot clean on his chin. He gave people what they sought and was a clear crowd favorite – he gave heart from his fists.
Active from 1972, aged only 19, to 1983, when he retired at 30, Ganigan as a Hawaiian with a devastating southpaw punch. In his first 25 fights that scored him no fewer than a highly impressive 23 knockouts!
It also got him 5 NABF lightweight title fights in his career. He originally won the belt in 1978, on the 28th March in Honolulu with an 8 round stoppage of Vincente Mijares. He made not one but two successful defenses of his crown against Carlos Becerril – knocked out in 2 – in May of 1978 and then against German Cuello – knocked out in 9 – in June of the same year.
In 1978 Andy lost the title when he met Chicago's Johnny Lira. Lira managed to beat Ganigan by stoppage in 6 rounds. It was a major upset.
After a couple of warm up fights, in 1979 Ganigan faced Vincent Mijares once more for the title on the 27th March in Honolulu and won on points.
In 1980, on the 19th February in Honolulu, in a rematch of their 1979 fight, Andy stopped Vasquez in 7 to get his belt back.
Next to face Ganigan in a significant fight was the ever-popular Sean O'Grady. O'Grady had failed to win the WBC lightweight title against Jim Watt by this time and this was to be a fight that would get him back on track for bigger and better things… It was not to be.
Ganigan won a world title that night against O'Grady when they squared off, on the 31st October, 1981, for the World Athletics Association (WAA) title. He did so with a knockout win. It was a nightmare night for O'Grady as Ganigan floored him no fewer than three times. It all ended in round 2; O'Grady devastated by Ganigan's power.
It was that win that got him a shot at Alexis Arguello for the WBC title on the 22nd May in Las Vegas. Arguello had been the man who had won the WBC lightweight title by beating the eponymous Jim Watt. Ganigan got close and knocked Arguello down in the 1stshocking everyone in the arena. Unfortunately for Ganigan, Arguello did not stay down and got back up to knock out Ganigan in the 5th after flooring him in the 3rd.
His final fight lasted a little longer – the 6th – and was another title attempt – the USBA lightweight belt but Jimmy Paul, on the 12th June 1983 stopped him at Graham Central Station in Phoenix. Ganigan hung up his gloves.
And so the story could end except…
In March 2010 Ganigan was the unfortunate victim in an attack outside a bar in Waipahu, Hawaii when a 6 foot, 290 pound adversary beat him up and went to prison for the attack. Many, including from his family believed that he never recovered from that attack. Speaking to a local news agency one family member commented that, "Since the assault his body can't fight off diseases. He never recovered."
Two years after the attack, Ganigan was to lose his life to cancer, in the same interview family member spoke of how "His body basically just shut down after two years of fighting."
He was to be elevated into the Hawaii Sports Hall of Fame but cancer was to take him from us in Las Vegas; he was only 59 years of age. I am only 5 years younger…
Contact the Feature Writers