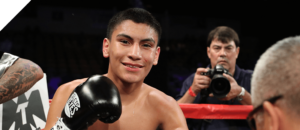 By Anthony "Zute" George
Vergil Ortiz, JR. is breathing rare air. He has already reached heights that most aspiring pugilists can only dream of. At just 21 years old, he is an exciting prospect who possesses excellent skills, as well as the ability to sell tickets. While his prestigious status is indeed elusive for most boxers, Ortiz, JR., 13-0, 13 KO's, is not alone. Boxing is loaded with such young talent circa 2019. Devin Haney, Teofimo Lopez, JR., Ryan Garcia and Shakur Stevenson are right on par with Vergil in terms of exciting expertise and headlining capability.
Some of these fighters are closer to championship status than others, but they all have the ability to be considered in the mythical pound for pound discussion in the near future, assuming they excel as the competition gets tougher; just like Errol Spence, JR., Terence Crawford, Nayoa Inoue, Regis Prograis, Josh Taylor and Gervonta Davis were all hot ticket items as prospects, who are now world champions. If watching young fighters grow tickles your fancy, indeed it is a great time to be a boxing fan.
Vergil Ortiz, JR. is right at the center of this delightful storm. He appears to be able to wreak havoc at both the junior welterweight and welterweight divisions. It is at welterweight were the Texas-born pugilist is currently doing damage. Before Saturday night, Vergil destroyed the savvy veteran, Mauricio Herrera in three rounds. Antonio Orozco, 28-1, 17 KO's, was what the matchmakers conjured up as the next step for Ortiz, JR. Indeed, Orozco was a formidable opponent on paper. His lone loss was to Jose Carlos Ramirez, 25-0, 17 KO's, a world-class champion in the junior welterweight division.
How would Orozco perform against the firestorm that is Vergil Ortiz, JR.? By contrast, how would Ortiz, JR. look against a definite step up in competition? Since the prospect pool is crowded, winning is not good enough, one must be electric to stay above the fray. All it took was one lackluster performance from Teofimo Lopez, JR. for boxing fans and pundits to sing the song that The Takeover is indeed overrated. You can bet your life Vergil is aware of this dynamic going into his Saturday night showcase.
With the prominent underlying question being will Ortiz, JR. sustain his big knockout streak? The answer would be a resounding, yes.
Ortiz, JR. began the fight as if the car was double-parked, as he blitzed Orozco with a big right hand, followed by a flurry of punches that had the makings of an early stoppage. But Orozco escaped the early onslaught and fought the rest of the round on even keel with Vergil.
The rest of the fight saw a pattern where Vergil tried to establish dominance in the center of the ring. But more often than not, he found himself against the ropes, where Antonio Orozco was able to get good work done. Orozco was not outclassed in the center of the ring either. His crouching style proved cumbersome for Vergil. After five rounds of high-octane action, one had to wonder if Vergil Ortiz, JR. would hear the voices of the judges for the first time in his career.
That thought soon crumbled away in round six, however. Sensing a need to intensify his attack, Vergil began to step up the pressure, and appeared to be sitting down on his power punches a bit more. The result of this tactic was bone-crunching punches that found its home on Antonio Orozco. An impressive, blistering, left uppercut delivered perfectly from Ortiz, JR. dropped Orozco. Antonio got up at the count of eight but had little power to fizzle the Ortiz, JR. attack. Instead, it was referee Mark Calo-oy who had to save Antonio Orozco from his brave self at two minutes and sixteen seconds of the sixth round. It was the first time Vergil Ortiz, JR. went passed the fifth round in his professional career, as it was the first time Antonio Orozco was stopped in his professional career. It was a great fight where Vergil had to come up with an attack after his opponent did not crumble from the first sight of a solid combination and figure out a problematic style from a veteran opponent.
With the victory Vergil Ortiz, JR. improves to 14-0, 14 KO's, while Antonio Orozco falls to 28-2, 17 KO's.
The future looks bright for this young lion, who trainer Robert Garcia has compared to Ferocious Fernando Vargas. Indeed, if Vergil continues to climb the ladder of success, he can undoubtedly surpass the impressive career that was Ferocious Fernando Vargas. The fact that Vergil looks right at home at the very competitive and delicious welterweight division just adds to the anticipation.
Stay tuned…
Check out "Zutes Boxing Talk", which airs every Wednesday live from 7PM to 9PM ET. The show is dedicated to discussing the sweet science straight up with no twists. "Zute" has interviewed boxing legends such as Carlos Palomino, Mike McCallum, Pernell Whitaker, Jeff Fenech, Buddy McGirt, Mark "Too Sharp" Johnson, Marvin Camel and Eddie Mustafa Muhammad. As well as today's stars like Danny Garcia, Sergey Kovalev, Regis Prograis, Teofimo Lopez and Gary Russell, JR.
Follow the link to listen live or catch archived shows</strong
Contact the Feature Writers