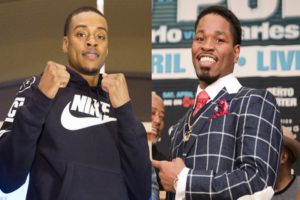 By Vinny "Glory Days" Lucci
With the echoing sounds of thunder starting to fade from the scintillating evisceration Manny Pacquiao performed on Keith Thurman last month the war drums are already beating for another welterweight unification in the guise of IBF champion Errol Spence, JR. taking on the formidable challenge of WBC counterpart Shawn Porter next month. On paper this clash of welter titans promises to be less surgical than its predecessor as both champions are preparing to make good on promises of trench warfare and administer beatings accordingly. Gentleman, "Lock and load" as you're boxing brethren await the ineffable combat.
The Event:
On September 28 the Staples Center in Los Angeles, California will host the welterweight unification promoted by Premiere Boxing Champions and presented by FOX Sports Pay- Per- View. The co-feature pits WBC super-middleweight champion Anthony Dirrell, 33-1-1, 24 KO's against unbeaten former champion David Benavidez, 21-0, 18 KO's.
The Stats:
IBF champion Errol Spence, JR. is an American boxer who was born in Long Island, N.Y. and now calls Texas home. Errol stands 5'10" with a 72" wingspan and boasts an unblemished record of 25-0, 21 KO's. The 29 year old southpaw known as the "Truth" is fast approaching his prime and will be facing his sternest test since he captured the belt in England in 2017 stopping powerful Kell Brook in eleven rounds.
WBC champion Shawn "Showtime" Porter was born in Akron, Ohio and settled in Maryland. The orthodox boxer stands 5'7" but fights smaller with a head first come forward style. He possesses a 69" reach and owns a ledger of 30-2-1, 17 KO's. At 31 years of age it is difficult to assess if Porter may have quietly peaked some time ago due to his style. His two losses came by decision at the hands of Kell Brook and Keith Thurman.
Styles:
The contrast here between champions is startling and will surely mesh for a memorable bout. Errol is a classy boxer who leads from southpaw stance and wastes little energy walking his opponent down until he is ready to engage pocket working both sides of gate both upstairs and down. Shawn is like a bull in a China shop whenever he takes a forward step in the frenzied belief he cannot be knocked out while he seeks to overwhelm his adversary with smothering combinations and clinches.
Last Fight:
In March Errol made the third defense of his title at the AT&T Stadium in Texas over WBC/IBF lightweight champion Mikey Garcia winning a UD. Garcia's ill-advised foray into the 147 pound ranks was so complete that his corner wanted to stop the systematic slaughter in the tenth round. Spence, JR. landed 345 punches from a staggering 1300 punches thrown. The total domination was reflected in the scorecards of 120-108, twice and 120-107.
The same month Shawn made first defense of his title against his mandatory Yordenis Ugas winning a hard fought SD at the Dignity Health Sports Park in Carson, California. The scorecards favored the champ 116-112 and 115-113, with the third scorecard showcasing the challenger by wide margin of 117-111. Porter landed 144 punches boxing unconventionally away from his head first brawling style.
The Vinny Factor:
There is a preponderance of telltale signs that influenced the decision making in this handicap. First and foremost is the three inch height differential. While it may not appear to be much consider the fact that Errol fights tall behind an educated southpaw jab while Shawn bends at waist and leads most combinations with his forehead. Case in point, Spence, JR. is less likely to be introduced to Shawn's forehead and suffer nasty gashes on eyebrows which could impede his forward aggression. Before this theory could be supplemented into a fight plan Spence's corner needs to raise speculation of head butts and warnings at final press conferences.
Furthermore Errol's punch output is overwhelming compared to Shawn's work ethic and won't have to look for a target to hit. While Canelo Alvarez and Gennady Golovkin own the best uppercuts extent, Spence, JR. owns the best in welterweight division and will make Porter pay for entering pocket face first. Lastly I was a bit concerned that the IBF champion couldn't put Garcia down for ten count as his challenger was fighting strictly in survival mode, but that was less disturbing than Porter's inability to both box and brawl when trying to apply new strategy outside the pocket against Ugas. One judge thought his fight plan completely backfired giving credence to the notion that Shawn's Dad Kenny has taken him as far as he is going to go at this level.
Fight Significance:
"A." Two high profile boxers with sturdy chins in unification match whose styles complement each other. As of this writing only a match pitting Terence Crawford against the winner could be bigger event at 147 pounds.
Odds:
Early Vegas odds favor Errol Spence, JR. at -355, with Shawn Porter at +300. Speculations of changes as fight approaches will favor Errol by wider margin come fight night.
RSR Prediction:
Errol Spence, JR. by UD.
Stay tuned…
Contact the Feature Writers