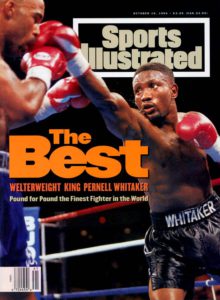 By Rich "Lite It Up" Lopez
Like many in the boxing industry, I was shocked to hear the passing of Pernell Whitaker. It's been over three weeks now since his passing. He was only 55 years old and it was a tragedy for him to die at a young age. Whitaker was one of the all-time greats in boxing and a legend in the sport. In recent times, Floyd Mayweather, JR. is considered one of the best defensive fighters of all time. Before Floyd though, Whitaker was considered the best defensive fighter of all time. Whitaker was a southpaw and a great counter puncher. He had the ability to hit his opponent and to make his opponents miss. To me he was the best to do it. Fight fans have been paying their respects for Whitaker in the past few weeks. I believe Whitaker deserves one more final tribute.
The Beginning:
Pernell "Sweet Pea" Whitaker was born in Norfolk, Virginia. He was an outstanding amateur boxer and he made his way to the 1984 Olympic Games. Whitaker was in the same Olympic team as Evander Holyfield, Meldrick Taylor, Steve McCrory, Mark Breland, Henry Tillman, Tyrell Biggs, and Virgil Hill just to name a few. That USA team won a total of eleven medals (9 gold, 1 silver, and 1 bronze) and can be arguably the best USA boxing team. Whitaker would win the gold medal in the lightweight division with a victory over Luis Ortiz of Puerto Rico. In the same year, Whitaker would turn professional and made his pro debut at Madison Square Garden with other fellow Olympians.
Whitaker won his pro debut and the legacy started. In 1987, with an 11-0 record, Whitaker defeated former Junior Lightweight and Lightweight champion Roger Mayweather. This would have been one of Whitaker's first big test on his record. In his first attempt at a world title shot in 1988, Whitaker was robbed when he lost to WBC World Lightweight Champion Jose Luis Ramirez in France by a split decision. Ramirez got the nod in the fight as he was a fan favorite in France at the time. The next year in 1989, Whitaker quickly got another title shot and won the IBF World Lightweight title by beating tough guy Greg Haugen by unanimous decision. Whitaker would get sweet revenge as he defeated Jose Luis Ramirez in a rematch by unanimous decision in his hometown of Norfolk, Virginia and he would acquire the vacant WBC title as well. Whitaker was named Ring's Magazine Fighter of the Year for 1989 for his achievements.
In 1990, the great Azumah Nelson moved up to the lightweight division to win a world title in a third weight class. Whitaker derailed those plans and clearly out boxed the Ghanaian legend. Later in the year Whitaker would win the WBA Lightweight with a 1st round knockout of Juan Nazario. Whitaker would become the undisputed champion, a feat that Roberto Duran accomplished back in 1978. Overall, Whitaker made eight title defenses of the IBF title, six title defenses of the WBC title, and three title defenses of the WBA title. Whitaker made his journey to the super lightweight division in 1991 and immediately won the IBF Super Lightweight title. He defeated Rafael Pineda by unanimous decision. Whitaker was now a two weight division champion.
Welterweight Run and the Infamous Julio Cesar Chavez, SR. Fight:
Whitaker's super lightweight reign was short lived as he moved up to welterweight division in 1993. He defeated now hall of famer James "Buddy" McGirt by unanimous decision to win the WBC World Welterweight title. Whitaker was now a three weight world champion. Then the mega fight between Whitaker and Julio Cesar Chavez was setup. It was a matchup between the two best fighters pound for pound at that time. Chavez was an all-time legend with an 87-0 record and was attempting to become a champion in a fourth weight division. In what was Whitaker's finest performances of his career, he was robbed again and the fight was declared a draw. As I was a big Chavez fan, I didn't want to believe Chavez even got a draw, but I was biased back in the day as an early boxing fan. Though the fight was closer than what some observers had it, Whitaker clearly won the fight. This should have been the first defeat of the Mexican legend. Whitaker would move on and continue with his welterweight run. During the process, Whitaker would move up to the super welterweight division in 1995.
He defeated Argentina's Julio Cesar Vazquez by unanimous decision to win the WBA Super Welterweight title. It was such an impressive victory considering that Vazquez had already made 10 successful title defenses prior. This was a one-time deal for Whitaker as he decided to stay at welterweight. From 1993-1997, Whitaker made eight title defenses of the WBC title. During this time, Whitaker was also struggling with cocaine addiction which I believe showed on his lackluster performance on his split decision victory over Wilfredo Rivera in 1996.
I believed he lost that fight. However, Whitaker acknowledged this and beat Rivera in a rematch convincingly. In the next fight in 1997, Whitaker showed signs of decline again and was having a tough fight against Diosbelys Hurtado. Whitaker came back in the fight and closed the show by stopping Hurtado in brutal fashion in the 11th round.
Whitaker's Last Stand:
Whitaker would have one last good fight in him. He fought the popular and undefeated Oscar De La Hoya who was in the prime of his career in April of 1997. In a close and competitive fight, Whitaker displayed his mastery skills and made the Golden Boy miss a lot of punches. Whitaker even knocked down a frustrated De La Hoya in the 9th round. According to punch stats, Sweet Pea out landed De La Hoya in punches landed but it was not enough according to the judges. The judges scored the fight unanimously in favor of Oscar De La Hoya and Whitaker lost his WBC title.
The fight was close but most observers and myself believed Whitaker won the fight. Win, lose or draw, this was another great performance by Whitaker. Whitaker closed the year with a unanimous decision over Andrey Pestryaev, but the result was changed to a "No Decision" after Whitaker tested positive for cocaine. Whitaker was off for 16 months due to a suspension and dealing with a drug addiction. He came back to fight the undefeated Felix Trinidad in 1999 for the IBF World Welterweight title. Whitaker would lose a clear unanimous decision to the Puerto Rican great. Whitaker would come back for one more fight two years later in 2001 and fought Carlos Bojorquez. Whitaker would lose by TKO in the 4th round due to a left shoulder injury. From there, Whitaker called in quits.
Pernell "Sweet Pea" Whitaker finished with a career of 40-4-1, with 17 KO's. Whitaker was one of the best fighters pound for pound of all time. He is probably one of the slickest southpaws I have ever seen. He really didn't lose a fight until the end of his career and was never knocked out in his professional career. Some might even argue he is one of the best lightweights of all time. I have him ranked number two as the best lightweight with Roberto Duran being number one. Whitaker's fights were not slugfests but he was a joy to watch if you appreciate the sweet science. Whitaker was inducted in to the International Boxing Hall of Fame in 2007.
I had the honor of meeting Whitaker at the International Boxing Hall of Fame in 2017 at Graziano's in Canastota, New York. Whitaker was sitting by himself at a table eating lunch. I approached him for an autograph and picture. He told me, he would do so after his meal. A man of his word, once he was done he approached me and my family at our table where we were eating and I took a picture with the champ and he signed an autograph for me. He didn't have to do this, but he was a class act.
Rest in peace champ. You will be missed…
Contact the Feature Writers