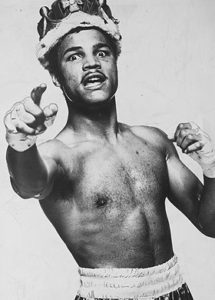 By Donald "Braveheart" Stewart
Many boxers struggle after their fighting career to find something worthwhile to do. They can end up trying to use their brawn rather than their brains and become "muscle" or use their experiences to give back to the sport by opening gyms or becoming trainers/managers. With the advent of such riches in the sport now, some, though not all headlining fighters can have a career just being them.
If you fought in the 1970's then the riches were not there and you would be struggling to find a pot of gold at the end of your retirement rainbow. If you looked like John Conteh, 34-4-1, 24 KO's, then you might be able to get a career that would allow you far more choice than most.
Conteh, though was someone who could mix with the best of them in the ring and drink with the rest of them straight afterwards. He had the looks, he had the fame, and he had the opportunities.
Not long after he hung up the gloves, the former Commonwealth Gold medalist, British European, Commonwealth and WBC light heavyweight champion got a job as a stage actor. It was in Willy Russell's Blood Brothers. I know because I saw it. Despite me being a theatre critic now, I was far more excited about seeing Conteh than the play!
His reputation and record were much in my mind recently as a few short weeks ago we were, in the UK, waxing lyrical about the two young light heavyweight prospects in Anthony Yarde and Joshua Buatsi. Yarde has made his step up to a world title, Buatsi has still to do so but both have mountains to climb. The stranglehold on the light heavyweight scene by Eastern Europeans is such that few give them a hope, unless fragmentation of the belts allows one or other of them to become vacant and someone less than a Kovalev is in the blue corner.
Conteh was the equivalent of the Kovalev of the time and remains THE best light heavyweight boxer that the United Kingdom has produced in the modern era, perhaps even ever.
It is hard to believe that he was only 19 years of age when he won that Commonwealth Gold medal and 4 years later – at only 23 – he was the WBC champion. It was a title he never lost in the ring. After beating Jorge Ahumada he was stripped in 1977 because he refused to fight a mandatory defense; he had already defended his title on three occasions.
It was a decision that rankled with him and he attempted to get the title back, not once, twice but thrice as he went in against Mate Parlov in Belgrade on the 17th June 1978, fought Matthew Saad Muhammad in 1979, and then Muhammad again in 1980 both in Atlantic City.
He lost all three.
Once he had the world titles the story of how he lost them and failed to regain them are worthy of repetition, almost as a testimony to folly and dishonesty in the sport.
The story of how he lost the WBC belt starts with his last defence, in his home town of Liverpool when he beat Len Hutchins in the 3rd round with a devastating display. He was however in for some criticism, notably from Jerry Quarry who had been commentating for CBS at ringside, because of his use of his head. Conteh had only 60 days after that win to defend against his mandatory, in Monte Carlo, Miguel Angel Cuello.
Whilst quite a few boxers could claim that the politics of the sport cost them their belt, John Conteh can make no such claim. At the time he was far away from the lifestyle of a professional athlete and he ended up listening to people who should have no part in his career. He pulled out. He lost the belt. He could blame nobody but himself. His drinking was fighting with him and winning, hands down.
Conteh's attempts to regain his belt began in the Yugoslavian city of Belgrade. Mate Parlov was a national hero, Olympic Champion, world amateur champion and in 1999 named as the Croatian sportsman of the Century. Conteh had that reputation for using his head and causing cuts. Parlov entered the ring with a synthetic guard over his eyebrows! Who was going to complain, this was a coronation in his home? Conteh had points deducted in the fight – once for the head and once for use of the elbows, losing a split decision. The fact for many who saw it was that he won the fight, but remained gracious in defeat and lived to fight another day – then nearly put one of those facts in real jeopardy.
His next headline appearance was when he caused a seven car accident from which he walked with his life but very little dignity.
His second attempt to regain the WBC title was even more farcical. He went in against Matthew Saad Muhammad in Atlantic City in August 1979. Round five – Muhammad was severely cut. We were looking at a stoppage, surely? Conteh would get his belt back and after months of misbehaving his redemption would at least, in part be complete. Adolph Ritacco, cutman in the corner applies something to the cut. It was an illegal substance that turned out to be roasted tea leaves, meant that the bleeding was stopped by round nine. One of Conteh's corner entered the ring in the 9th, confronted Ritacco and at least one punch was thrown. They were kept apart, the fight continued, in the 14th Conteh was dropped twice and lost a unanimous decision.
Conteh's performance had been incredible, there was little left in the tank at the end of the 15th and not much left in the man after such daylight robbery – again.
He would not have that line as an excuse afterwards.
His final word title fight, the rematch with Muhammad, was stopped in round four after Conteh hit the canvas five times. The referee had to step in, and he did. The veteran British commentator at the time, Reg Gutteridge had doubted if Muhammad had the power in his punches but then had commented that he was not the one "taking them, Conteh is." They were powerful enough for the fight to be settled.
Before the rematch Muhammad's corner men got their sentence for using something illegal on Muhammad's left eye in the first fight and were suspended. Our memories have not been suspended in remembering Conteh's fighting career rather than his celebrity status!
Contact the Feature Writers