Ringside Report Puts the Spotlight on Maureen McCormick
[AdSense-A]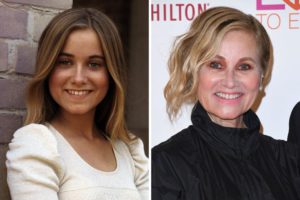 By Geoffrey Huchel
Maureen, Maureen, Maureen!
Actress Maureen McCormick was my first TV crush; actually, she was a lot of young boys first TV crush. I remember being a kid watching her as Marcia Brady on the iconic series THE BRADY BUNCH (1969). I was mesmerized by her long blond hair, stunning blue eyes and million-dollar smile. Little did I know the actress playing the teen dream I was watching on TV was already a grown woman. Still, I was hooked and my appreciation for the actress led me to search frantically through the TV Guide to see what other shows I could catch her on. And before becoming a pop culture icon, she was already building a resume as a child star.
Maureen Denise McCormick was born on August 5, 1956 in the Encino section of Los Angeles, California to William and Irene McCormick. She has three older brothers. She attended Taft Hugh School. Maureen's natural beauty was evident from an early age. At age six, she entered the Baby Miss San Fernando Valley beauty pageant AND won! It wasn't long before McCormick would begin booking acting jobs. In 1964, she first appeared on national U.S. television, in Mattel commercials for Barbie and Chatty Cathy dolls.
Through the late 1960s McCormick appeared in several TV series including BEWITCHED (1964), I DREAM OF JEANNIE (1965), HONEY WEST (1965), THE FARMER'S DAUGHTER (1963), CAMP RUNAMUCK (1965) and MY THREE SONS (1960). In 1970, she lent her voice to a redesigned Chatty Cathy doll. McCormick was cast as a series regular on the show that would make her a household name: THE BRADY BUNCH, a show about a blended family with three boys and three girls. McCormick played the beautiful oldest daughter Marcia, the role she will be most remembered for.
During the series 5 season run, McCormick provided her voice as Marcia for the animated series THE BRADY KIDS (1972) and made a guest appearance on MARCUS WELBY, M.D. (1969).
After THE BRADY BUNCH ended in 1974, McCormick continued work in a number of TV movies and series throughout the 1970s, including HARRY O (1973), HAPPY DAYS (1974), THE STREETS OF SAN FRANCISCO (1972), THE HARDY BOYS/NANCY DREW MYSTERIES (1977), MOONSHINE COUNTY EXPRESS (1977), VEGAS (1978), THE RUNAWAYS (1978), TAKE DOWN (1979), SKATETOWN, USA (1979), LOU GRANT (1977), INSIGHT (1979) and A VACATION IN HELL (1979). McCormick reunited with her TV family for the musical variety show THE BRADY BUNCH VARIETY HOUR (1976).
In the early 1980s McCormick returned to play Marcia for the TV movie THE BRADY GIRLS GET MARRIED (1981) and the follow-up series THE BRADY BRIDES (1981), sharing starring role status with her TV sister Eve Plumb. McCormick guest-starred in 5 episodes of the popular television series THE LOVE BOAT (1977), 6 episodes of FANTASY ISLAND (1977) and an episode of NEW LOVE, AMERICAN STYLE (1985). She starred in the drama SHOUT FOR JOY (1983), costarring her future husband Michael Cummings.
McCormick appeared in the horror flick RETURN TO HORROR HIGH (1987). She returned to play Marcia again for the TV Movie Special A VERY BRADY CHRISTMAS (1988) and the TV series DAY BY DAY (1988). McCormick appeared with five former BRADY cast members for the Brady themed episode. She guest starred as herself in an episode of the short-lived TV series HERMAN'S HEAD (1991). Her next role was as Valerie in the comedy THE SINGLE GUY (1995), starring Jonathan Silverman. She joined an All-Star Cast including Kate Jackson and Erik Estrada for the TV Movie PANIC IN THE SKIES (1996). After a 1997 guest appearance on the popular drama series TOUCHED BY AN ANGEL (1994), she was cast as a series regular on the comedy series TEEN ANGEL (1997), playing Judy Beauchamp during the show's first season. Her next role was as country singer Barbara Mandrell in the television biopic GET TO THE HEART OF IT: THE BARBARA MANDRELL STORY (1997).
McCormick joined the world of soaps when she was cast as Rebecca Hotchkiss on the series PASSIONS (1999). She appeared in a total of ten episodes. She made a 3-episode guest appearance on the comedy series SON OF THE BEACH (2000), a parody of BAYWATCH (1989) and appeared as herself in an episode of the hit series SCRUBS (2001). Her most recent credits include OUTSIDERS INN (2008), NAUGHTY AND NICE (2014), CHRISTMAS LAND (2015), ACCIDENTALLY ENGAGED (2016), THE LOUD HOUSE (2017), ROCK, PAPER, SCISSORS (2017) and THE GUEST BOOK (2017).
McCormick signed on to the reality series CELEBRITY FIT CLUB (2005) hoping to lose the 30 pounds she gained after her mother died of cancer and needing to move her disabled brother Dennis into an assisted living facility. She ultimately lost 34 pounds and was named the individual winner of her season. McCormick also wanted to conquer her fear of dancing in public when she signed on for the 23rd Season of DANCING WITH THE STARS.
During the competition McCormick revisited her iconic role of Marcia as part of her dance number. It also featured a reunion with her TV mom Florence Henderson, who uttered the memorable line "Marcia, Marcia, Marcia". McCormick maintained average scores each week and was eliminated from the competition in week seven, finishing in 8th place. McCormick was grateful for the experience and was proud she faced her fear of dancing in public.
McCormick, who is also a singer, had a brief career as a recording artist. She released her country album When You Get A Little Lonely on April 4, 1995. In 1994 McCormick starred as Betty Rizzo in a production of Grease in Manhattan. She added author to her extensive resume. Her autobiography Here's the Story: Surviving Marcia Brady and Finding My True Voice was released on October 14, 2008.
It debuted at number four on the New York Times bestseller list and stayed there for three weeks. In the book McCormick touches upon many events in her life, including her struggles with cocaine and the effects it had on her career. She also revealed how she was nothing like the character she played on TV, explaining how difficult it was to live up to Marcia's perfect persona. Despite the cards that were dealt to her, McCormick triumphed and is a survivor.
McCormick is actively involved in the Best Buddies International program. Best Buddies International is a nonprofit organization. It consists of volunteers that create opportunities for people with intellectual disabilities. The program's main purpose is to allow volunteers to be paired up with a buddy with an intellectual and developmental disability and provide them with a friend or mentor.
2019 marks the 50th Anniversary of THE BRADY BUNCH, which debuted in September of 1969. To celebrate the milestone, McCormick and her TV siblings, Barry Williams, Christopher Knight, Eve Plumb, Mike Lookinland and Susan Olsen reunited after 15 years to work on HGTV's A VERY BRADY RENOVATION (2019). For the special, the Brady kids worked with several HGTV stars, including the Property Brothers Jonathan and Drew Scott to gut and renovate the house that was used for the exterior shots for the original series to look exactly like it did on the Paramount Studios set.
Watch McCormick handle power tools like a boss and witness her reaction to the incredible transformation of the Brady house on A VERY BRADY RENOVATION, now airing Mondays on HGTV.
[si-contact-form form='2′]