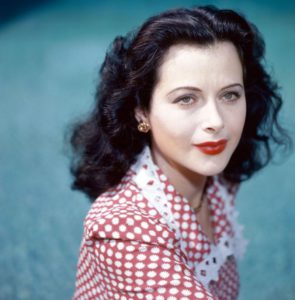 By Geoffrey Huchel
Beauty and brains— what a lovely combination. And that term describes Austrian-American actress Hedy Lamarr perfectly. Hedy Lamarr was known mostly as a film actress during Hollywood's Golden Age, but what may not be as well known about the star is that she was also an inventor; credited with helping with the invention of wifi.
Hedy Lamarr was born Hedwig Eva Maria Kiesler on November 9, 1914 in Vienna, Austria-Hungary. She was the only child to a successful bank director father and pianist mother. As a child, Lamarr showed an interest in acting, expressing appreciation for film and theatre. Lamarr's acting career began Europe. She was cast as an extra in MONEY ON THE STREET (1930), and then a small speaking part in STORM IN A WATER GLASS (1931). The same year she was cast in the film THE TRUNKS OF MR. O.F. Lamarr was given the lead role in the comedy NO MONEY NEEDED (1932), leading to her starring in ECSTASY (1933), a film that would gain her international fame.
Lamarr's Hollywood career started in London in 1937, when she met Louis B. Mayer, the head of MGM, who was scouting talent in Europe. Lamarr secured a contract of $500 a week with MGM and arrived with Mayer in Hollywood in 1938. Mayer promoted Lamarr as the "world's most beautiful woman". Lamarr appeared in 35 films throughout her American film career. Her first film upon landing in Hollywood was the mystery drama ALGIERS (1938), with Charles Boyer. Her next film was the drama LADY OF THE TROPICS (1939), starring Robert Taylor. The following year Lamarr appeared in three films- the drama I TAKE THIS WOMAN (1940), with Spencer Tracy, the comedy COMRADE X (1940) with Clark Gable and BOOM TOWN (1940), starring opposite again Clark Gable and Spencer Tracy. Her next film was the musical drama ZIEGFELD GIRL (1941), playing an aspiring showgirl. She starred alongside James Stewart, Judy Garland and Lana Turner in the box office success. Lamarr reunited with Stewart for the romantic comedy COME LIVE WITH ME (1941). For the 1942 comedy TORTILLA FLAT, Lamarr reunited with Spencer Tracy. The film also starred John Garfield and Frank Morgan. TORTILLA FLAT brought another successful film for Lamarr, as well as her next film, CROSSROADS (1942), with William Powell. For WHITE CARGO (1942), Lamarr played the seductive native girl Tondelayo, receiving top billing over Walter Pidgeon. WHITE CARGO was another big hit for Lamarr.
She reunited with Powell for the romantic comedy THE HEAVENLY BODY (1994) and then starred opposite Paul Henried for the WW2 drama THE CONSPIRATORS (1944). During the mid-1940s Lamarr starred in the romantic comedy HER HIGHNESS AND THE BELLBOY (1945) with Robert Walker and June Allyson, the drama THE STRANGE WOMAN (1946), and the crime drama DISHONORED LADY (1947). Lamarr costarred opposite Victor Mature for the Oscar winning historical drama SAMSON AND DELILAH (1949). Lamarr won critical acclaim for her portrayal of Delilah. SAMSON AND DELILAH was the highest grossing film of 1950.
Throughout the 1950s Lamarr starred in a handful of films, including the western COPPER CANYON (1950) with Ray Milland, the film noir A LADY WITHOUT A PASSPORT (1950), the comedy MY FAVORITE SPY (1951) with Bob Hope, THE STORY OF MANKIND (1957), playing Joan of Arc and her final film THE FEMALE ANIMAL (1958), with Jane Powell and George Nader.
During World War II, Lamarr learned that radio-controlled torpedoes, an emerging technology in naval war, could easily be jammed and set off-course. She had the thought of creating a frequency-hopping signal that could not be tracked or jammed. She contacted her friend, composer and pianist, George Antheil, to help her develop a device for doing that. In 1941, Lamarr filed for a patent for frequency hopping technology that became a precursor to the secure wifi, GPS and Bluetooth now used by billions of people around the world. Their invention was granted a patent on August 11, 1942. In 1997, Lamarr and Antheil received the Electronic Frontier Foundation Pioneer Award and the Bulbie Gnass Spirit of Achievement Bronze Award, which is given to individuals who contribute to society through their achievements in arts, sciences, businesses and invention fields. Lamarr was featured on the Science Channel and the Discovery Channel. In 2014, Lamarr and Antheil were posthumously inducted into the National Inventors Hall of Fame.
Lamarr lived out the last decades of her life in seclusion, and her only means of communication with the outside world was by telephone, even with her children and close friends. She died in Casselberry, Florida, on January 19, 2000, of heart disease. She was 85 years old.
Fun fact: The house used for the Oscar winning film THE SOUND OF MUSIC (1965) was owned by Lamarr.
Essential Lamarr:
ECSTASY (1933)
LADY OF THE TROPICS (1939)
BOOM TOWN (1940)
ZIEGFELD GIRL (1941)
TORTILLA FLAT (1942)
SAMSON AND DELILAH (1949)
Contact the Feature Writers