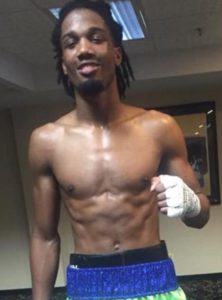 TONIGHT, four Members of the Split-T Management stable will be in action at DeCarlos Convention Center in Warren, Michigan.
Undefeated super welterweight Ardreal Holmes takes on the capable Walter Wright in an eight-round bout; Michael Moore battles Alex Hloros in a six-round middleweight tussle; Undefeated super middleweight Anthony Barnes fights capable Kenneth Council; Undefeated super lightweight prospect Rolando Vargas battles fights Rashio Evans.
Holmes of Flint, Michigan has a record of 9-0 with four knockouts. The 25 year-old Holmes will be making his 2nd start of 2019. He is coming off a unanimous decision over Lanardo Tyner on May 18th.
Holmes, who was the number-one ranked amateur welterweight in the United States, competed in the Olympic Trials. As a professional, Holmes holds a 1st round stoppage over Bryan Goldsby (4-1).
Holmes is promoted by DiBella Entertainment.
Wright of Seattle, Washington maybe best known for competing on The Contender in 2006. He has a record of 17-7 with eight knockouts.
The 38 year-old has wins over Mike Hannash (2-0), Ray Craig (3-0), Darnell Boone (4-0-1), Vinroy Barrett (21-5), Dan Wallace (8-0) and Mark DeLuca (21-0).
Moore of Cleveland, Ohio has a record of 17-3 with seven knockouts.
The 33 year-old is a nine year-pro who made it to the semi-finals of the 2018 Contender as he defeated Malcolm McAllisiter (9-1) and Gerald Sherrell (9-1). This will be his 1st appearance of 2019.
Hloros of Mount Clemens, Michigan, has a record of 18-7-2 with 12 knockouts.
The 16 year-veteran has wins over Jason Wahr (1-0-2), & Jeremiah Jones (1-0-1). Hloros has faced world champions Rob Brant and Demetrius Andrade.
Barnes of Huntington Woods, Michigan is undefeated with a record of 11-0 with eight knockouts.
The 28 year-old is a seven year pro, and is making his 1st appearance of 2019. He is coming off a unanimous decision over Dwayne Williams on July 13, 2018.
In Council, Barnes is taking a step up in competition. Council of Knoxville, Tennessee has a record of 10-2-1 with eight knockouts. His only two defeats have been to undefeated fighters, which includes dropping a fight to Erickson Lubin.
Vargas of Milwaukee, Wisconsin is 3-0 with all three of his wins coming inside of two rounds. Just twenty years-old, Vargas was a 2017 National Junior Champion, and he has lived up to expectations in all of his victories. Two of his three knockouts have come against undefeated foes in Jessi Hackett, and in his last bout, Vargas took out Nathaniel Lee Davis in one round on July 19th in Oxon Hill, Maryland.
Evans, 0-1 is from Wilson, North Carolina