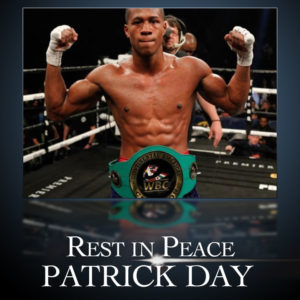 CEO/Publisher note:  There is not much I can add to Donald's beautiful tribute to Patrick Day other than, it broke my heart to see this tragedy.  In addition, I want to reiterate what I have said many times, in many places, over many years.  "No boxer that steps in the ring no matter what skill level they may possess is a BUM!"–"Bad" Brad Berkwitt  
By Donald "Braveheart" Stewart
"He was a son, brother, and good friend to many. Pat's kindness, positivity, and generosity of spirit made a lasting impression with everyone he met."
The simple statement in many ways said it all. I was struck with Lou DiBella's way with words but was then hit by Patrick Day's, 17-4-1, 6 KO's. There is a video of him going around social media exhorting people to follow their dreams, do what they want and ignore those who don't believe in you. I am paraphrasing but for a young man, wise shoulders gave him a platform for his head to spout such wisdom. What he needed to tell people was what he managed to show people in such a short career.
In the UK he may not have been a name we quickly recognized as he fought constantly in the USA but he was someone, given the way in which he lost his life, that made us sit up, take notice and become aware of how tragic those circumstances were in which he lost that very promising life.
Of course, our heart goes out to his family, but it must also go out to Charles Conwell who was in the other corner when the blow that began the loss of life was landed. Knocked out in the 10th round, Day was taken to the hospital, put in a coma and four days after admission lost his life.
His final fight, on the undercard of the Oleksandr Usyk heavyweight debut in Chicago, was a travesty and later in the same statement Di Bella eloquently reminded us of just how alluring the sport we follow can be when he stated, "Patrick Day didn't need to box. He came from a good family, he was smart, educated, had good values and had other avenues available to him to earn a living. He chose to box, knowing the inherent risks that every fighter faces when he or she walks into a boxing ring. Boxing is what Pat loved to do. It's how he inspired people and it was something that made him feel alive."
He chose to box. Smart. Educated. From a good family. Knew the risks.
A fitting epitaph for a man who can walk tall in his heaven as he strode on the earth. He may join the likes of Maxim Dadashev or Hugo Santillan for this year's roll call of tragedy or for our own Scottish fighter who lost his life, Mike Towell, as another reason for people to question the sport but here is a young man who knew the risks and fought the good fight. Whilst his opponent, Conwell, in another piece of eloquence, has written that he would take back the fight and not have it if it were to avoid this tragedy, Day, we know, would forgive Conwell in an instant because he chose to box, he was smart, educated, from a good family and knew the risks. He was no boxing cliché.
Born in 1992, growing up in New Jersey, Day was to grow to nearly make it to the Olympics as an amateur in 2012; London would have seen him box had he made the team. His relationship with boxing had begun in the garage of his neighbors where he made friends with an Everlast punchbag. That neighbor, a retired New York firefighter, Joe Higgins, began a relationship that was of mutual benefit. Day was getting the fix he needed and having been diagnosed with PTSD after he had responded to the World Trade Center site after losing his brother, Timothy in the 9/11 attack, Joe had Day as his star pupil in the Police Athletic League and his personal champion in his own recovery.
In 2013 he turned over into the professional ranks at the wonderfully named BB King Blues Club and Grill in New York knocking out Zachariah Kelley in the very first round.
By 2017 he was in the ring against Eric Walker for the WBC Continental Americas super welterweight title which he won on points. Momentum was gaining. He defended that title in 2018 against Kyrone Davis in Brooklyn and in Madison Square Garden against Elvin Ayala. It was another defense in 2019 – again successful – against Ismail Iliev that would have put him in the frame for the NABF and WBO NABO title in June this year against Carlos Adames which he lost on points before the USBA title fight against Conwell. That night will live with us and especially promoter, Eddie Hearn who broke down in an interview in the UK when speaking about Day but also sent out the following tweet after his death "Devastated to hear the news of the passing of Patrick Day. I met him for the first time last Thursday, what a charming young man with a dream and a smile that lit up the room. Our deepest prayers are with his family, his trainer Joe Higgins, Charles Conwell and promoter Lou DiBella.
As I began, let me finish with a comment from Lou DiBella who described Patrick Day's final scene, as Day died, "surrounded by his family, close friends and members of his boxing team".
From all of us at Ringside Report, rest in peace.
Contact the Feature Writers