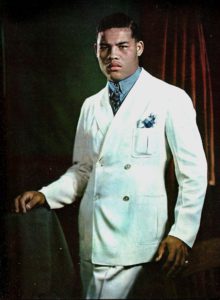 By Clare "The Boxing Advocate" Burke
Joseph Louis Barrow was born on May 13, 1914, in a shack outside of Lafayette, Alabama. The grandson of slaves, he was the seventh of eight children born to a sharecropper father, Munroe, and wife Lillie.
Louis' childhood was shaped by the struggles of being poor. He and his siblings slept three and four to a bed, and Louis was just 2 years old when his father was committed to an asylum. Lillie was told two years later that Munroe had died. In fact, Munroe lived on for another twenty years, oblivious to his son's growing reputation. Believing herself a widow, Lillie Barrow soon married Pat Brooks, a widower with five children of his own. For a while Joe and the other children helped their parents work the cotton fields, but in 1926 the Brooks/Barrow family joined the growing swell of black migration northward. Shy and quiet, his development was stymied by limited education, and he eventually developed a stutter and struggled in school.
After Louis began hanging out with a local gang, Lillie sought to keep her son out of trouble by having him take violin lessons. However, Louis had also been introduced to boxing by a friend; he began using the "violin money" for boxing lessons at Brewster Recreation Center in Detroit. Fearing that his mother would discover where the "violin money" was going, Joe dropped the Barrow from his name and began boxing neighborhood kids as Joe Louis.
Joe Louis became a heavyweight champion with his defeat of James J. Braddock in 1937. Nicknamed the "Brown Bomber," his knockout of Germany's Max Schmeling in 1938 made him a national hero, and he established a record by retaining the championship for nearly 12 years. After boxing, Louis endured financial problems while working as a referee and a casino greeter. He died of cardiac arrest on April 12, 1981.
The following is one of my favorite stories about Joe Louis. One Sunday in 1935, Joe Louis took his wife Marva to the Calvary Baptist Church in Detroit. He became the centerpiece of a fiery sermon preached by the Reverend J.H. Matson.
Joe Louis is doing more to help our race then any man since Abraham Lincoln! The preacher yelped. 'Amen to that! Boomed the congregation. 'He don't smoke! AMEN ' He don't throw no red hot liquor down his throat' "NO SIR" "He fights clean and he shall stand before the king" That's what the Bible say!
Joe flushed as the words flamed down. He just wanted to fight, make some money and have some fun with pretty girls.
'He is one of the chosen!' The preacher shouted. 'He will make the world know that our people are Strong, Fair and Decent! "He will lead us out of bondage"
Joe looked down. Jesus Christ, he thought am I all that?
Contact the Feature Writers