Founder of the Hit Band Klymaxx Bernadette Cooper Discusses Music, Boxing, Life & Much More…
[AdSense-A]
Exclusive Interview by "Bad" Brad Berkwitt
"I am very nurturing, love to cook, have a passion for animals and cry when good things happen to good people."—Bernadette Cooper
As many of my readers at Ringside Report know, the 80's is my generation for music! This era owned the teenage soundtrack of my life. One of my "go to bands" was a group of ladies who always looked like they had fun in their music videos. They laid down both funky tracks and slow jams, but it was the slow jam that dominated FM radio in Pensacola, Florida and nightclubs I frequented at that time.
The group was Klymaxx and the slow jam was "I Miss You". Behind the drums, was Bernadette Cooper, who also founded the group and did some of the songwriting too.
I caught up with Ms. Cooper, who has many upcoming projects in the works and we ran the gamut on topics to discuss…
BB: Out the gate, I have to say, Klymaxx was on my rotation all during my first two years in the Navy 86-87 on cassette tape of course! All the nightclubs I frequented in Pensacola spun "The Men All Pause", "Meeting In The Ladies Room", and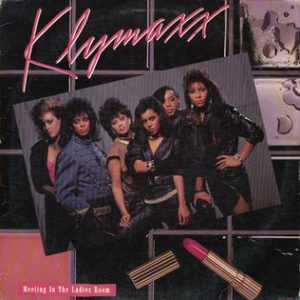 when they slowed down the set, they hit us with "I Miss You". All three of these songs are absolute classics in my book and stand the test of time. When you laid these tracks down on your third studio album "Meeting In The Ladies Room" did you know in your bones, they were destined to be blockbusters?
No, by that time I had begun preparing my next move. Back to college. We had suffered two failed albums and I had no more expectations. I now believe beautiful things come from no expectations"
BB: I want to go back now… You grew up in Inglewood and Compton. At a young age, you listened to giants in our industry such as the late Isaac Hayes, Sly Stone and the late Aretha Franklin. How did those singers, your environment and family, if they did, help you musically?
Their musical influences can be heard in all my music. Especially Aretha's. My mom played her constantly and I connected to her emotions as a young child.
I portrayed her at a show and tell in the first grade and sung "Respect" in front of the class. When I finally met her, I did not feel worthy, I could not speak.
BB: You graduated from Inglewood High School and had a scholarship to El Camino College. What was it for? Also, you majored in law for one year, and I have no doubt it had to help you in your career down the road. If so, how did it help you?
The scholarship was for a continuous high-grade point average. Yes! I have always been attracted to law. In fact, my many credits allowed me to attend high school for only a half of day.
After watching a show called "Get Christie Love" a Detective series, my mom paid for me to attend the United States School of Law enforcement where I studied after my high school classes to be a private investigator. After finishing the course, I worked after school and during college as a private undercover and sweetheart shopper.
BB: What year did you found Klymaxx?
I began my search in 1977.
BB: You are also credited with name of the group and I must say, it really did stand out for many reasons. It oozes sexuality, but I am curious if you used it for that reason or another one?
It got your attention, right? That's the reason why I decided on the name.
BB: You have described yourself as a 'Diseuse' (A 'Diseuse' is a female entertainer who performs dramatic monologues). With your cool look, and too cool for school fashion, I have seen, have you ever ventured into acting or have a desire too?
No, I never wanted to act. My passion has always been composing music, writing lyrics, producing, and performing.
BB: Talking about fashion. I read in an interview you owned a vintage clothing shop for several years. Based on your fashion sense, I have to assume you really dug owning it. Tell the RSR readers about your shop.
Yes! My store Museum68. I went to New York to write music and stayed for ten years. First in Manhattan then I moved to downtown Jersey City. That's where I found and took residence in an old live/work art gallery. Upstairs was the living quarters and downstairs an open space.
I decided to start a business and opened a vintage clothing store. I began collecting often traveling to Toronto Canada in the Kensington Market area/Queens Street to purchase. The exchange rate at that time was great.
I collected for a year and then opened the business. With no sales experience only passion, the business did great.
BB: When Klymaxx broke for the stars on the charts and on the radio, you also had three outlets that for the most part is all, but gone today which is MTV, VH1 and Friday Night Videos. How do you think these TV shows helped Klymaxx with becoming huge stars in the music world?
The visibility was great and it gave the world a chance to witness girls on instruments, and me a chance to create my personality. The persona of self-assuredness. A person I became from by being self-motivated coming from a distant family, and a generation of women who did not like me. As a child I learned to love myself.
BB: Another interesting fact about you is the at the age of 12, you taught yourself how to play the drums and performed in church. Is there one drummer from the time you learned that you look up to and if so, who is it and have you met them?
No one. I was never passionate about playing it was all the universe's way of saying "you were put on this earth to do music this is how you will get into the music business." And when the time came for me to transition into my persona, I allowed it and stopped playing drums.
BB: I want to ask this question respectfully, but very honestly! I feel today's music is just not that great for the most part. I say this because I am sick of Auto Tune and songs with lyrics that well, are many times, just horrible. But with that said, there are some decent singers out there just not in the numbers of your day at the top and of course the years before too! What are your thoughts being a proven success in the music industry with the way music has gone for the last several years both in singing and songwriting?
Stay true to yourself. Once again, I am at my best as a writer because there are no expectations of me. I feel free.
My next project 'How To Survive A Midlife Crisis' is my best writing and production. It is also my last under the Klymaxx banner. My focus will be on my fiction E and audiobooks including soundtracks. 'The Unconventional Happiness' series…once again empowering women through the eyes of Bernadette Cooper. Yes, folks I am speaking of myself in the third person.
BB: What are the words of wisdom you have for the young man or woman who want to go into the music business?
I have nothing to offer anymore. I have given advice and opened the door to many great opportunities and these kids now don't understand the value of it. Nowadays that door may never become ajar again. However, if I see the light in you, I will hold your hand through the journey.
The business has changed so much… there are no more rules or boundaries. My suggestion is to get a copy of 'The Purple Cow' and learn how to be remarkable. If your product is remarkable even if no one likes it you won because you put something substantial into the universe. Hence, if you copy and win you're just another clone.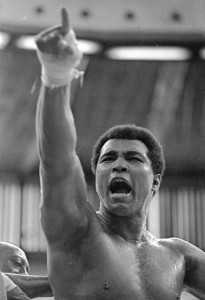 BB: When did you start following boxing and who are some of the fighters you enjoy or enjoyed watching?
My love of watching fighters first began with wrestling. A fan of Freddie Blassie I would order tickets from the television advertisements during the match and my mom would drop my brother and I off at the wrestling venue in downtown Los Angeles.
Soon I became a lover of boxing while watching Muhammad Ali in his days. Ali's flair excited me and he was fine too. I watched most of his bouts especially, his brilliance in "The Thrilla in Manila". Realizing he couldn't outbox Frazier, so he baffled him with bullshit. BWB…baffling with bullshit became my motto.
I then followed Mike Tyson and watched him knockout fighters in the first round. Once again, his antics kept me interested.
I watch periodic bouts…All the way to Floyd Mayweather, JR. I'm not especially a fan of Mr. Mayweather, JR., but I respect his hustle.
I think that kid…um… Gervonta Davis could have a long career if he focuses and stays out of trouble.
On the commentating side of boxing, I always liked Howard Cosell best.
BB: I want to now ask you some random fun questions and get your first response.
Favorite football team?
Dallas Cowboys.
Favorite basketball team?
Los Angeles Lakers.
Favorite baseball team?
Not a baseball fan because the sport is too slow.
Favorite Genre of movies?
Foreign, Independent, Comedy, Documentaries, Drama's, and Classics.
Favorite movie?
Once Upon A Time In America, Notes Of A Scandal and Sunset Boulevard. It's too hard to name just one!
Favorite musical band?
Aerosmith.
Favorite concert you have seen to date?
Again, it's too hard to name just one. Maze and Bette Midler Diva Las Vegas (I wrote the opening song.)
Favorite Male Singer?
Marvin Gaye.
Favorite Female Singer
Aretha Franklin.
Favorite song?
My Funny Valentine (selfless.)
1997 Jaguar hardtop (First one made by Aston Martin developer.)
Favorite noise or sound?
Ice cream truck jingle.
Least favorite noise or sound?
Animals in distress.
Favorite food?
Crab cakes, and macaroni and cheese tacos. When I cheat and eat meat…Oxtails! Then my body suffers for two days.
If you hit the lottery tomorrow, what would be the first thing you would do?
I would choose the best musicians pay them well and finance a tour of my choice.
Favorite vacation destination?
Spain.
BB: What is one thing you can share about yourself that is not well known and may surprise my readers?
I am very nurturing, love to cook, have a passion for animals and cry when good things happen to good people. Also, the highlight of my day is spending time alone. I hate arguing, but I am firm when I know what I want. I talk to myself and often answer and I love soy Ice cream (Cherry Farm from Trader Joe's.) College marching bands are my favorite pastime and I live in my silk pajamas.
BB: What is the one question, I didn't ask you or has ever been, you would like to be asked? Your answer is?
BC: Do you think you are often misunderstood?
Yes!
BB: With everything we discussed, in a few thoughts, sum up who Bernadette Cooper is as a human being?
A nurturing and kind woman who found her passion and who respects the hustle. I really do what I do?
BB: Finally, what is the saying you live your life by?
Love yourself!
Bernadette wanted to let the RSR readers know about the following projects she has coming out:
Klymaxx feat Bernadette Cooper with Lorena Lungs
'How To Survive A Midlife Crises' release in 2020
New single: 'Generational' November, 2019
www.klymaxxofficial.com
www.klymaxxbernadettecooper.com
https://m.facebook.com/Bernadettecooper2
Instagram.com/bernadettecooperofficial
[si-contact-form form='1′]