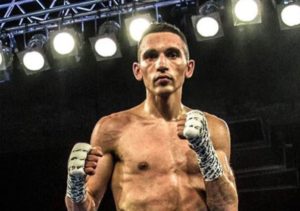 By Donald "Braveheart" Stewart
You have trained hard for weeks. You have managed to make the weight. You have rehydrated, eaten well and are ready. The warm up is done. The shadow boxing, pad work and final pep talk is all over. The gloves are on and the wraps have been witnessed being put on. It's time for the ring walk. Are we ready?
OK.
It's off…
What?
The headline bout, due to be on British terrestrial TV with a massive audience has just been pulled, canceled, will not happen, is a dead deal, not a done deal, is kaput, finito, off…
Alex Dilmaghani, 19-1, 8 KO's, suffered that fate in September of this year when he was due to fight for the vacant WBA super featherweight international title when his opponent, Francisco Fonseca pulled out the fight as he had fallen ill, in his dressing room.
There is absolutely no suggestion that the Nicaraguan was feigning illness or there was something suspect in him claiming to be unwell. Doctors checked him, the British Boxing Board of Control withdrew him and he was sent to the hospital for "further examination". Given recent tragic events you can hardly blame anyone for exercising caution, can you?
Should Dilmaghani have felt like suing the South American, he may have been the best placed in the dressing room; he has a law degree.
In fact, Dilmaghani credits a break he had from his legal studies as being the time when things turned very seriously for him in the sport. He was in Mexico on holiday and found himself in the Romanza Gym. Trainer, Nacho Beristain, a legend of some repute, was trawling the place for a sparring partner for his boxer. He needed a southpaw; Dilmaghani is a southpaw. He needed someone game enough to go in the ring with a very dangerous and experienced guy; Dilmaghani is game for anything. He needed someone who could mimic the opponent his world level fighter was due to face; Dilmaghani was sure he could manage that fine…
He managed so fine that after having sparred with Juan Manuel Marquez, for it was he in the home corner for sparring, preparing for his third fight with Manny Pacquiao, Dilmaghani stayed on for three years and got an education that the University of Southampton could never have provided for the half Iranian fighter.
Now he was on the verge of making his name against Fonseca, and it all went wrong…
Up until that point, his promoter, Mick Hennessy had been describing him as "boxing's best kept secret." Considering how many secrets there are in boxing, that's quite a huge claim to make. But make it Hennessy did before he emerged from five years in the Americas in May 2019 in Manchester to beat Martin Parlagi in his 20th fight.
Ahead of him in the UK, may be the likes of Carl Frampton, Josh Warrington and Kid Galahad but Dilmaghani has no doubt of his own ability, nor do those around him. Just before his fight in May he spoke of his hopes in newspaper interviews where he talked of how he was going to look back when the time had come. 'When I review my career, later in life, I intend to have been involved in big fights. I expect to become a world champion and a great fighter. Early in my career, I saw others focussing more on selling tickets than developing as fighters. So I fled to educate myself at boxing's best 'universities' in Mexico City.
His pedigree has been cemented in the rings of America, Mexico and Canada whilst he has not got an amateur pedigree of which to speak as he first entered the professional ranks at the age of just 17 and with negligible amateur experience.
He had begun fighting whilst still in the UK, his first 8 fights were here, and when interviewed by newspapers in the UK he explained further, 'I finally started at the Whitehawk ABC in Brighton when I was away at university. I only had a handful of amateur fights but won them all bar one when I was blatantly, blatantly robbed."
That cockiness has also got a sense of history as he compares himself to Winky Wright – an aggressive fighter but with a great defence.
His greatest inspiration though was probably Marquez who had knocked guys out and broken jaws before Dilmaghani stepped in the ring to spar. He was asked in an interview with the Independent newspaper what had caught his eye most with Marquez, he responded, "The most impressive thing was his timing," Dilmaghani adds. "I knew he was a great fighter he is how he is, but what I didn't appreciate was his timing and his decisiveness. "He wouldn't hit me around the chin, he'd hit me straight on it."
He was also in the gym alongside such impressive figures as Jhonny Gonzalez and Rey Vargas as well and such an inspiration led to a pathway of learning that could have, should have, would have led to world title opportunities. Now as 2020 beckons, Dilmaghani has learned not only that when opportunity presents itself you should take it but also to watch out in case something takes it away from you too.
Contact the Feature Writers