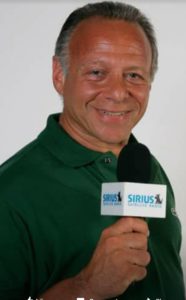 By Randy "The Commish" Gordon
The Canelo Alvarez-Sergey Kovalev fight was scheduled to take place on Saturday, November 2, 2019. Technically, it did, when the bell rang for round one at the MGM Grand Garden Arena is Las Vegas, Nevada. For those in time zones east of Nevada, the fight began on Sunday, November 3. Why? Because Canelo Alvarez wanted the biggest possible audience possible to see him. The way he figured it, many prospective viewers were watching UFC 244 from Madison Square Garden. Canelo wanted his title challenge against WBO Light Heavyweight Champ Sergey Kovalev to be seen by as many people as possible. So, he relaxed in his dressing room after the co-featured fight of the night…and Sergey Kovalev rested…and DAZN tap-danced for nearly an hour.
Social media ignited with catcalls and jeers for the normally-reliable and entertaining DAZN. It was awful for many on the East Coast who had to be up early. Like me. I was feeling it all day on Sunday.
Thanks, DAZN!
Anyway, now that Canelo Alvarez has become the holder of one of boxing's light heavyweight title belts, did we enjoy the fight? Did he perform the way you thought he would? Did Sergey Kovalev perform below par?
First, it was a masterful and strategic fight plan Canelo used against Kovalev. It was one of patience and poise, of power and pressure.
While the fight looked competitive, it was only because Canelo allowed it to be competitive. Canelo's punch output was low and Kovalev's was higher, but two of the judges (Julie Lederman and Dave Moretti) were watching correctly. Kovalev was throwing—and missing. Canelo was picking his shots and countering beautifully. Judge Don Trella had the fight scored 95-95 going into the 11th round, while this judge, who had dozed off for a spell while waiting for the fight to come on, also had it even after 10. I'll never score a fight again after napping!
Kovalev had no confidence in letting his vaunted right hand go. When he did, he missed, and ate counter left hands. Though he was bigger with a longer reach, he was reputed to be physically stronger and a much-harder hitter. He only looked to be taller. Nothing else.
For those who talked pre-fight about what Kovalev will do next should he beat Alvarez, that talk has changed to "Will he retire?"
He should. He cannot—and WILL NOT beat Dmitry Bivol or Artur Beterbiev.
As for Canelo Alvarez, this superstar has the boxing world at his feet.
Will Canelo stay at light heavyweight? Will he take on IBF/WBC champion Artur Beterbiev? Canelo's trainer, Eddie Reynosa, says they welcome the opportunity to face Beterbiev. Do they really? When I heard them say that last week, I frowned. I am not frowning any more.
Will Canelo move down to 168 and try for somebody like WBC champion Callum Smith? Will he move back down to 160 and face "GGG" in a rubber match. Or will a "GGG" rubber match take place at another weight? Hey, at any weight they fight under 175 pounds, the fight can be for Canelo's newly-won light heavyweight title. Fun times ahead.
I don't believe we'll see Canelo head back down to make the 160-pound limit. He looked in prime condition against Kovalev. Stripping off 15 pounds may weaken him terribly. Remember Roy Jones, JR. after winning the heavyweight title against John Ruiz, then dropping almost 25 pounds of muscle to face Antonio Tarver? We're sure Canelo has thought about that and discussed that.
Fun times ahead in the career of Saul "Canelo" Alvarez.
Ryan Garcia upped his record to 19-0, 16 KO's, stopping Romero Duno in 1:38 of the first round on the Alvarez-Kovalev undercard. Duno, of the Philippines, came in with a record of 21-, 16 KO's, but never got untracked against the hard-hitting, fast-handed, baby-faced 21-year-old.
Big win—but not unexpected by this writer—by Miguel Berchelt as he starched Jason Sosa in the fourth round on Saturday night. Berchelt, 37-1, 33 KO's, making the sixth defense of his WBC Super Featherweight Title, had an easy time against former champ Sosa, who saw his record drop to 23-4-4, 16 KO's.
Get ready for what could be a very interesting bout this Thursday on DAZN. It's the WBSS finals in the 118lb division matching Nanoya Inoue Vs Nonito Donaire. Donaire, a former four-division champion, is 40-5, 26 KO's and riding stoppage wins in the quarter-finals and semi-finals of the WBSS. Inoue, nicknamed "The Monster," is a three-division champion and unbeaten with a record of 18-0,16 KO's. He has promised to stop Donaire, something only then-unbeaten Nicholas Walters did to him in 2014. The fight will be at Japan's Saitama Arena…Adrien Broner took a major step towards winning his third consecutive award for thuggish behavior when he punched both Gervonta Davis and Davis' publicist outside Canelo Alvarez' dressing room prior to the Canelo Vs Sergey Kovalev fight. The award, named after Broner himself, is given annually by SiriusXM Boxing to the boxing personality who most exemplifies poor behavior, manners and an overall lack of respect towards others, constantly putting boxing in a bad light. Broner won the award in 2017 and 2018, as is a certain lock to win it for the third successive year…
All of the networks we watch boxing on have an "Official Scorer" and so-called "Rules Expert" on hand. Years ago, HBO began this practice with regular use of top-fight-judge-turned-commentator, Harold Lederman. Other networks followed suit. Showtime brought on Steve Farhood. FOX brought on Larry Hazzard. DAZN, who is basically the new kids on the block, hired ex-referee Steve Smoger to do the job. The job he did on Saturday night's Canelo Alvarez-Sergey Kovalev fight was awful. Smoger, who was himself was involved in several extremely late stoppages (see: Denis Lebedev Vs Roy Jones, JR. & James Kirkland Vs Glen Tapia), jumped all over Nevada referee Robert Hoyle for stopping the Evan Holyfield-Nick Winstead fight after only 16 seconds. The fact is, referee Hoyle's stoppage was perfect. And commendable. Winstead was getting hammered by the relentless fists of the son of Evander Holyfield, and would have most likely taken more hits and damage had the ref not stopped it.
The stoppage, rather than being praised by Smoger. Smoger also said Hoyle was inexperienced, and that this was his first-year refereeing. In fact, boxrec.com has Hoyle refereeing since 2010. Then, in a female bout between Seniese Estrada and Marlen Esparza, Esparza suffered a deep cut on her scalp from an accidental butt in the fourth round. I remember thinking, as the round ended, "If this fight should be stopped because of that cut, they'll go to the scorecards." After five more tough rounds—with more accidental butts—many of them caused by the constantly-switching-stances Estrada, referee Robert Byrd went to Esparza's corner, where he asked Esparza if she could see because of the blood which was cascading down her face. When she admitted she could not see, Byrd waved the fight off, awarding Estrada a TKO victory. As he did, I screamed at my television screen, "That's no TKO. It's got to go to the scorecards!" Bring on "Mr. Rules Expert", Steve Smoger.
"If a fighter tells the referee they cannot continue, it's a TKO," said DAZN's rules authority (as I screamed at the TV "WRONG!!"). Then Smoger wrongfully added, "Had she [Esparza] kept her mouth shut, we'd be going to the cards," instead of her losing by a TKO. I kept screaming at the television. I guess they heard me, and we heard no more from "Mr. Rules Expert". The cards were tabulated though the end of the ninth round. As it turned out, Estrada won by a unanimous Technical Decision. It wasn't a good night for Nick Winstead. Or Marlen Esparza. Or Steve Smoger. Or Sergey Kovalev. Or DAZN!
Randy "The Commish" Gordon is the Author of the hit book, "Glove Affair". Order your copy by clicking HERE.
Contact the Feature Writers