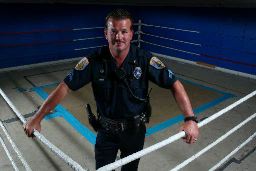 By Daniel "The Boxing Guru" Sisneros
He was known as "Rockin' Robin Blake". This tall texas southpaw started off with a 2nd round KO over Erasmo Gonzalez in August of 1981.
He then went on to compile a record of 22-0, 16 ko's. That stretch included wins over some big names including… Primo Ramos, Chris Calvin, Ruben Munoz Jr., Tony Baltazar, and Melvin Paul before taking his first defeat by dropping a very close 10 round decision to Tyrone Crawley.
It became back-to-back losses as he faced off with unbeaten Harry Arroyo (22-0) and lost a close but unanimous decision. Arroyo would win the IBF World title in his next bout.
He came back strong running off a 5 fight win streak which included winning the Texas state lightweight championship by knocking out Ezzard Charles Adams in Fort Worth, TX.
After a razor close win against world ranked Adolfo Medel (22-1), Blake's record now stood at 27-2, and he was named as the challenger for the IBF Lightweight World Championship held by Jimmy "Ringmaster" Paul (22-1). The bout was staged June 30, 1985 at the Tropicana resort hotel in Las Vegas, Nevada, and was broadcast on national television. It was a spirited effort, but the champion proved to be too much on that day as he stopped Blake in round 14.
Blake came back in his next fight and took on another very tough assignment as he went 10 rounds with Olympic Gold medalist Meldrick Taylor (9-0), dropping a unanimous decision to the young up-and-coming prospect.
After 3 more wins, Blake challenged Harold Brazier (53-7-1) for his coveted NABF Jr. Welterweight title belt. It was not to be as Brazier withstood the early onslaught by Blake to score a technical knockout in round 9, successfully defending is title belt.
Blake finished his career going 3-3 in his final 6 bouts, winning the Texas State Welterweight title belt in that stretch.
"Rockin" Robin was stopped by Nika Khumalo (31-3-2) in his last professional fight in June of 1990.
Robin Blake finished his career with a nice count of 33 wins, 8 losses, and winning 21 via ko.
He is highly thought of by boxing fans of that era. His heart and determination made him easy to root for, he was involved in some great fights against some top names.
Purchase Dan's Hit Boxing Book Mat Tales: True Stories From The Bizarre, Brutal World Of Pro Boxing by Clicking the Image to ORDER it Now.