Interview with Deontay Wilder's Trainer Mark Breland Resurfaces After 14 Years – Breaking Boxing News
[AdSense-A]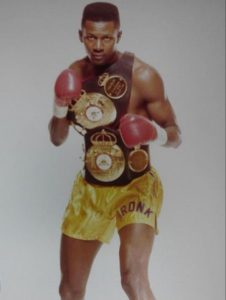 Exclusive Interview by "Bad" Brad Berkwitt (2005)
Mark Breland has been tapped as one of the greatest, if not the greatest of all time, amateur boxers to come out of the United States. In 1984, he won Gold alongside his teammates who included Paul Gonzales, Steve McCrory, Meldrick Taylor, Pernell Whitaker, Jerry Page, Frank Tate, Henry Tillman and Tyrell Biggs. This team was being compared to the legendary team of '76 that won many Gold medals for the US as well. Breland would turn professional in November 1984, going on to win the WBA Welterweight Title twice. Some boxing pundits think his style was better suited for the amateurs, while others think his professional boxing career never lived up to the expectations the boxing world had for him.
Opinions vary, but in this exclusive interview, Mark is very candid about his career and addresses the pundits along with talking about his career in and out of the ring.
BB: What have you been up to now that you retired from boxing over seven years ago?
I am just staying in shape and training fighters.
BB: You were touted as quite possibly the greatest amateur fighter in US history. How do you feel about that title, and do you concur with it?
I will let the people decide that because as you know, everyone has their own favorites and own story on who was the best. On my behalf, I will say I broke a lot of records in the amateurs and feel I deserve to be in rated at least in the top two.
BB: With an amazing record of 110 wins, with only one loss as an amateur, to Darryl Anthony, did you feel you lost this bout?
I thought I won the fight, but, at the time, it was my first year in the nationals and he was well known at the time.
BB: In what has been called the strongest class of amateur fighters since the 1976 Olympics, you were involved with the 1984 group. What was it like representing your country and winning the Gold Medal?
It felt great doing something that a lot of people strive for and only the top ones obtain.
BB: On November 15, 1984, you turned professional with several of your Olympic teammates in front of a packed Madison Square Garden crowd. What was that like, fighting in front of your hometown and in the Mecca of boxing, in your first pro fight?
It always feels good fighting at MSG, but I was already accustomed to it from fighting in the Golden Gloves there.
BB: You go 10-0 in your pro career and in your 11th fight on April 12, 1986; you face an old foe in Darryl Anthony who defeated you in the amateurs. This time around, the tables are turned and you TKO him in the third round. What was it like for you avenging this loss? Also, what was the difference in Anthony as a professional Vs as an amateur?
I think fighting Anthony as a pro was different because he was a little intimidated by the fact that I wanted to fight him again. Intimidated, but not scared. Avenging that loss was a great thing to me because I thought I beat him in the amateurs, but everyone knew who he was at the time.
Then to beat the only guy who beat me out of 110 wins and 1 loss, I knew I had to beat him to show it was a fluke.
BB: On February 6, 1987, you reach the pinnacle of your career when you face Harold Volbrecht for the vacant WBA Welterweight Title. You stop him in the seventh round, becoming a World Champion. What are your recollections of this fight, and how did it feel to have Olympic Gold along with a world title belt?
What I remember the most about the Volbrecht fight was that my left hand was fractured going into the fight, but I still used it and I can hear the announcers say something must be wrong with his right hand because he's not throwing it. I knew I had to throw it at the right time and I did. It was great having a Gold Medal and now, a World Championship.
BB: In the first defense of your title on August 22, 1987, you faced Marlon Starling. In this fight, Starling knocked you out in the eleventh round. What do you recall about this fight?
It was a very tough fight where Starling took everything thrown at him and some more.
BB: What was the difference between having your first loss in the amateurs to Darryl Anthony and now your first loss as a professional to Marlon Starling?
Business was affected by the Starling loss as a professional.
BB: After the Starling loss, you reel off two wins and then, face him again on April 16, 1988. This time around after 12 rounds the fight is declared a draw. What did you do differently this time around in facing him and do you feel the decision was fair? Also, how would you rate Starling as a fighter?
I thought I won the second fight. Don't get me wrong he was still aggressive, but I had to really box him with side to side movement and not standing in front of him trying to stop him. Starling was a decent fighter.
BB: On February 4, 1989, you again challenge for the vacant WBA Welterweight Title against Seung-Soon Lee who you knock out in the first round. Did you expect to go in there and get the knockout that quickly?
I was ready to go a few rounds, but sometimes, the quicker the better.
BB: In your second reign as the WBA Welterweight Champion, you have better success in title defenses against Rafael Pineda (TKO5), Mauro Martelli (TKO2), Fujio Ozaki (TKO4) and former champ, Lloyd Honeyghan (TKO3). In these title defenses, who would you say was the toughest challenge and why?
Rafael Pineda, because he was very awkward, plus I tore the ligament in my left knee.
BB: In your fifth title defense, on July 8, 1990, you are knocked out by Aaron Davis, in the ninth round. What are your recollections of this fight?
I got tired and he caught me with a good shot, although they were about to stop the fight. I guess he said, "The hell with it I'm going for broke". He did, and caught me like POW!
BB: It's surprising that you were not given a rematch against Davis. Why did that happen?
Well, I really don't know why we never got the rematch.
BB: After the Davis fight, you never challenged for a world title again. Why is that?
Well, I felt that my management really wanted me to get out of boxing because I really didn't love it like I used to and they didn't want me to get hurt..
BB: You retired from boxing in 1997. What caused you to retire since you were still winning your fights? Have you had the urge to come back, and if so, why didn't you?
I didn't want to end my career on a loss. In addition, I know a lot of fighters that stay around too long. If I was going to stay around, it would be for another shot at the title, but not 30 fights down the road first.
BB: Some boxing pundits who judged your amateur and professional boxing career have made the knock that you were a superb amateur, but it just didn't equate to the professional ranks. What is your response to this?
My response to those pundits is, I had a good amateur career. As a professional, I won the WBA Welterweight belt twice. Also, add an Olympic Gold Medal to my resume' as well. I feel that is pretty impressive and the pundits will always think what they want to, no matter what the accomplishments may or may not be.
BB: In which professional fight would you say Mark Breland was at his very best in the ring?
I would have to say when I faced Lloyd Honeyghan.
BB: You have done a little acting outside of boxing over the years. Is this something that you would like to get back into?
I would love to get back into acting because I really enjoyed it, but it's a rough business.
BB: Do you favor a mandatory retirement fund for all boxers and if so, how would you like to see it accomplished?
I think it would be nice, because like I said before, fighters, well, some fighters give all they got and when they're finished with boxing some do well, some don't. I have never been asked this question or been approached about to give a well knowledgeable answer on how it should be done.
BB: In your opinion, do you feel that both amateur and professional boxing have moved ahead or back? Why?
I feel amateur boxing is too political and it's about the money today. These amateur fighters today don't even know how to throw a jab. All they have to do is win the Gold in the Olympics and they get paid millions, but hey, that's boxing.
BB: Now that you have hung up the gloves for quite some time, how would you like your fans to remember you?
I would like my fans to remember me as a good fighter and a nice person.
BB: Finally, what is the saying you live your life by?
"Be yourself, because you can't be anybody else."
[si-contact-form form='1′]