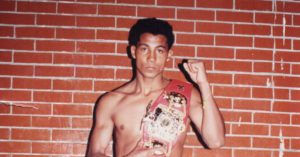 By Daniel "The Boxing Guru" Sisneros
Fidel "El Negro" Avendano was a favorite on the Los Angeles area boxing scene in the 1980's & 1990's. He opened his pro career on March 26, 1988 with a decision win over Aaron Herrera, then ran off a string of victories going to 26-0, 17 ko's.
He was stopped by Omar Flores in the 10th round for the Mexican National Lightweight Title. in 1991 he defeated former U.S. Olympian – Kelcie Banks by a unanimous 12 round decision to win the Forum lightweight tournament title.
He lost bids for the WBO & WBB Lightweight World Titles, and was denied the WBF & California State Titles earning draws in both of those title challenges. Fidel fought to an 8 round draw against Jamal Harris in his final pro bout on Dec. 18 of 2000.
Purchase Dan's Hit Boxing Book Mat Tales: True Stories From The Bizarre, Brutal World Of Pro Boxing by Clicking the Image to ORDER it Now.